News
PGA Championship 2018: From Rahm to Rickie to, yes, Tiger, there's a crowd chasing Brooks Koepka at Bellerive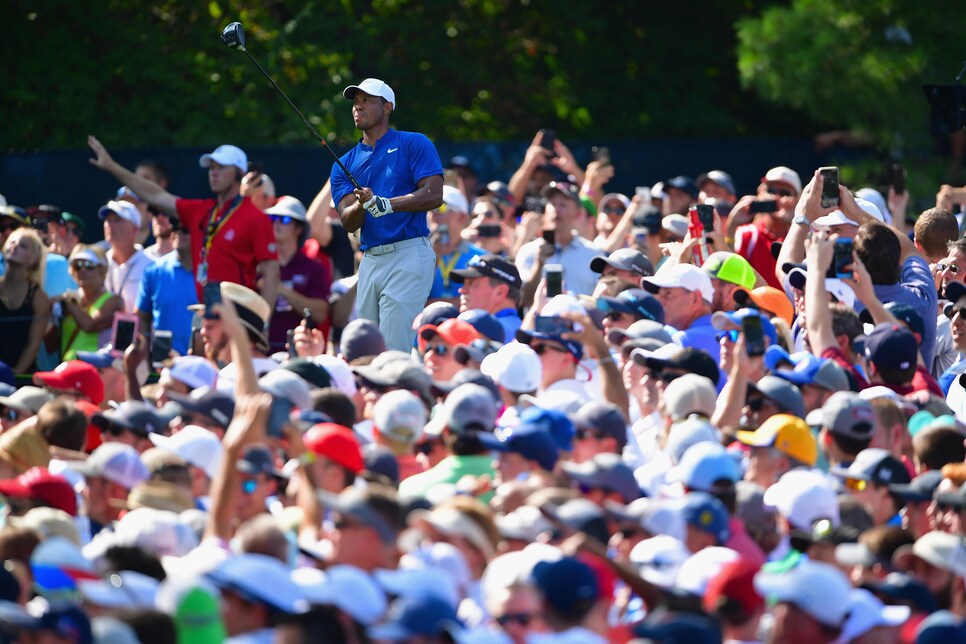 ST. LOUIS — Brooks Koepka does not have the profile of one that coughs up 54-hole leads. That we even mentioned his name in the same sentence as "coughs up" probably earns us a spot on his Donzo List, and he'll undoubtedly use this non-existent slight to fuel his fire Sunday afternoon.
However—and let us do a quick glance in each direction to make sure Brooks is not around to hear—golf has a habit of embarrassing the seemingly invincible. A notion evidenced, albeit briefly, on Saturday, when back-to-back bogeys kept the reigning U.S. Open champ from running away with the PGA Championship.
So, keeping in mind that Koepka seems very much the master of this Bellerive domain at the moment, let's entertain—theoretically, of course, Mr. Koepka, sir—that the 28-year-old goes south, or merely finds himself stuck in neutral. Who would take home the Wanamaker Trophy?
That's a question Will Hunting can't solve, because the answers are infinite.
Well, at least many. Let's begin with Koepka's nearest competitor, Adam Scott. The Aussie has a major to his credit, is a former World No. 1. We do emphasize former, for Scott's game has looked anything but as of late. Scott hasn't recorded a top-five finish, anywhere, in two years. He had to go to qualifying to keep his major streak afloat at the U.S. Open, and is only in the field this week thanks to an exemption from the PGA of America.
Not that you would know it by his work in St. Louis. Following an uneven round on Day 1, Scott has turned in consecutive 65s, the latter the low round of Saturday to earn a spot in the final pairing.
"It's been quite awhile since I was really in contention," Scott said. "Which is, has been quite frustrating, but I'm glad I got a dose of it today because I want a whole lot tomorrow."
His short game, which has been debilitating the past few years, including this one (192nd in strokes gained/putting), has been steady through three rounds, allowing his iron prowess (seventh in sg/approach) to shine. Scott will start two back of Koepka and seeking his first win since 2016, and if Scott's flat stick doesn't rear its ugly head, he's more than capable of dropping some haymakers.
Behind Scott is a trio at nine under: Gary Woodland, Rickie Fowler, Jon Rahm. Woodland, who set the tournament's 36-hole scoring record, never looked comfortable on his first nine Saturday, and a triple at the 10th appeared to put the kibosh on his title aspirations. But Woodland answered with two birdies down the stretch, and—subscribing to the thought that events aren't won on Saturdays, but can certainly be lost—managed not to deep-six himself. Though he's quickly dismissed in favor of marquee names on the score board, Woodland's feats on Thursday and Friday beg to differ.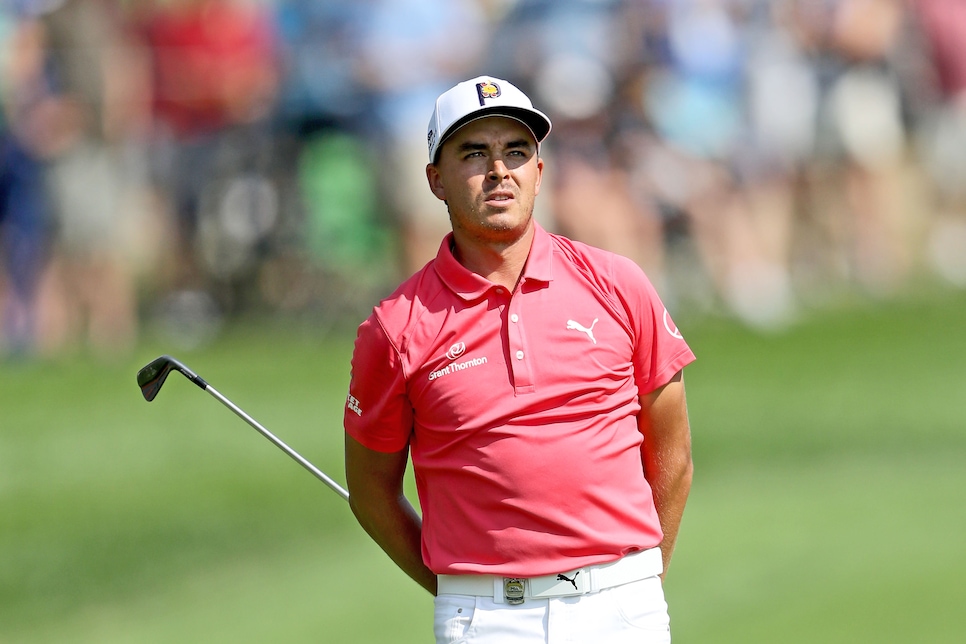 Two of those marquee names are Rahm and Fowler. They're both looking for their first major, albeit in different lights. For Rahm, a win on Sunday is a royal proclamation, transforming the Spaniard from fledgling to formal star. For Fowler, it would be validation, proving he has cache not just outside the ropes but in. An opportunity both welcome.
"It's just how comfortable and how confident I'll feel tomorrow versus maybe when you look at three, four, five years ago," Fowler says. Adds Rahm: "I dare to dream in the face of accomplishing one of my goals this year, which is having a chance on a Sunday in a major."
Despite their 20-something ages, they have demons to slay and baggage to jettison. They also have the tools—Rahm with power and touch, Fowler a second-shot savant—to put the pressure on those above. That they won't be short on support from the St. Louis crowds should help.
Then there are six souls at eight under. Making up four shots will be a struggle, and in most events this group would not garner much attention. Except five of these players own a major, one of whom is the PGA defending champ. That would be Justin Thomas, who entered Missouri off a runaway victory in Akron. The World No. 2 has arguably been golf's top player over the last two years; a win at Bellerive can subtract "arguably" from that statement. Thomas was a little off on Saturday: he wasn't talking to his putter, and he had a handful of mistakes on the greens.
That he's still in the standing he's in is a testament to his game. If he can right those wrongs tomorrow, his is a name leaders don't want to see crawling up the board.
Joining Thomas at eight are Jason Day, he of two wins this year and winner of the 2015 PGA, blast-from-the-past Stewart Cink, Shane Lowry, Charl Schwartzel and...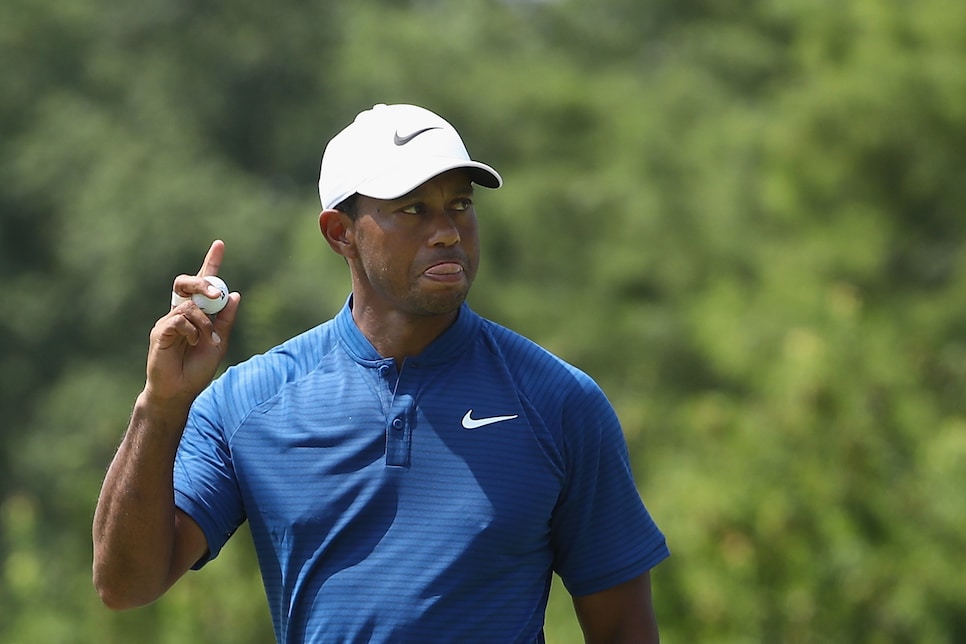 Not much to say, really, only the 42-year-old is 18 holes away from completing one of the most stupefying comebacks in sports history. He'll be attempting to accomplish that against a group he inspired, that have come to know him not just as a hero but mentor. To capture something he hasn't had in a decade, and to do something—come from behind to win a major—he's never done. If any of that interests you.
"A long way to go before that happens," Woods said on the prospect of major No. 15. "I got to shoot a low round tomorrow and hopefully it will be enough."
This could all be moot. Koepka could take one scowl at the field, decide he's had enough and kidnap this bad boy.
Or he could fall apart, and Scott or Rahm or Rickie or JT could string together some red numbers. Or, maybe, a 14-time major winner reaches deep in the closet and pulls off one for the ages.
"It's going to take a solid round of golf from whoever's going to win tomorrow because there are a lot of guys," Fowler said. "It should be fun."
There are. And it will be.