lost in translation
PGA CEO explains what was whispered in awkward viral Brooks Koepka moment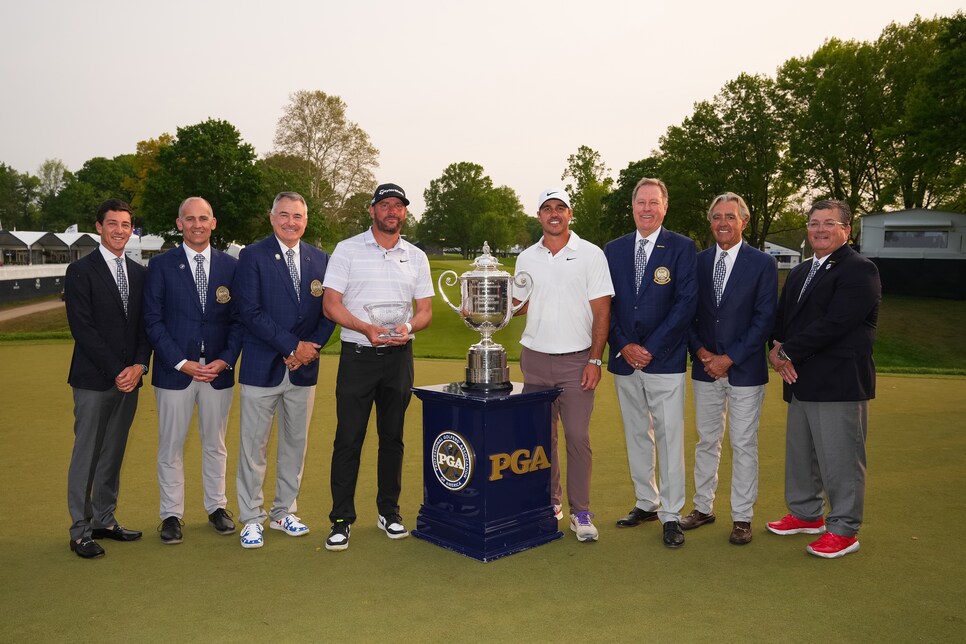 Darren Carroll/PGA of America
There's nothing the internet loves to do more than create a conspiracy out of nothing. With Brooks Koepka winning the PGA Championship, of course something was going to be conjured out of thin air, and Twitter immediately jumped on a confusing exchange between Koepka and PGA of America CEO Seth Waugh. The two didn't shake hands as they greeted each beside the Wanamaker Trophy and Waugh seemed to whisper something as he walked away, leaving Koepka to smirk and shake his head.
What did this all mean? Was there something sensational afoot? As it turns out, probably not.
In a conversation with Todd Lewis of the Golf Channel, Waugh broke down what actually happened and what he and the five-time major winner briefly discussed.
"I literally said to him, 'I think they have four million pictures of me. They must have 24 million pictures of you. I've never seen one of them and I don't know if you ever have,'" Waugh explained. "He cracked up, he laughed and we kind of turned around and smiled at each other. That was it.
"Somebody chose to think that was a diss and I hadn't shaken his hand. I already talked to him five times since he won. I certainly shook his hand and told him how proud I was of him. It couldn't be sillier or further from the truth and everybody is trying to make it into this LIV thing which it's got nothing to do with."
So, there you go. It's all kosher between the PGA CEO and the reigning PGA champ. Glad we got that settled.