The Grind
Brooks Koepka's PGA party, Michael Block's fairytale week and the best golf commercial ever made
Welcome to another edition of The Grind, where we are still reeling from Sunday's drama. The plot twists, the various strategies, the ruthless competitiveness. Man, "Succession" is amazing, huh? Oh, right. The PGA Championship was pretty darn good as well—even if we all knew how it was going to end. Anyway, a lot went down at Oak Hill that will have a lasting effect on the golf world so let's get to it. And when I die, please don't let Ewan Roy give my eulogy.
Brooks Koepka: Any eulogies for this guy's career were clearly premature, and if he were a character in "Succession," he'd conquer any power struggle—especially because he does his best work in New York. With his win in Rochester, Koepka became the first golfer to win majors at three different venues in the same state.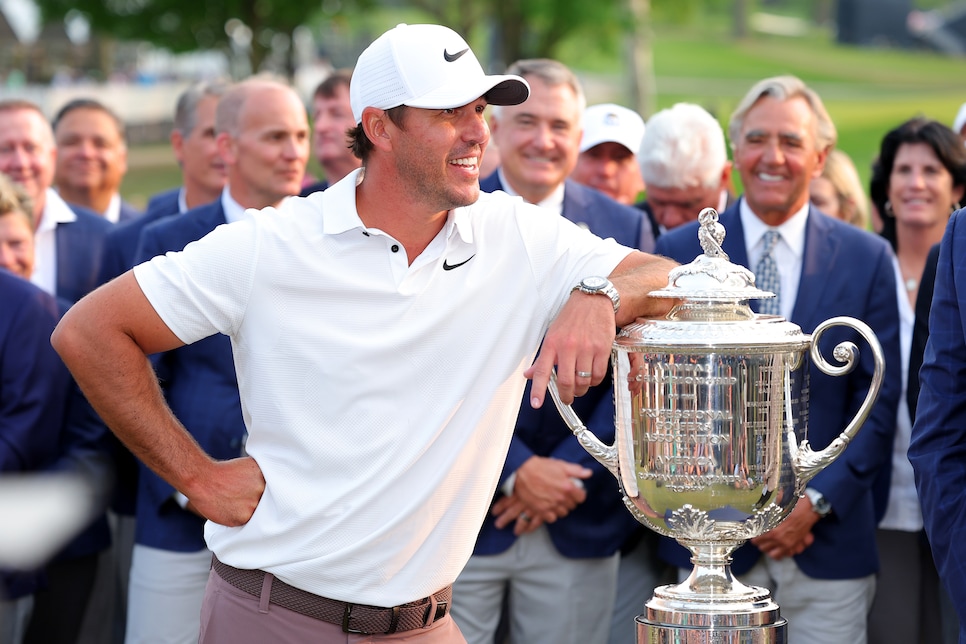 With a third PGA—putting him behind only Jack Nicklaus, Walter Hagen and Tiger Woods—Koepka also became the 20th man to reach five career majors. But even more impressively, he's the first to do it among those born after 1975 (Koepka was born in 1990) and he's still younger than Phil Mickelson was when he won his FIRST major.
What a freaking stud. He's one of the only golfers who actually looks comfortable hoisting that gigantic Wanamaker Trophy. And it looks like that thing is going to make the rounds as Brooks brought it to a Florida Panthers game the following day and he plans to bring it to Wednesday's Miami Heat game:
Good times. Oh, and if you didn't bet on this guy (like I did), you're a fool. He told everyone he was "BACK" at the Masters and he owns the PGA as well as the Empire State. There's a reason I had him No. 1 in our Best Bets PGA preview, folks! Anyway, he'll be back in New York for a major next at the 2026 U.S. Open at Shinnecock Hills, a place where he already won the 2018 U.S. Open. The USGA should probably ship him another trophy now and save everyone else the time.
Michael Block: Hollywood could make a movie about this guy's week. Or they could just re-release "Tin Cup," because this was just as much of a "FAIRYTALE" as Jim Nantz said. As Block noted, he's had plenty of previous chances in a big spot, even making four cuts at regular PGA Tour events. But not only did he play the weekend at a major for the first time at 46, he played his way into contention before delivering one of the most memorable—and incredible—golf shots and up-and-downs over the final four holes:
That last one kept him in the top 15 to secure by far the biggest payday of his career and earn a spot in next year's PGA Championship at Valhalla. But more than that, he emerged as one of those rare stories that everyone in this country can get behind. Hey, America loves an underdog. Although his fellow club pros in the Southern California PGA section certainly don't think of him like that!
The good news for Block and his fans? With an invite into the Charles Schwab Challenge, we'll get to see more of him this week. Better have a box of tissues handy.
Hot mics: Apparently, America also loves a good hot mic, and boy, were the mics at Oak Hill scalding throughout the week. Thanks to much of the coverage being broadcast on cable by ESPN or streamed, the usual delay that allows for a bleep button wasn't in use, and everyone from Jon Rahm to Justin Thomas to even the PGA Tour's Golden Child, Jordan Spieth, was caught blurting out obscenities.
Spicy! Rahm even tried to take out one of those mics. With CBS on the coverage on Sunday we got plenty of audio pauses after Koepka made his way off the 18th green. Those weren't technical difficulties, but rather the network following the law. Not as spicy! Although, admittedly, probably better for #TheKids.
Limiting club pros: The question of whether the PGA of America lets too many of its club pros into this event has lingered for years. Heck, they reduced the number from 25 to 20 several years back. But I'm not sure how anyone could argue to cut these guys out altogether—especially after what Michael Block did this past week. He was literally the biggest—and most entertaining—story of the entire tournament!
Also, there were still 136 tour pros in the field if you take out those 20 guys. That's not enough to make a major championship? That's approximately 50 more than how many compete in the Masters. And no one seems to mind all the amateurs and (more) regular golfers who qualify for the U.S. Open and Open Championship. It's part of the tournament's charm. And for other people complaining the PGA Championship has become almost a second U.S. Open, this is one clear way for it to keep its own identity.
Oak Hill's bunker lips: Not that we're actually selling these, but more the thought of having to navigate them. While most people talked about Oak Hill's penal rough, it was the course's fairway bunkers—well, one fairway bunker in particular—that wound up costing two different players the tournament. First Corey Conners, who had the lead until No. 16 got him on Saturday—and then Viktor Hovland, who had a great chance of catching Koepka until the same bunker got him on Sunday.
And Hovland was hitting a 9-iron! That's tough. Still, it was another great result for Hovland, who hung with Koepka nicely in that final pairing the rest of the day.
A Brooks-less Ryder Cup: I understand why the PGA Tour has banned LIV guys from all events and why it wants them banned from the majors. I also understand it's the tour's right to keep these guys out of the Presidents Cup because it runs that event as well. But there's no debating that not having all the best players participating makes an event weaker. And the Ryder Cup is the PGA of America's (Yes, there's a BIG difference) baby. Imagine if the NBA All-Star game didn't include players from two of the league's six divisions? Not exactly apples to apples here, but you get what we're saying. If you ban guys like Brooks, you're leaving a lot of big talents and even bigger personalities out of the mix. Also, Brooks has been among the less antagonistic LIV players during the past year.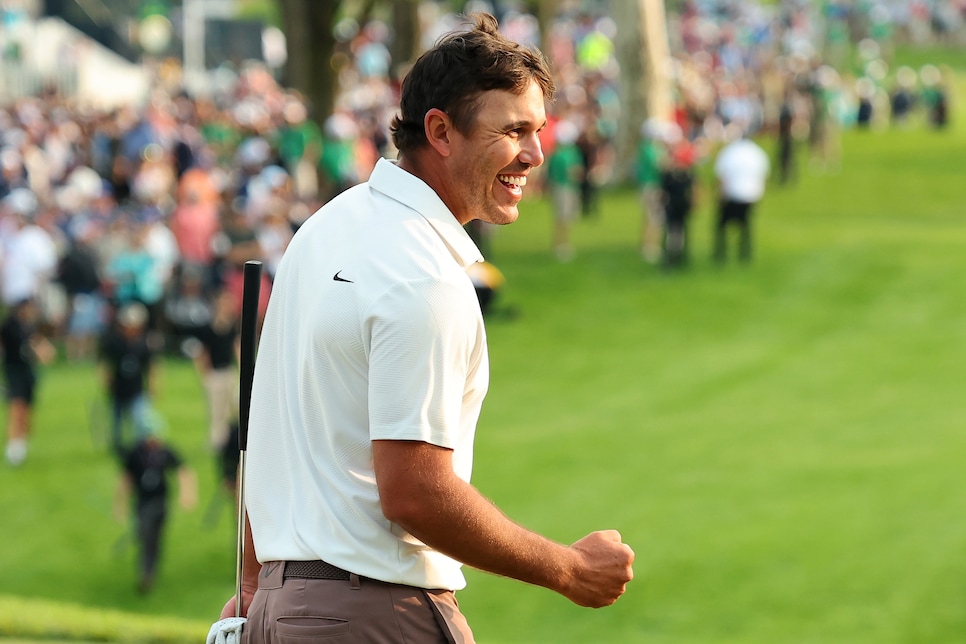 He's basically hinted he wouldn't have gone to LIV had he been healthy and his new tour and Greg Norman seemed like the last thing he wanted to talk about after winning on Sunday. Plus, the next Ryder Cup home game will be in 2025 at Bethpage Black. If you're rooting for Team USA, you really don't want Brooks Koepka wearing the red, white and blue in New York?
The PGA Tour heads (back) to Texas for the Charles Schwab Challenge, AKA that event at Colonial, AKA that one Ben Hogan used to dominate, AKA that one that marked the restart of big-time pro sports during the pandemic. Daniel Berger won that one in 2020 to become the answer to a trivia question that might pop up from time to time. And speaking of trivia, check out the latest episode of Golf Digest's quiz show, "The 10th Question," which focused on the PGA Championship:
No spoilers here! Eh, OK, I'll spoil it. Yours truly won. Again. This time with an all-time gutsy pull on the final question. Watch your back, James Holzhauer.
Random tournament fact: Ben Hogan won this event five times, but he never played for the $8.7 million purse that's up for grabs this week. His biggest payday was $5,000 in 1959. Yep, five grand. That's what the winner this week will probably tip the locker room attendant.
RANDOM PROP BETS OF THE WEEK
—A club pro will ever win a major championship: 1 MILLION-to-1 odds
—Michael Block will win at Colonial this week: 600-to-1 odds (Actual odds)
—Michael Block will win over even more fans this week: LOCK
It wasn't the greatest week for either of these two players, but at least they both made the cut—and combined to make golf's latest viral meme.
CLUB PRO GUY TWEET OF THE WEEK
Michael Block still had his credential on while going out in the Rochester area on Saturday night:
Don't feel too bad, Michael. Us media slobs do that all the time. And you're still cooler than all of us. Much cooler.
VIRAL VIDEO(S) OF THE WEEK (MICHAEL BLOCK DIVISION)
First Michael Block finding out he would be paired with Rory McIlroy in the final round:
And then Michael Block's caddie, John Jackson, finding out just how much his cut of Block's big payday was going to be—by using a calculator:
What a week! Let's keep this Block party rolling!
ARCHIVE VIRAL VIDEO OF THE WEEK
Years ago, Michael Block starred in a commercial for his home club, Arroyo Trabuco, and it's one of the greatest commercials ever made:
VIRAL VIDEO OF THE WEEK (NON-MICHAEL BLOCK DIVISION)
Brandel Chamblee and Brad Faxon had quite a "standoff" on live TV:
That may have been tougher to watch than Roman Rory trying to do the eulogy for his dad! Nothing can top "The NBA on TNT" in terms of sports shows, but Golf Channel's "Live From" during major championship weeks is just as good.
THIS WEEK IN PUBLIC DISPLAYS OF AFFECTION
Sadly, Jena Sims wasn't in Rochester to witness her husband make (more) history. Instead, she was busy hunting down her own dreams as a finalist for the Sports Illustrated Swimsuit issue. But she took time to post this savage response to those questioning her schedule:
As the kids say, that's a great clapback, Jena. Besides, we all know how Brooks feels about PDA on Sundays at majors:
THIS WEEK IN PUBLIC DISPLAYS OF
AFFECTION

ATTRITION
Thanks to Joel Dahmen's caddie, Geno Bonnalie, for live-tweeting his Monday round at Oak Hill in hilarious fashion. The scratch golfer (NBD) played the championship tees, set a betting over/under for himself at 84.5, and … missed the under in heartbreaking fashion.
Still, it was yet another reminder of just how hard the golf courses these guys play. Heck, Geno's boss barely broke 80 on Saturday.
"Life goes by fast. Before you know it you're 60 years old and retired and look back at the videos and remember, 'That was the best week of my life.' And more than likely this is going to be the best week of my life." —Michael Block. Great stuff, Michael. And as the sponsor's exemptions continue to roll in, we're guessing more than likely this is going to wind up being the best year of your life as well.
Shout-out to Michael Breed, who said last Monday he expected a big week from Michael Block:
Talk about knowing your stuff. … Rose Zhang became the first woman to win multiple NCAA individual championships when she repeated at Grayhawk on Monday night. She also broke Tiger Woods' record for wins at Stanford with a 12th career victory. Watch out, LPGA, she's coming. … Speaking of Tiger, he made his withdrawal from the U.S. Open official and we're guessing a similar Open Championship announcement is on the way. Get better soon, Big Cat. … Sergio Garcia will be in the U.S. Open for a 24th consecutive year after shooting a pair of 66s in sectional qualifying. Guys playing golf for something other than money is always nice to see. … Michael Block ascended more than 3,000 spots in the Official World Golf Ranking to No. 577. But he had already moved to an unofficial No. 1 in our hearts. … And, finally, I know we're in PGA mode, but it's also time for my annual azaleas photo: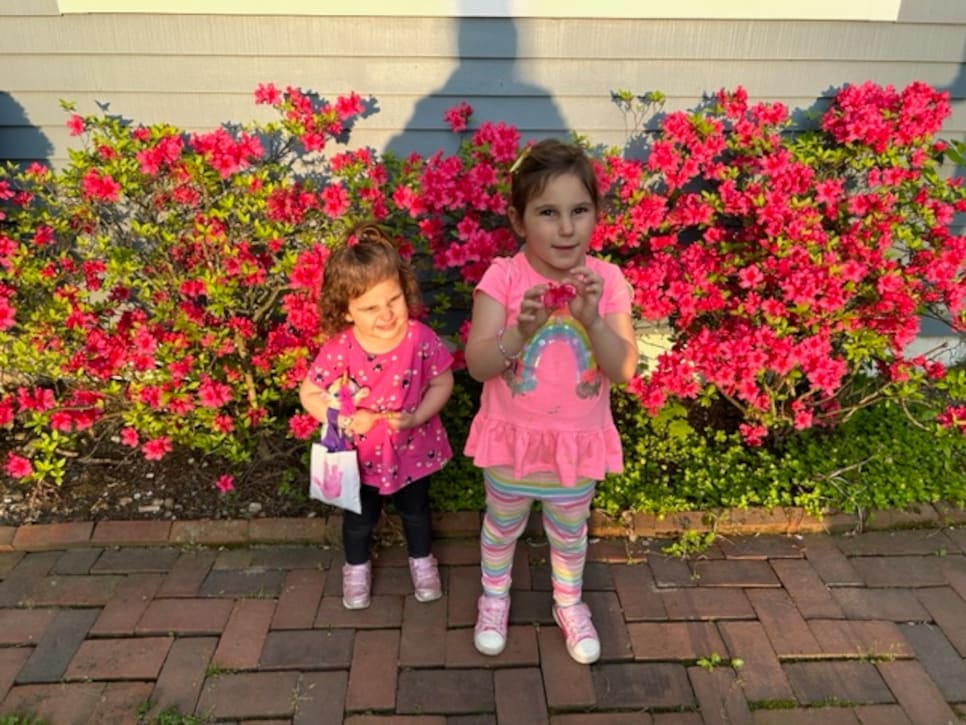 Again, I did not plant those; they came with the house. I am responsible, however, for the two kids.
RANDOM QUESTIONS TO PONDER
How many majors will Brooks Koepka wind up winning?
Who will wind up "winning" on "Succession"?
Who does Michael Breed like at the U.S. Open?