Legends
Soon-to-be Duke freshman wins Pennsylvania Amateur at Merion with 194-yard walk-off eagle
Merion Golf Club has had its fair share of historic moments in golf over the years. Bobby Jones completing the Grand Slam at the 1930 U.S. Amateur, Ben Hogan's 1-iron in the final round of the 1950 U.S. Open, Lee Trevino defeating Jack Nicklaus in a playoff at the 1971 U.S. Open, Justin Rose's 4-iron to seal the deal at the 2013 U.S. Open, just to name a few.
John Peters may never reach the heights those players reached in professional golf, but he can certainly add his name to the mix of players who produced legendary moments at the legendary U.S. Open venue. On Wednesday afternoon, Peters, a Carlisle, Pa. native who is headed to Duke this fall, holed out for eagle from 194 yards at Merion's famous finisher to win the 108th Pennsylvania Amateur.
His reaction was about as good as you'd expect: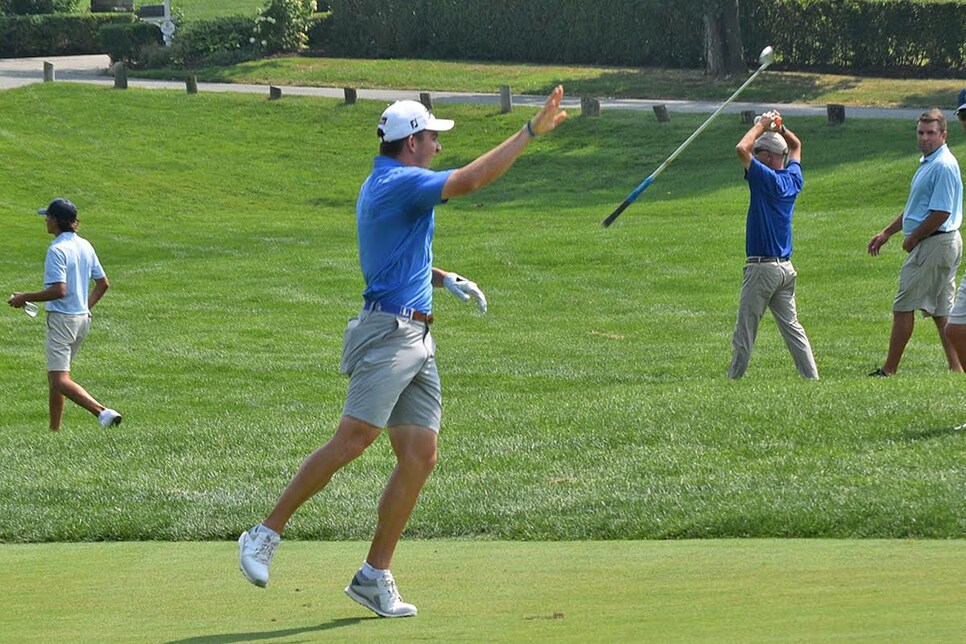 John Peters after holing out for eagle with an 8-iron from 194 yards out at Merion's 18th. (Photo: Pennsylvania Golf Association)
"I was just trying to land it somewhere in that 175 yard number," Peters said. "We know how firm the greens are downwind and that it could run out. I was really just trying to hit it close and get a look at birdie because I thought there would be a playoff at 1-over par."
At the time, Peters stood at two over, needing a birdie on a hole that did not yield a birdie the entire final round. That stat held up after Peters holed out for eagle, winning the tournament at even par.
"It's a testament to 'it's never over until it's over,'" Peters said. "I wasn't even thinking about it [going in]. Obviously there's a bit of luck there. I was waiting for some kind of clap but I thought it was long, then we heard a big hurrah. I've never experienced anything like it. Just a tremendous blessing."
Incredibly, Patrick Sheehan, who led by three entering the final round, had hit his final approach shot to six feet prior to Peters' hole out. A birdie conversion would have forced a playoff, but Sheehan missed, giving Peters the miraculous victory.
The moment is a bit of good karma for Peters, who had a stroke of poor luck in a U.S. Amateur qualifier at Colonial Country Club in Harrisburg, Pa. on June 30. In his first of two rounds, while tied for the lead, Peters hit the wrong ball on the 16th hole, leading to a double bogey, which he followed with back-to-back bogeys on the 17th and 18th holes. He wound up missing the cut by three strokes.
"I do believe that that was the karma coming back from that a couple weeks ago," Peters said.
The golf gods do work in mysterious ways, especially at a place like Merion.