News & Tours
Report: PGA Tour will deny players permission to play in Saudi International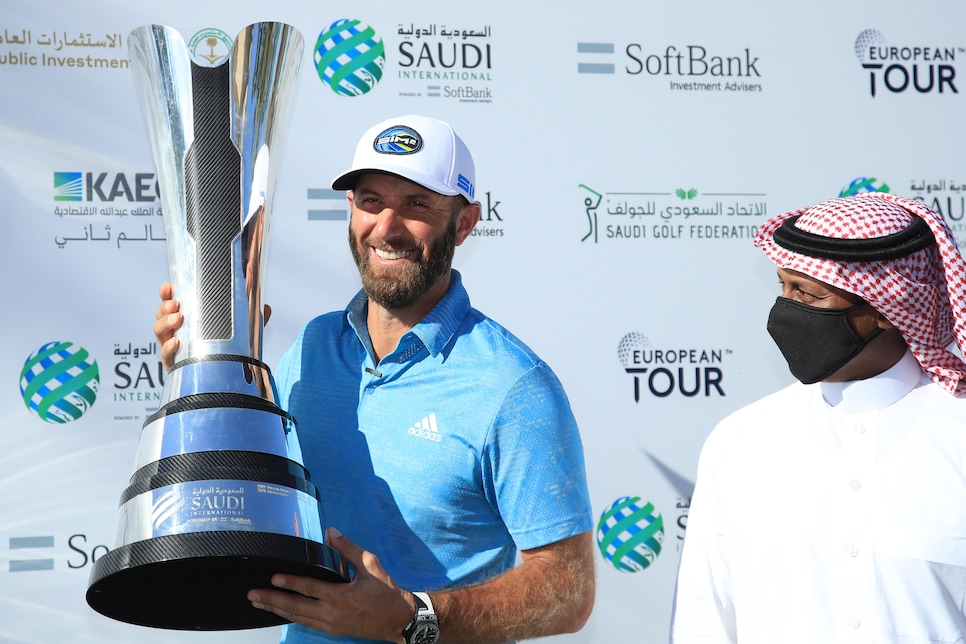 Dustin Johnson poses with the trophy after winning the 2021 Saudi International.
Andrew Redington
The PGA Tour says it will not give its players permission to compete in the Saudi International beginning next year, according to a report by Golfweek. Tour players are required to get a waiver to compete on other tours, and now that the Saudi event is no longer part of the European Tour, the PGA Tour told Golfweek that it will deny requests to play in it.
"This follows a PGA Tour longstanding policy of not granting releases to unsanctioned events," a PGA Tour spokesperson told Golfweek.
The Saudi International has been played each February since 2019 and offers significant and undisclosed appearance fees to the world's top players. World No. 2 Dustin Johnson won the event in 2019 and was again the champion this past February. Brooks Koepka, Bryson DeChambeau and Phil Mickelson have also ventured to the Middle East to play. Irishman Graeme McDowell won the 2020 edition, with Johnson finishing runnerup. In prize money alone, Johnson has earned more than $1.5 million in the event.
The tournament and discussion about who plays in it has been controversial because of the Saudi kingdom's history of human rights violations. The royal regime is criticized by some for trying to "sportswash" its reputation with large-scale events such as the golf tournament. The relationship is also further complicated by recent reports that the Saudis are trying to pull together a Super Golf League that, with large purses, would entice some of the game's biggest stars away from the established tours. Golfweek said European Tour sources have also indicated they would not give permission to their players to compete in the Saudi International.
That doesn't mean that players won't still take the opportunity. Tour members could choose to play and then face possible fines or suspension for doing so.
Johnson's manager, David Winkle, told Golfweek that it would be premature to comment on the situation, but added, "Given that Dustin has played in the event the past three years and would be returning as their defending champion, I have no doubt he would be quite disappointed if the tour potentially denied his release."