Looking back
Weather delay in Pebble Beach Pro-Am is reminder of year the tournament never got a winner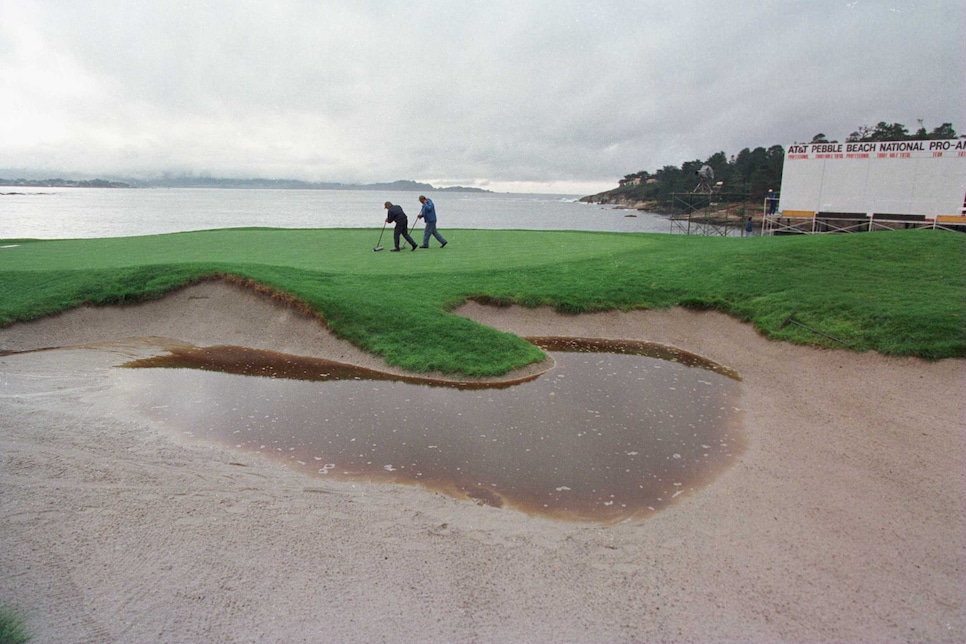 Greenskeepers squeegee the waterlogged 18th green at Pebble Beach Golf before the third round of the 1996 AT&T Pebble Beach National Pro-Am.
J.D. Cuban
There will be much consternation and disappointment that the AT&T Pebble Beach Pro-Am will need to go to a Monday finish after third-round play was suspended on Saturday due to wind gusts of more than 35 mph. But with a forecast for sunny skies on Monday, it's highly likely they'll finish the tournament.
That's more than the field could say in the 1996 Pebble Beach Pro-Am.
There has only been one playing of this storied event on the Monterey Peninsula that was started and a champion not identified, and that came in early February of '96, when rain so battered the tournament that it was basically called off because of standing water that gathered on two holes at Spyglass Hill.
As the tournament's lead official, David Eger, described on that Sunday, after another squall had passed through, the 11th at Spyglass had some water, but the real problem came at the already tough par-4 16th. In a low spot on the fairway, there was a small pond of accumulated rainwater, and the only way for players to get relief was to drop 40 yards behind them among the trees. "Obviously, that's just not golf," Eger told reporters.
With more heavy rain forecast on Sunday night, it looked as if they couldn't even get in 54 holes, so the tournament was cancelled after only 36 were played. There was no prize money or trophy handed out. All of the players received a $5,000 stipend for their trouble, and the amateurs were out their $3,500 entry fee.
Not since the 1949 Colonial in Dallas had a PGA Tour event been entirely scrubbed.
At Pebble, Jeff Maggert held the 36-hole lead by one stroke over Steve Jones, Loren Roberts and Davis Love III and said, "Obviously, I'm disappointed." But there were others who argued that the cancellation was unnecessary.
"We should be out there slopping it around," Johnny Miller said. Peter Jacobsen agreed. "We play in some pretty bad stuff," he said. "We just need to tee it up and slop it around."
Justin Leonard, who was the 23-year-old first-round leader, definitely wanted to give it a go. "I'd like to play no matter what, even if it's wet," he said. "Let's just hit it and go find it."
Steve Elkington, who was then the reigning PGA Championship winner, did not agree. "We can't play by the rules," the Australian said. "It's not a big decision."