Pebble
AT&T Pebble Beach Pro-Am suspended due to high winds; Monday finish expected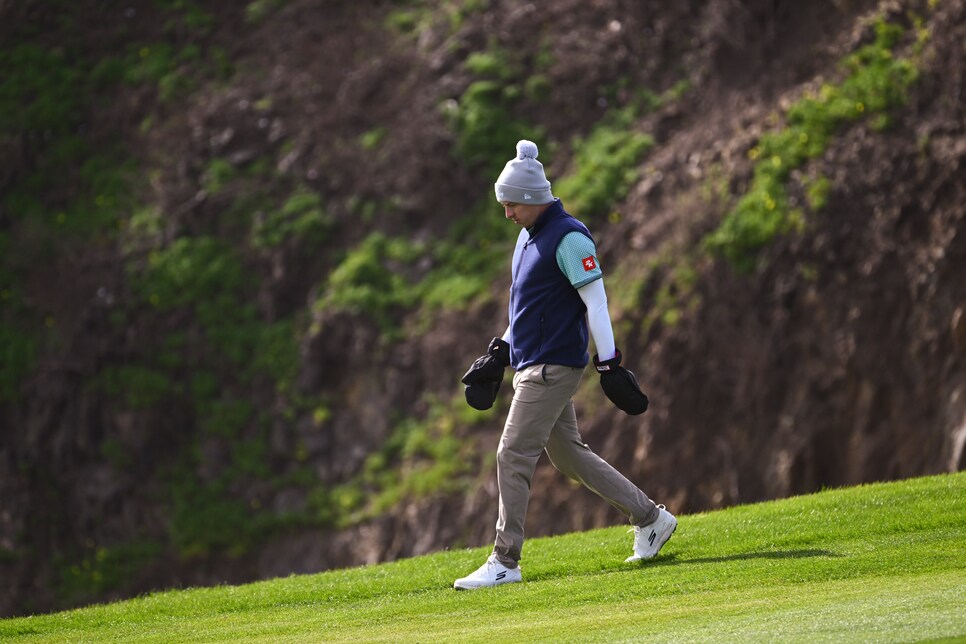 Englishman Matt Fitzpatrick was bundled up for the cold and windy third round at Pebble Beach.
Tracy Wilcox
PEBBLE BEACH — Saturday's third round of the AT&T Pebble Beach Pro-Am was suspended for the day due to high winds and that is forcing a Monday finish to the tournament.
The PGA Tour moved up Saturday's tee times by an hour due to the harsh winds in the forecast. However, conditions were deemed unplayable a little after noon local time, with the ninth hole at Monterey Peninsula cited as the problem. Justin Rose and Chad Ramey were the professionals on the ninth when play was stopped. Action at Pebble Beach and Spyglass Hill was paused at 12:20 p.m.
PGA Tour rules offiical Gary Young said the 15th hole was an issue as well.
"Nine was becoming a persistent problem, just given that the wind was much higher than originally forecasted earlier in the week," Young said. "This is the difficulty of setting up for three rounds with everyone playing the same basic hole location for three rounds. We get the best information we can get. We did try to slow down the greens significantly. The last time these greens were mowed was yesterday morning.
"We did try some mitigation matters. We did try to apply some water to the green just to create a little bit of friction. Just a light spritz of water on the green. Which is sometimes normal that we will do in hot conditions. But this was due to wind. So we were looking for anything we could do to try to keep a golf ball at rest. But we were getting some really hairy situations on that hole. We just did not want to continue play."
Initially play was expected to resume at 2 p.m., but around 1:30 p.m. the PGA Tour announced conditions had not improved. Play for the day was called at 2:48 p.m. Rain is in the forecast for Sunday morning until about noon, with winds at about 16 mph. PGA Tour rules official Mark Dusbabek told CBS, "We're going to have some things to fight through [Sunday]."
Play will resume on Sunday at 8 a.m. local time.
The tournament's three-course, pro-am format adds a layer of complication regarding a Sunday finish. A PGA Tour spokesperson said the final groups of the fourth round will likely only get nine holes completed, meaning there will be a Monday finish. The forecast for Monday is for sunny skies, a high temperature of 57 and 11 mph winds.
Peter Malnati is leading at 12 under with six holes remaining in his third round, with Joseph Bramlett and Keith Michell both at 10 under.
"Just one of those days. You take it as it comes," Bramlett said. "We got to play Pebble Beach, so it was a blessing in that regard. But the weather was wild. It was fairly calm for maybe our first seven, eight holes. Then when we got to 9 it started blowing and then it's survival mode."
Amateurs will not be featured in the fourth round, with the am portion of the event ending after 54 holes. The cut will come at 65 professionals, up from the normal 60 for this event.
A PGA Tour spokesperson told Golf Digest winds were measured at 32 mph at Pebble Beach when play was called.
This is the first time that play has been suspended due to wind since the first round of the 2021 Butterfield Bermuda Championship.