CARLSBAD, Calif. — On a sunny Monday in August, Paula Creamer stood before a couple dozen employees on the driving range at TaylorMade's headquarters in California. She was there to help celebrate the achievement by a number of the company's females who contributed to the design and production of the new Kalea Premier women's clubs. The day was very much like any number of corporate outings players perform for their companies throughout the year.
And Paula Creamer was Paula Creamer. She took part in a meet-and-greet session and clinic, all with the usual poise and charm that made her arguably the most popular American player of her generation. She wore all black, other than the pink hat that still denotes her long-standing nickname of the Pink Panther.
She talked about swing plane and pitch shots, her workout routine and the truly arduous effort it's taken to get back into playing shape while being the mom to 8-month-old Hilton, whose birth was celebrated in early January by Paula and her fiancé, Shane Kennedy.
"Time management and I are not great together," Creamer intimated to the group. "I've never been late to a tee time, but I'm late for a lot of things. I've tried to get a lot better for Hilton's sake."
It seems like these sort of gigs could make Creamer's life rather cushy at this point. At 36, and with eight long and trying years removed from her 10th and last LPGA Tour win, she seemingly could transition to any number of roles in the game that emphasize her people skills. Broadcasting, for one. Or she could choose to simply step away from the grind of competition, as Michelle Wie West, 32, and a mom to 2-year-old Makenna, did earlier this year.
There's a problem with every one of those scenarios. Creamer, who played only seven times last year on the LPGA Tour and made just one cut, is not ready to give up playing for a living, and this week she's making her first LPGA start in more than a year at the Dana Open in Sylvania, Ohio.
Sitting on a couch at TaylorMade three weeks ago, Creamer was reminded that she's been away and out of the spotlight for quite some time. She laughed and agreed, noting, "I don't think that anyone knows where I'm at. Somebody asked me if I was getting out to play to do sponsor days to keep everyone happy."
She was gracious, though deep down, probably a bit insulted.
"I said, 'No, I'm trying to win.'"
Never mind that only five players 30 or older have won on tour in 2022, the oldest being Eun-Hee Ji at 36 when she claimed victory at the Bank of Hope LPGA Match Play. Creamer maintains this isn't a stunt. "I'm really fired up, honestly," she said. "I know what it takes to be great. I know what it takes when you're younger and all you have is golf to focus on. I understand that I have to use all of my years of experience and take what is good and put it all into my new life. This is a new chapter, and it doesn't have to be the chapter of me going off into the sunset.
"I was never going down that path," she added. "There were times out there that were reality checks for what I needed to do. These girls are good. They don't have a baby and aren't 35 years old. They don't have other distractions in their life. Now, I have to figure out how to beat them."
This isn't the champion of the 2010 U.S. Women's Open simply wishing for good things to happen. Over the last year, save for the 12 weeks off after giving birth via C-section, Creamer has toiled like never before on her game. Terribly unhappy with the weak-hitting and erratic golf that gave her no chance to win—with a good portion of the struggles due to years of pain in her surgically repaired left wrist and thumb—Creamer got back from Aramco Series Ladies European Tour event in Spain in August 2021 and called an instructor, Grant Waite, whom she only knew by name and reputation.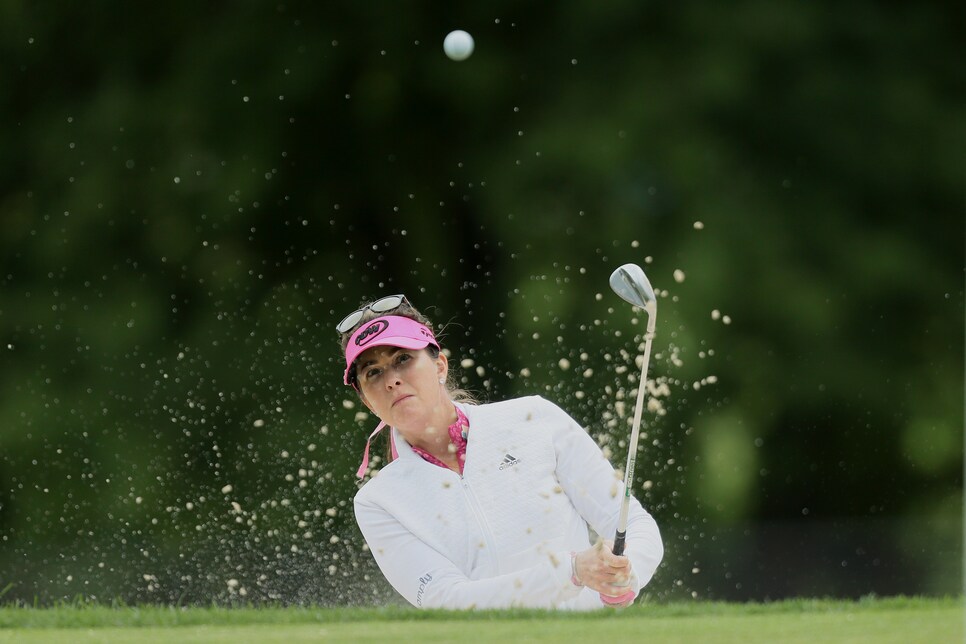 Paula Creamer hits out of the bunker toward the first green during the second round of the 2021 Marathon LPGA Classic.
NurPhoto
More than five months pregnant at the time, Creamer asked the Kiwi, a former PGA Tour player, if he'd take her on. Waite, already with a growing list of students, agreed and asked when she'd like to start. "Tomorrow" was the reply.
The driving range at Isleworth Golf & Country Club in Windemere, Fla.—the former home base for Tiger Woods—is literally only a few steps from Creamer's backyard. The player and coach met there, and Creamer laid out the reality for Waite.
"I had to be vulnerable," Creamer said, "in telling him, 'All right, I really trust you. This is not my last shot by any means, but this is a big moment for me—that I have the ability to come back and just go guns blazing. I'm not holding anything back.'"
Since then, Waite was beyond impressed.
"She's taking this seriously and working diligently—doing all of the things I've asked her to do," he said on the phone. "It's impressive because this is a successful LPGA Tour player. This is not someone trying to get to that level. She's a proven winner. She knew her game wasn't where it needed to be."
The changes they've made to Creamer's swing are nothing short of extraordinary. For all of her life, Creamer explained, she swung mostly with her arms, thinking that the harder she pulled down with her left arm, the more power she'd produce. In reality, she was putting enormous stress on her arms while completely ignoring the body's biggest swing mechanism—her core. Over time, she unfortunately grooved a pull-draw with the driver that didn't fly anywhere. (In 2019, her last full playing season, Creamer ranked 130th in average driving distance at 250 yards.)
Waite now has Creamer making a much wider turn in her swing, which has corrected her club path while also giving her more speed. She's made remarkable gains in her swing speed, going from 93 mph to 99 mph. She's also gone from hitting down on her driver by 2 degrees—a big distance eater—to 1 or 2 degrees positive.
"From where the clubhead comes out of my swing now to where it was, it's like a foot and a half!" Creamer told the TaylorMade group. "It's made a massive difference in my speed and power. I'm consistently able to work the ball so much better now."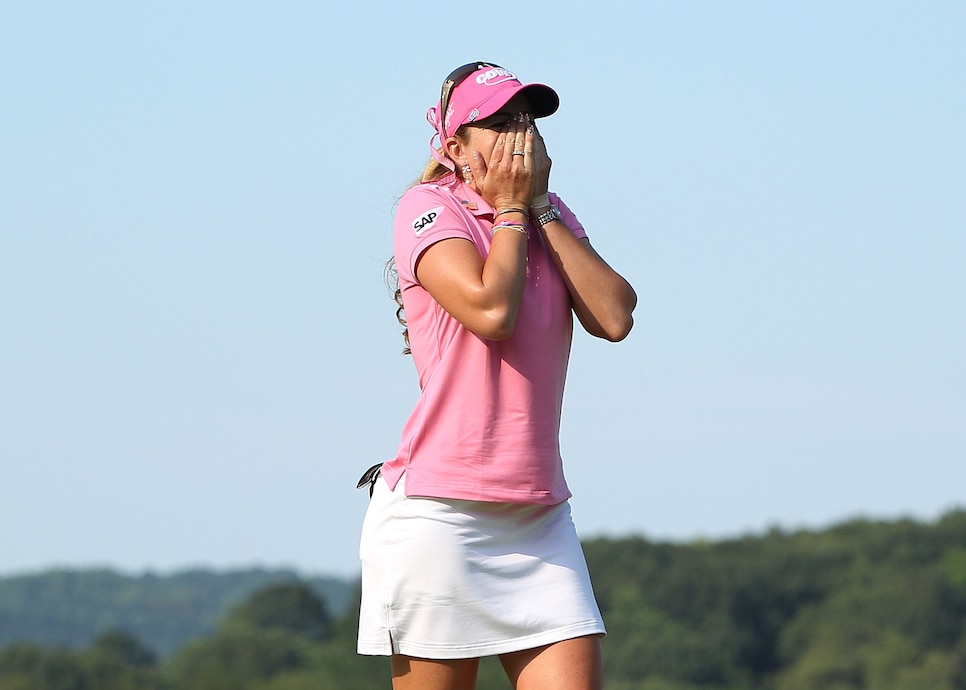 Paula Creamer celebrates her four-stroke victory at the 2010 U.S. Women's Open at Oakmont.
Scott Halleran
Waite says Creamer has mostly overcome the "fight or flight" response that athletes experience when big changes are asked of them. They often want to revert to what's comfortable, especially under pressure. The coach warned the player that the changes would sometimes "fall apart" once she got on the course, but that was part of the process. "Wow, this is a challenge," Creamer said to him at one point.
"She believes in what she's doing," Waite says now. "This is not Paula going out to try to play. This is Paula going out there to be competitive, to win."
Creamer has put herself on a schedule like many other working moms. From 9-5 Monday through Friday, she has a nanny to take care of Hilton. She and Waite work through their practice routine, then Creamer plays 18 to 27 holes and ends most days with either lifting or cardio. The weekend is all about family time.
Of course, the idea of taking Hilton out on the road has been daunting. In front of the TaylorMade audience, Creamer cracked, "I have no idea what to do there, but I do know how to hit a 7-iron. I think we're in for a big, wide experience. It'll be great to have her there.
"I'm really looking forward to being out on tour, seeing my friends, doing it as a mother, in a place where I'm comfortable in my own skin. Whatever happens, happens. I'll be interested to see where my game is at."
Creamer's parents will travel with her for some time, and Paula has had plenty of discussions with tour moms such as Juli Inkster—"She checks every box in my book"—and two players with whom Creamer grew up competing, Brittany Lincicome and Brittany Lang.
Like her peers, Creamer has a deep desire to have her daughter see Mom playing at the top of her game. She says that has been among the prime reasons she's worked so hard to come back.
"I want to show her I can do this," Creamer said. "Yes, I've had success and I have great fans that I love, even when I've been missing in action these last four or five years with my golf game."
In this instance, Creamer is doing some dreaming.
"How cool would it be," she said with a bright smile, "to say, 'Look Hilton, this is the really hard work I did to get back with you in my tummy.'"