HONOLULU — Patton Kizzire will tell you he is a "momentum" player, which a lot of professional golfers happen to be, but for a few years now he has been trapped in the conundrum of trying to first create some momentum before he can ride it.
If only he can conjure his performance five years ago here at Waialae Country Club, when he outlasted James Hahn in a record six-hole playoff and won the 2018 Sony Open in Hawaii for his second win in four starts over a two-month span.
Kizzire—which rhymes with desire, an emotion he is not lacking—is back on Oahu hoping that he can once again find the gear that produced his only two victories on the PGA Tour. The Auburn product won the 2017 OHL Classic at Mayakoba and then was able to maintain his form to collect a second trophy and springboard into the top 50 in the world.
"I was very opportunistic, which you need to be, but I just remember I had a lot of confidence coming off the win at Mayakoba and I took advantage of my form at the time," Kizzire said on Wednesday prior to his nine-hole pro-am round. "I feel like I am a better player now than I was then, but I got my game into a really good place, and I was really doing a great job of just making a score. That's what I am looking for again, getting a spark, because I'm a momentum player and a momentum putter."
How a player creates that momentum is the key.
"I've really elevated my game," he said. "It's just taking all that work you've done to the golf course, every hole and every round and just staying after it.
Ranked 237th in the world, Kizzire, 36, is coming off a season that wasn't his best but that didn't leave him discouraged. He qualified for the FedEx Cup playoffs for the fifth time in six seasons. He's optimistic about his prospects for this week given that his best finish so far this season is a T-10 at Mayakoba. The 6-foot-5 Alabama native has his comfort courses.
"I love this golf course. It's a great challenge. I love country-club old-style golf courses with big greens," he said. "I'm definitely excited about being back here."
Just two years ago Kizzire shot 18-under 262 to finish T-7. That performance happened to be one stroke better than the year he won, when a final-round two-under 68 earned him a tie with Hahn, who shot a closing 62. They then embarked on a six-hole playoff in which Kizzire emerged with the victory with a par.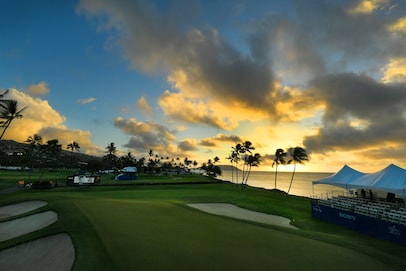 Now with The Greenbrier's Old White course out of the rotation, Waialae Country Club is the only Seth Raynor design on the PGA Tour schedule. In the 1960s, much of the front nine had to be rerouted due the construction of a nearby hotel, but many Raynor elements can still be found, particularly after Tom Doak and his Renaissance Design team's work over the past decade-plus. Though the now iconic 'W's in the trees on the 16th hole (the club's seventh) are the most recognizable feature of the course, true architectural buffs will appreciate the par-3 17th hole and its Redan green, plus the Biarritz on the fourth.
View Course
Kizzire remembers nearly every shot, but he also recalls how "peculiar" were the proceedings that week. Most significant was the false missile alert that Saturday morning of the third round that had many players scrambling to find safe haven and calling their families at home if they had not accompanied them.
Just after 8 a.m. local time, players received an emergency phone notification that read: "Ballistic missile threat inbound to Hawaii. Seek immediate shelter. This is not a drill". A banner with the same message also appeared on TV screens. It took 38 minutes before a second message was sent notifying everyone that the first was sent by accident.
"It was a wild week. I know this sounds a little weird, but one reason I played so freely was because of that missile scare," Kizzire said. "I mean, we thought it might be a nuclear missile. No one really knew. But after that passed, I remember feeling grateful that I was playing golf, and I just played loose and put together a good round."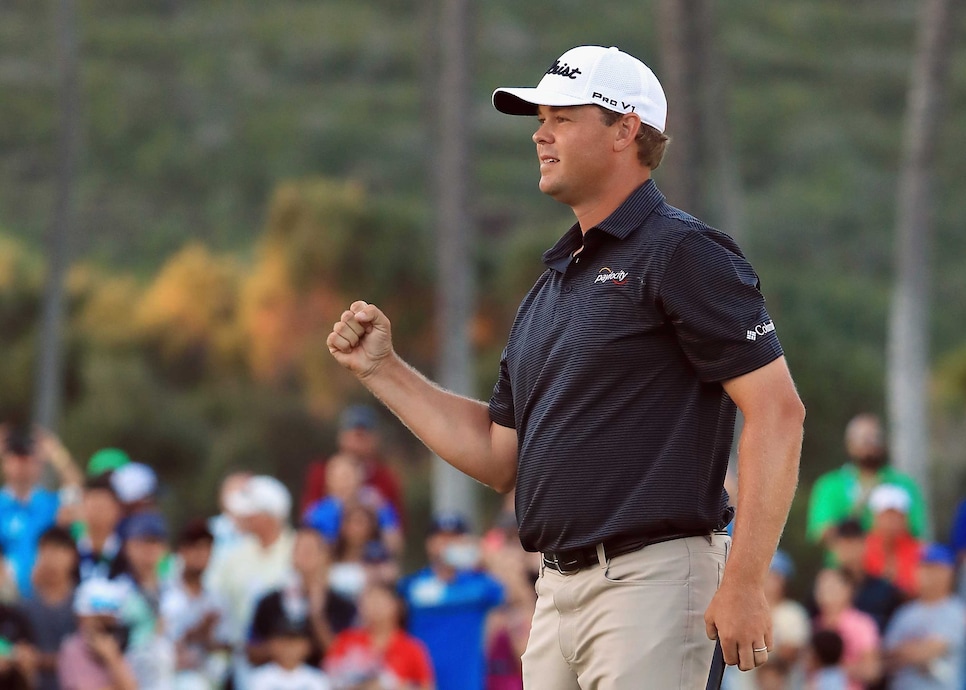 Patton Kizzire reacts clinching victory on the sixth playoff hole at the 2018 Sony Open.
Sam Greenwood
Kizzire, in fact, shot his second-straight 64, which got him in the hunt. The next day, he converted for his second career victory.
He's hoping that he doesn't have to wait much longer for his third. He's not frustrated. He just misses the feeling.
"I'm a better ball-striker than I was then. I hit the ball farther. I feel like overall my game is better," said Kizzire, who begins his opening round at noon Thursday paired with David Lingmerth and Hayden Buckley. "I'm working on the stuff that really matters for winning a golf tournament—short game and putting. I really want to start putting it all together. I love the game, but what I really love is winning. I love beating my opponents, beating the golf course. I'm focused on that."