The Loop
Patrick Reed's surprising new teammate, John Daly's wild week at Hooters, & an all-time embarrassing golf answer on Jeopardy
Welcome to another edition of The Grind, where the loudest roar for Patrick Reed on Sunday may have come from a potential new match-play teammate. Don't get too jealous, Jordan Spieth:
In case you don't know, that's NBA star J.R. Smith, who is also arguably the biggest golf fan on the planet. Patrick's timing in winning the Masters was perfect, because his NYC media tour overlapped with Smith's Cavs visiting the Knicks. So THE KING was in the building at MSG on Monday night. But even LeBron takes a backseat to CAPTAIN AMERICA (Patrick, please wear golf shoes that say that on the back at your next tournament):
Wow, J.R. is really itching to play that member-member. We can only hope this entertaining duo teams up on the links — and that someone documents it. In the meantime, there's plenty to document from a fun-filled week at Augusta National.
Patrick Reed: Golf is a weird sport, huh? After watching up close Reed's performance at Hazeltine in 2016, I -- like everyone else -- was convinced he'd have a monster 2017. Instead, he had his worst year since turning pro. But Ryder Cup Reed finally showed up at a major this past week, and boy, was it impressive. The power, the putting, the PIZZAZZ! From recoils to club twirls to fist pumps to helicopter finishes, Reed has it all.
He still may not quite be a top-five player in the world (Shh! Don't tell him I said that!), but he's getting there. And that's bad news for everyone else.
Rickie Fowler: For a second consecutive major, Fowler's final Sunday charge was too little, too late. Still, a 12-under-par weekend at Augusta National was mighty impressive. "I'm ready to win a major," Fowler said after. We believe you, Rick. And at the very least, that clutch closing birdie earned him an extra $440,000 for finishing solo second, one shot ahead of buddy Jordan Spieth. Looks like Rickie will be picking up the drink tab at #SB2K18.
Jordan Spieth: Speaking of Spieth, this special player continues to rack up legendary performances at a blistering pace. Reed may have won, but Spieth produced arguably Sunday's two largest roars—for the same shot. Those patrons on No. 16 lost their minds when his long birdie putt dropped—and those gathered around the 18th green also went crazy when his birdie was posted on the big leader board.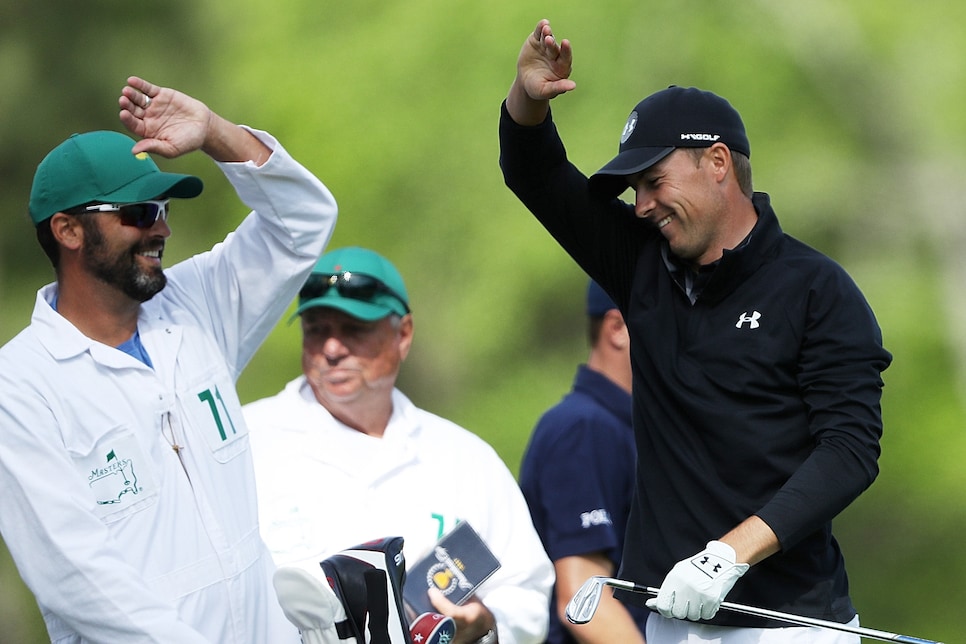 Note to self: Do NOT doubt this man. Ever. Especially at the Masters. Sure, the bogey finish was disappointing, but we'll remember Spieth's 64 for a long time — or, at least until the next time he does something otherworldly.
Rory's Masters Sundays: I'd be lying if I said Golf Digest's Slack channel wasn't a collection of Vince Carter "It's over!" GIFs when McIlroy's majestic second shot finished four feet from the hole on the par-5 second. But he missed the putt and then continued to miss from short range to the point Rory was barely a factor by the back nine. This won't sting as much as the 80 he shot in 2011—and he still has plenty of time to complete the career Grand Slam—but it's not a memory that will help him sleep any easier at night.
Tony Finau's fluke injury: In the span of a few seconds, Finau went from the ultimate high—making a hole-in-one at Augusta National—to one embarrassing (and gruesome-looking) low—dislocating his ankle celebrating.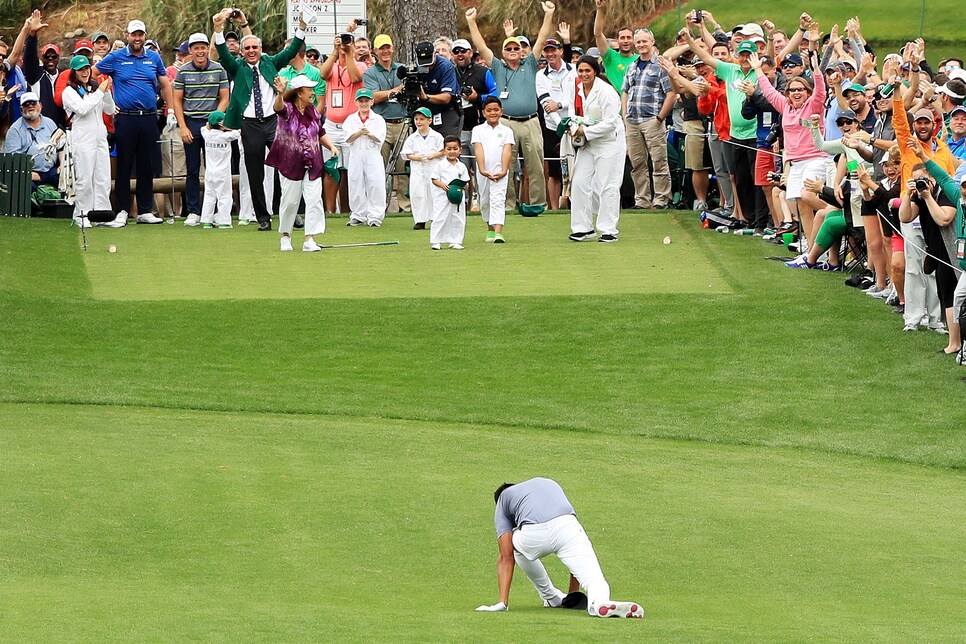 But Finau, recovered nicely, somehow playing through the pain, and playing well. His bid to tie a tournament record with seven consecutive birdies came up just short on the 72nd hole, but his T-10 was enough to guarantee his invite back next year. We're guessing he'll be more careful if he decides to tee it up in the Par 3 Contest again.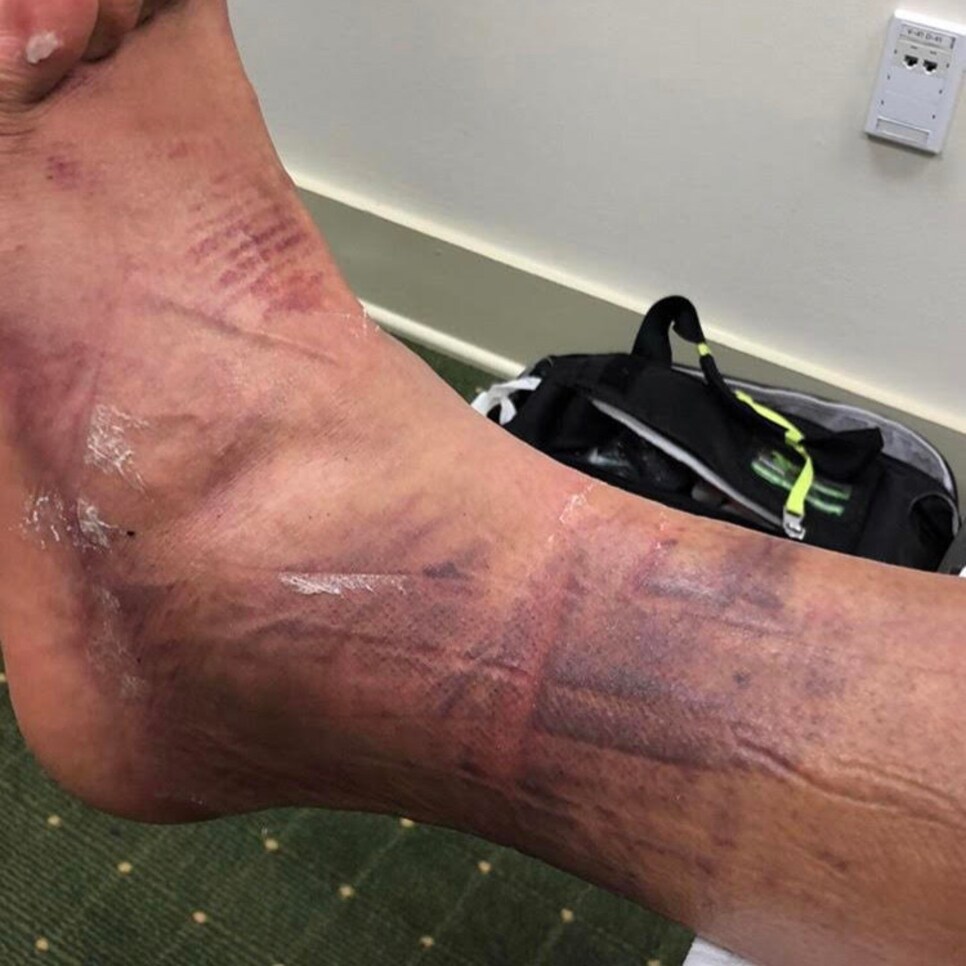 Our apologies if you were just about to eat.
John Daly's flukier injury: John Daly hawking merch in a Hooters parking lot down the road from Augusta National's gates has become its own Masters tradition. However, this year a woman lost control of her car on Washington Road and crashed into Daly's RV, injuring his ankle. True story.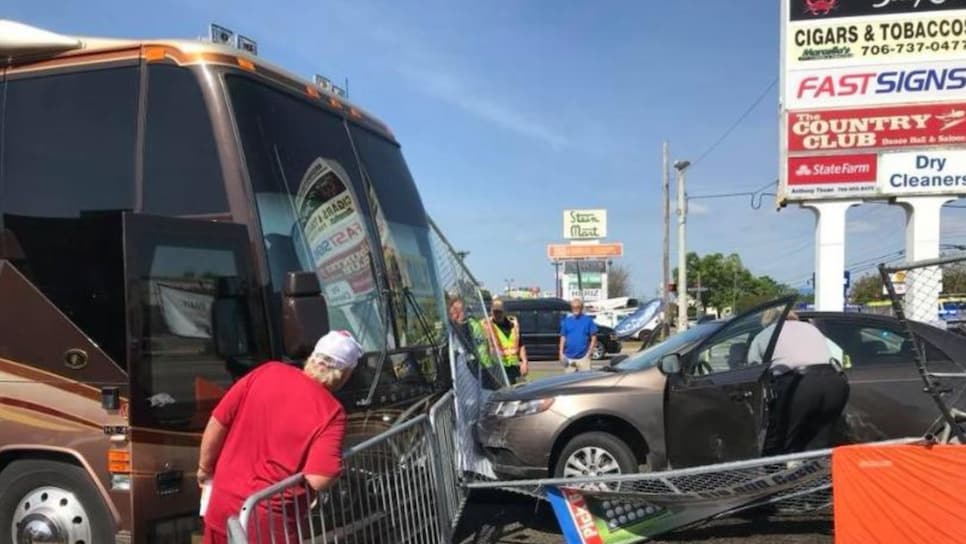 Luckily, no one was seriously hurt, but that's some pretty bad luck for the two-time major champ. Like Finau, though, Daly had a nice recovery as well. He judged the Hooters Bikini Contest a couple days later.
The PGA Tour heads up the road from Augusta National to Hilton Head for the RBC Heritage, AKA that event Wesley Bryan won last year and then admitted to Jim Nantz and Nick Faldo that he threw up in his mouth down the final stretch. Here's a look back at the instant classic post-round interview:
Wes is back to defend his plaid jacket. And hopefully, he'll bring some mints or gum in case that happens again.
Random tournament fact: Luke Donald is to this tournament what Phil Mickelson is to the U.S. Open. After Donald's fifth runner-up here last year, he just needs one more to tie Mickelson's mark at the national championship. Good luck, Luke!
RANDOM PROP BETS OF THE WEEK
— Patrick Reed threw up down the stretch at Augusta: 1 MILLION-to-1 odds
— Patrick Reed will win the U.S. Open: 30-to-1 odds (Actual odds)
— Patrick Reed and J.R. Smith would win their member-member: LOCK
VIRAL VIDEO OF THE WEEK (ON-COURSE DIVISION)
In what might be the greatest pinch-hit appearance since Francisco Cabrera won the Atlanta Braves the 1992 National League pennant, Jack Nicklaus' grandson, Gary, took one swing at the Masters Par 3 contest and made a freaking hole-in-one. In front of Jack, Gary Player, and Tom Watson, no less. Unreal. Cue the chills:
Congrats, kid. The only bad news is that it can only go down from here.
VIRAL VIDEO OF THE WEEK (OFF-COURSE DIVISION)
This Jeopardy! clip also might be the fail of the year.
We're guessing Julia wasn't watching the Masters over the weekend. Although to be fair, maybe she was thinking of celebrity golf majors?
THIS WEEK IN TOUR PRO-WAGS PUBLIC DISPLAYS OF AFFECTION
Allison Stokke showed support for her man following his latest close call:
Again, I think Rickie will be OK. And Patrick and Justine Reed both got pretty in pink on Masters Sunday with these color-coordinated ensembles.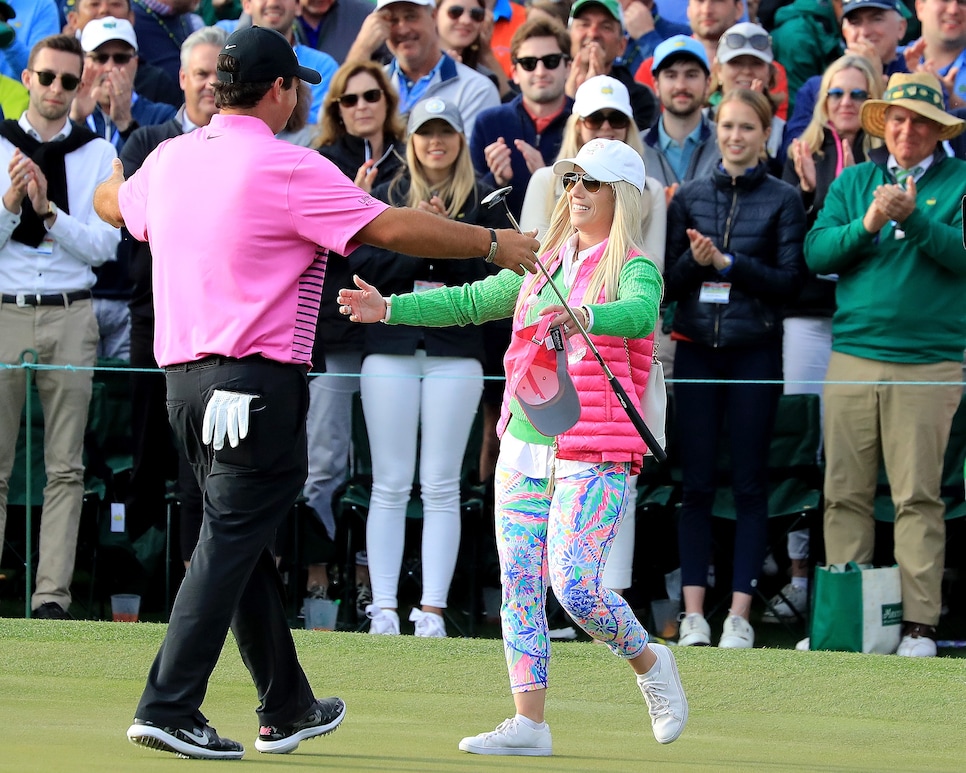 "Every time you think about it as a kid growing up, it's always, you know, this putt is to win a green jacket; this putt's to win the Masters. I think that's just because of the history and everything that's gone on here at Augusta National and how special it is to all the golfers and special it is to just golf in general around the world." -- Patrick Reed. Well said. Now enjoy your green jacket tour for the next 12 months.
THIS WEEK IN CELEBRITY GOLF FANS (NON-J.R. SMITH DIVISION)
It looks like Lil Wayne really enjoyed his first trip to the Masters:
The newer, friendlier Tiger Woods appeared several times during Masters week, most notably celebrating and flashing the "safe" sign when he avoided the water on No. 12 for the third day in a row, and with this congratulatory tweet to Reed:
Tiger's got jokes! . . . The PGA Tour is officially changing its slogan after more than two decades from "These guys are good" to "Live under par." I miss "These guys are good," already. . . . There's a lot we don't know about Patrick Reed, but John Feinstein reported he does most of his own cooking during tournament weeks and that he listens to the Imagine Dragons song "Radioactive" on loop when he practices. That's by far the most unsettling thing I've heard about the guy yet. . . . The PGA Tour announced players will be allowed to use walk-up music at the Zurich Classic. Guess we know what Reed will be coming out to. . . . And finally, I used to think putting Girl Scout Thin Mint cookies in the freezer was an overrated move: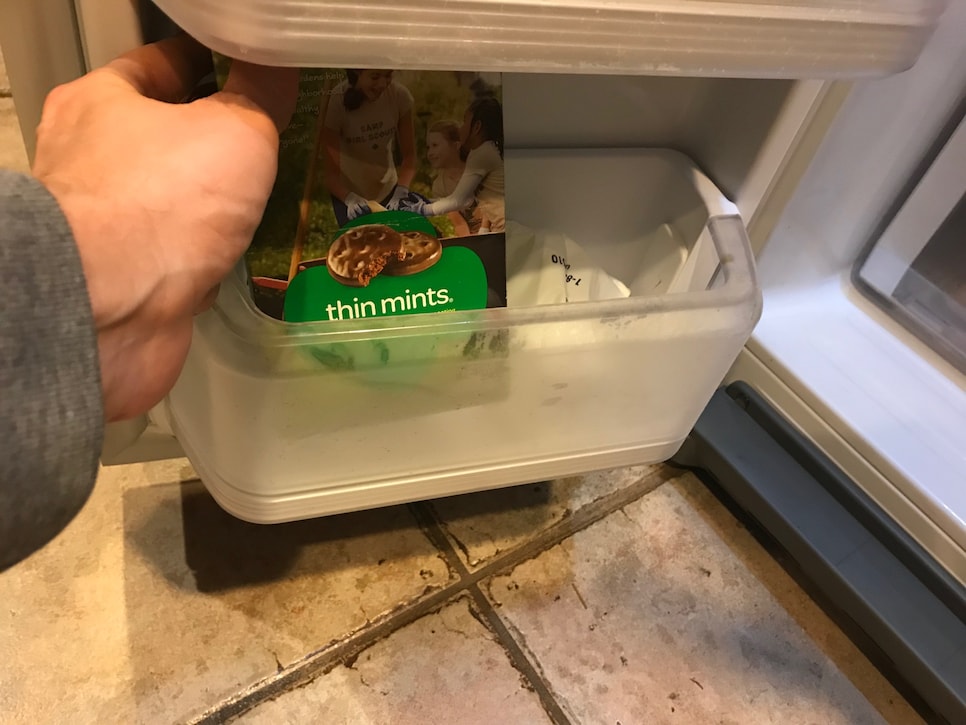 I used to be young and stupid.
RANDOM QUESTIONS TO PONDER
Will Patrick Reed cook next year's Champions Dinner himself?
Will Patrick Reed give his next child an Augusta National-related name?
Will Patrick Reed wear the green jacket to the first hole of the Ryder Cup? (We can only hope)