PGA Tour Takeaways
Patrick Reed holds off a rotating cast of challengers to win the Farmers Insurance Open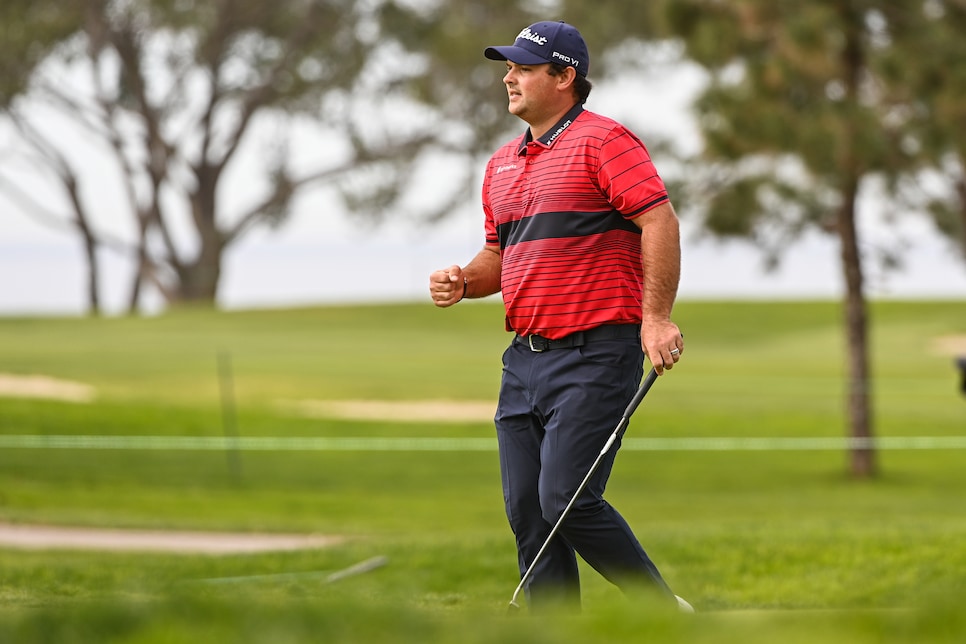 An unforgettable weekend in golf came to a rather forgettable finish on Sunday, with Patrick Reed outlasting a rotating cast of challengers at beefy Torrey Pines. A final-round 68 was good for a five-shot win, and the 30-year-old now has nine PGA Tour victories in his career. Here are five takeaways from Sunday of the Farmers Insurance Open
Controversy aside, the man knows how to close a golf tournament. He has now won six of the eight times he's entered the final round with the lead, and he closed the deal in San Diego without his best ball-striking stuff. Reed has one of the very best short games in the world, and he got up and down six of the seven times he missed a green on Sunday. Those par saves kept him afloat as player after player popped their head near the lead—first it was Jon Rahm, then Sungjae Im, then Viktor Hovland—only for Torrey Pines to pull each of them back to the pack.
Except Reed, who led the field in strokes gained around the green all week.
We stop short of saying the circumstances surrounding the win make it extra impressive, because that would amount to giving credit in a situation where credit might not be warranted. But there seems to be no one else in the game who is as comfortable as he is amid controversy. It calls to mind the 2019 Presidents Cup, where his caddie Kessler Karain's scuffle with a fan dominated headlines on Saturday. With Karain suspended and his coach on the bag, Reed absolutely dominated his singles match, birdieing five of the first seven holes to bury C.T. Pan. He'd never say it, but you have to think he semi-enjoys, or at least leans into, the villain role.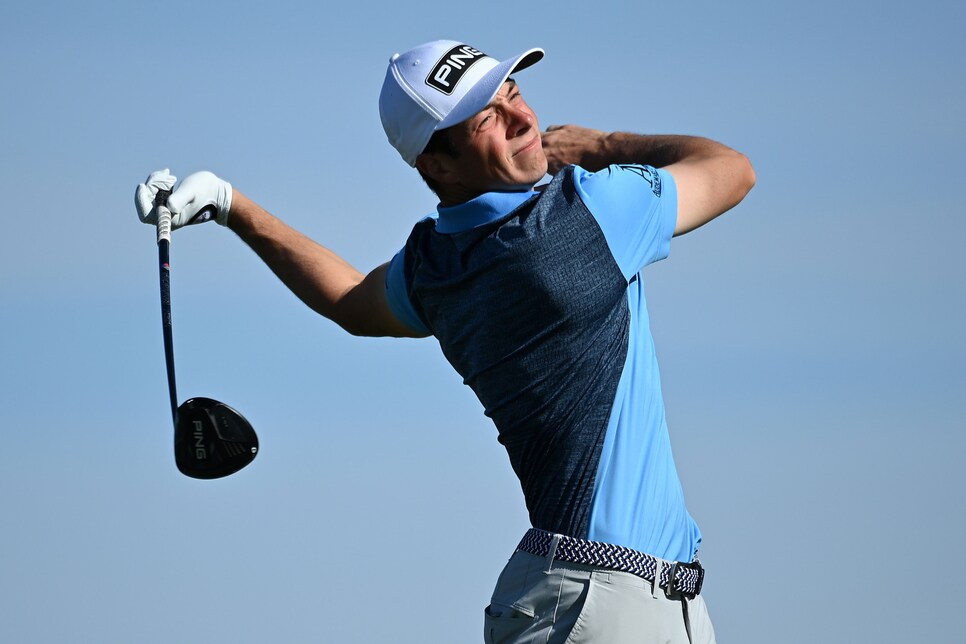 The 23-year-old Norweigan emerged as the top challenger to Reed on Sunday, and he looked poised to tie for the lead after pitching to six feet for a birdie try at the par-5 13th. But he hit one of his worst putts of the week, a shove right off the face, and it went south from there. On 14, his pulled his tee shot into a fairway bunker then smothered his second, eventually needing to get up-and-down for bogey after a penalty shot. His drive on 15 missed right, clipped a tree and finished directly behind said tree's trunk. A mandatory pitch out from there, and another bogey, and then another cringeworthy bogey at 17 after missing a two-footer. That miss, by the way? Cost him about $350,000.
It wasn't to be today for Young Hov—which, by the way, is an awesome nickname—but this is yet another positive step, as he's now posted top-three finishes in three of his last four starts. With Collin Morikawa treading water a bit and Matt Wolff dealing with an injury, Hovland officially moves to first place in the never-ending Hovland-Morikawa-Wolff power rankings. Yes, we're still talking about that.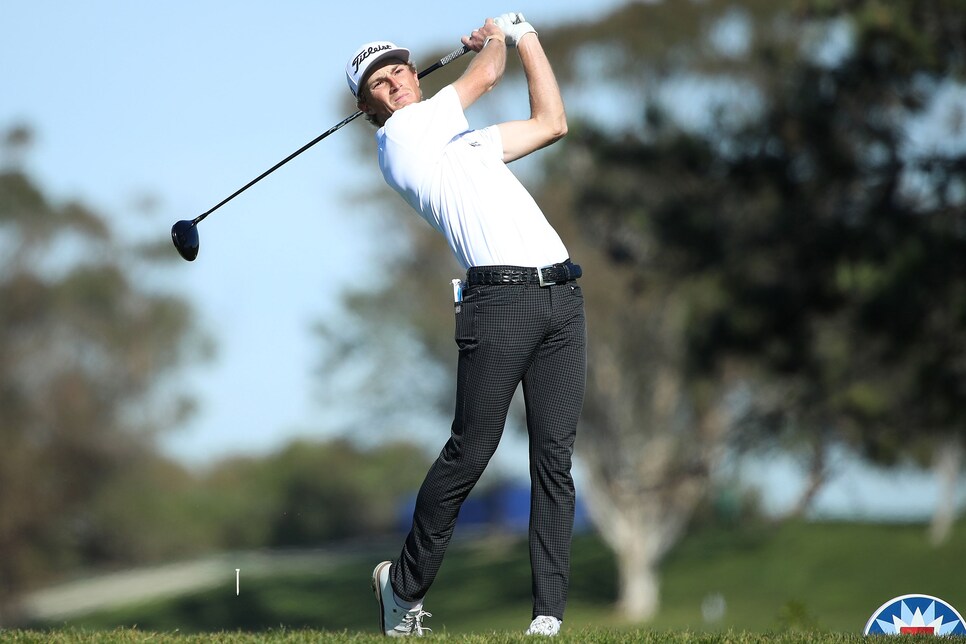 The top-10 king strikes again
Without looking at Google or Justin Ray's Twitter feed, which player has the most top-10 finishes worldwide since the beginning of last year? Dustin Johnson? Rory McIlroy? Good guesses, but the correct answer is Will Zalatoris.
It started on the Korn Ferry Tour last summer, where he emerged by far as the best player on that circuit. His stellar play earned on that tour got him a spot in the U.S. Open at Winged Foot, where he finished T-6, which got him into the next week's Corales Puntacana Resort & Club Championship, where he was the betting favorite before finishing T-8. The 24-year-old Wake Forest grad eagled 18 on Sunday at Torrey Pines to get in the house at eight under, good enough for T-7 and his 14th top-10 since Jan. 1, 2020. The man belongs, and don't be surprised if he pushes hard for a Ryder Cup spot this year. Yes, he's that good. He just needs more starts in the biggest events. A good way to get those is keep posting top 10 finishes.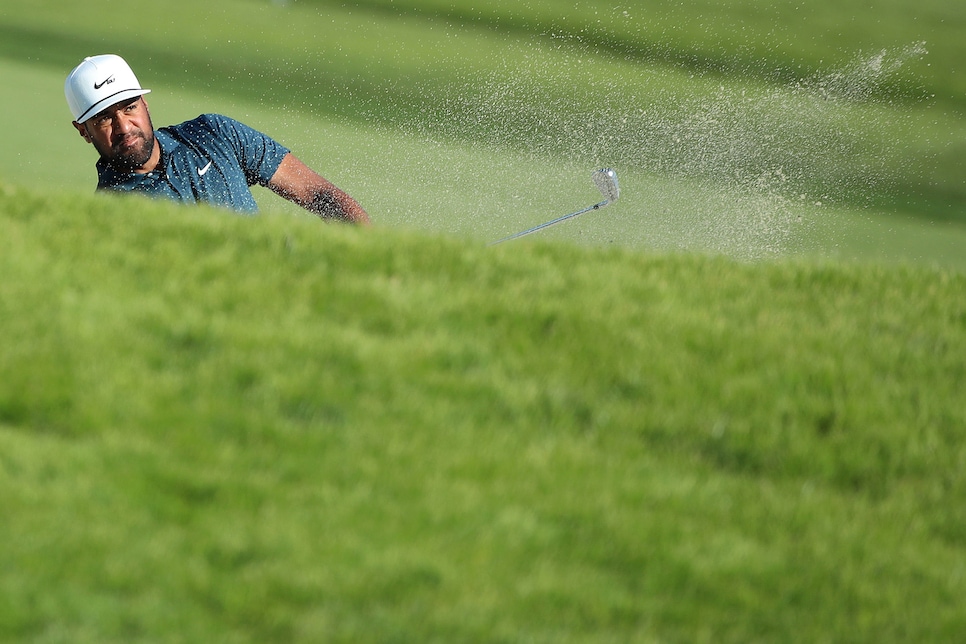 Tony Finau's driving iron has cost him majorly
Another week that saw Tony Finau enter Sunday with a chance to win, and another week that saw Tony FInau leave with a big check but no trophy. It boils down to that. This was Finau's 36th top-10 finish since his lone PGA Tour win at the 2016 Puerto Rico Open, and he's made more than $18 million on tour since then. But man, does the guy play some head-scratching golf down the stretch.
Last week at The American Express, it was a hooked driving iron into the water on 11 that torpedoed his chances. On Sunday in San Diego, it happened at 18. Sitting in the middle of the fairway, Finau was three back of Reed—so he likely needed to make eagle to have a chance, and even then he'd need some help. But still, not dead at all at a course as hard as Torrey. He pulled that same driving iron again, flushed it … and came up well short. Splash. Bogey.
"I hit it right at it, hit a really good shot," he said after the round, "but like I said, my ball was barely in an old divot, a quarter of the ball sitting down just enough to—I hit down on it a little harder to make sure I got it out of there and it kind of ballooned on me."
That's tough luck, but you also would think he would know that might happen and would factor that into his yardage. Guess not. On to the next event.
An absolutely wild week of golf comes to an end
What a dramatic weekend! First the Reed controversy, then the Twitter-burner controversy, then the Rory controversy—the rules officials even made a few appearances on the back-nine Sunday just for good measure. A reminder that an electric golf tournament can emerge from nowhere. Who needs Tiger Woods?