LIV Golf
Patrick Reed, Pat Perez rip the PGA Tour in first LIV Golf press conference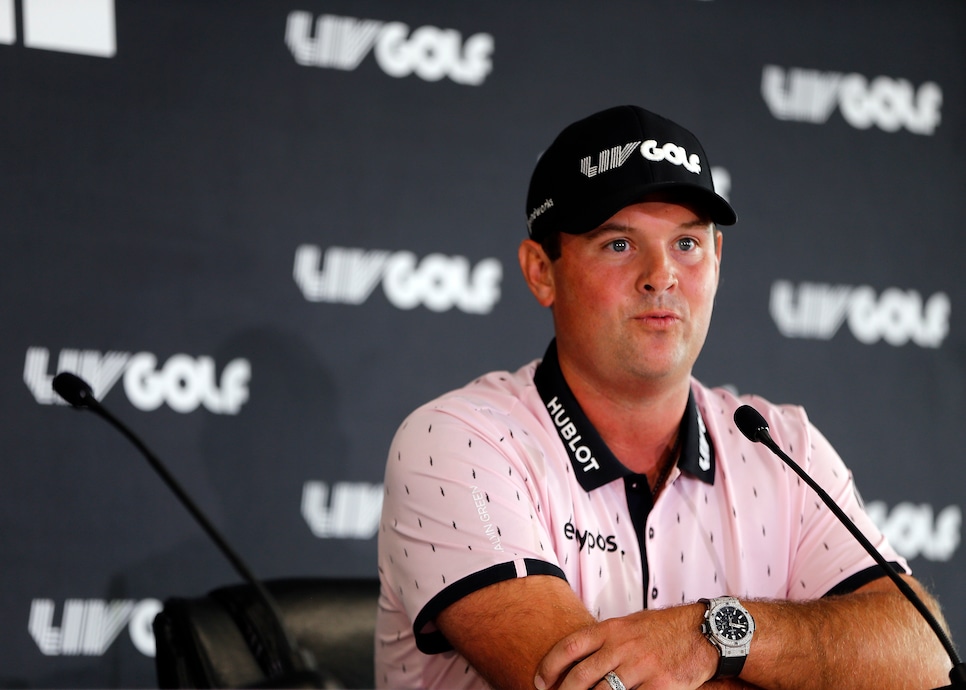 NORTH PLAINS, Ore. — Patrick Reed is all in on LIV Golf. He's signed a multimillion-dollar contract to play in all the LIV events. He's wearing the logo on his hat, and his shirt collar and his left sleeve. And he's throwing serious shade at his old stomping grounds as a parting gift.
It's hardly news that Reed and the PGA Tour weren't exactly a perfect marriage. As Golf Digest detailed, PGA Tour officials felt they were constantly dealing with complaints from Reed and his associates and that, at times, dealing with "Team Reed" felt like an unwinnable situation. Turns out the disdain went both ways. Speaking in his first LIV Golf press conference, Reed was asked what the PGA Tour could've done differently to avoid this current schism in the professional game. "Listen to the players for once," he said. When asked to elaborate, he gladly complied.
"We have a smaller schedule," Reed, a nine-time winner on the PGA Tour, said. "We actually have an off-season where not only can we get healthy, work on our bodies, but we're basically allowing ourselves throughout the year to, you know, try to peak at the right times is when you're playing rather than feeling like you have to play every single week. And on top of it, just the quality of life for us as players now, you know, having less events, being able to spend more time at home with the family, if you have kids, being able to spend time with your children, and not sitting there and having to play three, four weeks in a row, then have a week off, and during that week off you're preparing trying to get ready for the next week.
"You're able to actually now set out a schedule, go out and put all you have in every single event. You're not having to conserve energy ever … if you took off any period of time because you needed it for your body, you're behind now. Everyone is going to pass you in FedEx [Cup points race]. It was forcing you to have to play, and that's not doing anything for you mentally and physically. That's wearing you down, and you do that every single year and no wonder why guys are injured in their 30s and why guys are mentally tired and you just see the grind on them because they're having to grind every single week."
Reed also said he believed LIV's shotgun-start format is a better way to identify a champion because everyone is on the course at the same time, thus removing the luck of the tee-time draw from the equation.
He wasn't the only LIVer who was critical of the PGA Tour. Pat Perez, who called signing with LIV at 46 like "winning the lottery," had some pointed criticism for PGA Tour comissioner Jay Monahan.
"He doesn't listen to the players," Perez said of Monahan. "Somehow the [PGA Tour] keep talking about, oh, yeah, we work for you, we work for the players, we work for the players. It's the opposite. Seems like we work for them. We don't have a say in anything."
Perez also used a question about whether he'd resigned his PGA Tour membership—he has not, because he feels like he hasn't done anything wrong—as an invitation to air some grievances.
"We should be able to do whatever we want. We are independent contractors. The [PGA Tour] has tried to strong-arm us all year and come with bans and suspensions and all that, and how'd that work? Look how many guys are here. That didn't work at all. So the top threats and all that kind of stuff. And how many major winners do you have here compared to [the John Deere Classic]? It's not even close. The [PGA Tour] wants to keep talking about strength of field and all that kind of stuff, the strength of field is here. So whether everybody wants to talk about it or not, that's what it is. Facts are facts."