LIV Golf
What Bryson, Brooks and the rest of the new LIV golfers said (and meant) in their first pressers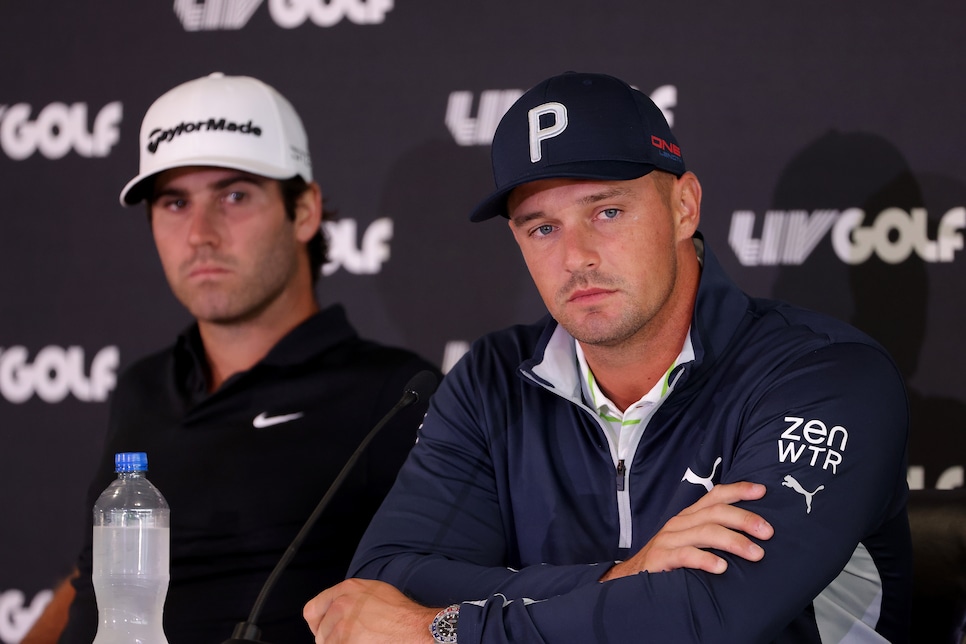 NORTH PLAINS, Ore. — For Greg Norman, the Saudi government and LIV Golf, Tuesday's press conferences are a victory lap of sorts; an opportunity to show off six legitimately big-name golfers they have successfully lured away from the PGA Tour. This being the first time the latest defectors—Bryson DeChambeau, Matthew Wolff, Abraham Ancer, Brooks Koepka, Pat Perez and Patrick Reed—have addressed media regarding their decision, nearly every question has been a version of the same core quandary: Why did you do it?
We're going to do our best to sift through the PR-jargon and media training—"grow the game" and "I respect everyone's opinion" seem to be two phrases of particular emphasis—and view each guy's personality and career in context to try to answer the question more honestly than the six would. (Except, maybe, Matt Wolff. More on that in just a bit.)
Money, of course, is the chief driver of the schism in the sport, and it's the main reason those six are in Oregon today. But it is not the only reason.
The crown jewel of this recruiting class, DeChambeau was efficient with his words, disciplined in the scope of his comments. He stayed on message, and his agent, Brett Falkoff, gave him a pat on the back after he walked out of the media center. Job done. It was a noticeable departure from DeChambeau's rambling exchanges back in his PGA Tour days, before he stopped talking to writers due to perceived slights. It's as if someone finally got through to Bryson to tell him that this is what he should say, and that he does not need to say anything else.
DeChambeau talked about his entrepreneurial spirit, his desire to use the money to give back to the communities in his hometown in California and to build a multisport complex in Dallas, where he currently resides. He spoke of the freedom the schedule gives him to rest and to pursue his own content-making opportunities on YouTube. And, when pressed on the source of the money he's taking, DeChambeau reminded us of a truth in all of this: These guys don't have to justify their decision. We might want them to, but their checks don't depend on it. LIV certainly isn't clamoring for a discussion on morality or geopolitics. DeChambeau said he wants to focus on "moving on," "looking forward" and using the game as a force of good—almost verbatim to Phil Mickelson's answer to this question.
"I understand people's decisions and their comments and whatnot," DeChambeau said. "But as it relates to me, I've personally made that on my own as my own decision. And I won't say any more on that because there's no need. We're golfers at the end of the day. And I think that I respect everybody's opinion, that's the most important thing.
"But golf is a force for good, and I think as time goes on, hopefully people will see the good that they're doing and what they're trying to accomplish rather than looking at the bad that's happened before."
DeChambeau also said he tried multiple times to get onto the PGA Tour's Player Advisory Council to work on changing the tour from the inside, but he was not successful. He said he did not know what the PGA Tour could've done to avoid his departure but did say he has not resigned his membership and hopes to play both tours.
Wolff seemed the most genuine of the bunch. He is a different cat, not afraid to discuss his challenges with life on the road and the cold competitiveness of the PGA Tour. He said he felt isolated, depressed, dejected. He simply hasn't been happy for long stretches, and he seems to view LIV as a much lower-stress option to the life he lived 12 months ago. Wolff absolutely loved his time at Oklahoma State—he has said he regrets leaving Stillwater early and spent most of his time there during his hiatus from the game last year—and reveled in the team environment. He is a deeply social person, perhaps not cut out for the rugged individualism of the PGA Tour. He knows that, and he's OK with that.
"I just think that like this just gives us such a good opportunity and getting back to [why I joined]," Wolff said. "You're going to try so hard for your team and it just gives you so much more opportunity to enjoy yourself and have little small wins and feel good about yourself rather than shoot 75 on Sunday [and feel like] I could've played better, I could have done this, I could have done that."
Ancer fancies himself an entrepreneur. He co-launched a successful tequila company with Mark Wahlberg and has his eyes on other business projects. The influx of cash, he said, coupled with a lighter tournament schedule will allow him to live a balanced life between his golf, his family and his business. All three players spoke of the lighter schedule, though LIV is expected to expand to a 14-event schedule for 2024, and all three said they're keen on continuing to play the majors, which would bring the total to 18. The PGA Tour does not require its players to compete in any tournaments, so the lighter-schedule justification doesn't hold up perfectly.
"I actually made a list of a lot of pros and cons and it wasn't definitely an easy decision," the Mexican said. "If it was just a business decision then yeah, it was extremely easy, right? But now it's came down to quality of life. And I felt like in the last two or three years I've been giving my all to golf and business outside of golf as well. So I haven't really had a life outside of golf in business. So I feel like I haven't seen my family that much. So yeah, just talk to everybody that's close to me and kind of put the cards on the table."
Ancer was also pressed on whether he's worried that his golf game will suffer now that he's not playing against PGA Tour competition every week and dealing with a 36-hole cut. He brushed that one aside, suggesting he's way too competitive a person to simply go through the motions in any competition.
Koepka, who said did not have discussions with LIV Golf until after the U.S. Open, took a rather combative and dismissive tone throughout his 30 minutes at the podium. When asked what changed from when he vehemently supported the PGA Tour, he simply said "my opinion." When asked to give specifics on that, he declined. When asked if he's concerned about future access to the majors, he said that playing well will take care of itself but didn't seem too bothered either way: "I made a decision," he said. "I'm happy with it, and whatever comes of it, I'll live with it." The most illuminating part of his presser came when he discussed his injuries and how the lighter schedule will benefit his worn-down body.
"I came back to play three weeks after surgery on a knee where they're like you're not going to play for six months," Koepka said. "Just because I didn't feel like I was going to miss the whole season next season. It was just bad timing. Where now, I mean, got, what, seven more events to play? I mean, you're not doing a month on the road anymore. You know, life does go on even though when we're not playing golf. So being away from home for a month. I don't have any kids that I know about. So being at home is not really a thing for me, but life does go on. And like there's some things we miss at home, being friends, family, a lot of birthdays. It would just be nice to be home a little bit more. I think that's a big thing that everybody, every one of these 48 players will say the same thing."
Reed, wearing a LIVGOLF hat, said he had resigned his membership from the PGA Tour. Reed also did not shy away from criticizng Ponte Vedra. He was asked what the tour could've done to keep hijm and said "listen to the players for once." He said the FedEx Cup schedule forced him to play for weeks on end and of the burnout that comes with multiple weeks on the road.
"We have a smaller schedule," Reed said of LIV. "We actually have an off season where not only can we get healthy, work on our bodies, but we're basically allowing ourselves throughout the year to, you know, try to peak at the right times is when you're playing rather than feeling like you have to play every single week. And on top of it, just the quality of life for us as players now, you know, having less events, being able to spend more time at home with the family, if you have kids, being able to spend time with your children, and not sitting there and having to play three, four weeks in a row, then have a week off, and during that week off you're preparing trying to get ready for the next week. You're able to actually now set out a schedule, go out and put all you have in every single event. You're not having to conserve energy ever."
Interestingly, he suggested a shotgun start is the best way to identify a champion because everyone is playing at the same time—clearly, he shares disdain for the early-late wave system with whoever is behind the @usegolfFACTS account.
Perez kept it real: he's 46, he's played more than 500 events on the PGA Tour, and for him, this is like "winning the lottery." He will play much less than he did for the past two decades and he will make more money.
"I'm a 30- to 33-week guy," he said of his past PGA Tour schedule. "Every year I've done it and now I don't have to. And I get to be with them. I get to be with my family. At my age this is an absolute golden opportunity for me. I get to play. D.J. is my captain. I get to play seven this year and whatever else in the future. It's a no-brainer for a guy my age that's been on the road. I just had three weeks off. I feel great. I couldn't be more excited about this, and that's the bottom line."
He spoke passionately against the PGA Tour's handling of the situation and said he has not resigned from the PGA Tour because he feels he has done nothing wrong, and that he should be able to play on the PGA Tour Champions when he turns 50.
"[Jay Monahan] doesn't listen to the players. Somehow the tour they keep talking about, oh, yeah, we work for you, we work for the players, we work for the players. It's the opposite. Seems like we work for them. We don't have a say in anything."
Asked if he had concerns about the source of the money, Perez said one word: "no." And he drew perhaps the only laugh in a very tense room when he said that "at World No. 170, I'm not concerned about the majors."