PGA Tour
Patrick Cantlay explains how Fred Couples helped connect him with new caddie Joe LaCava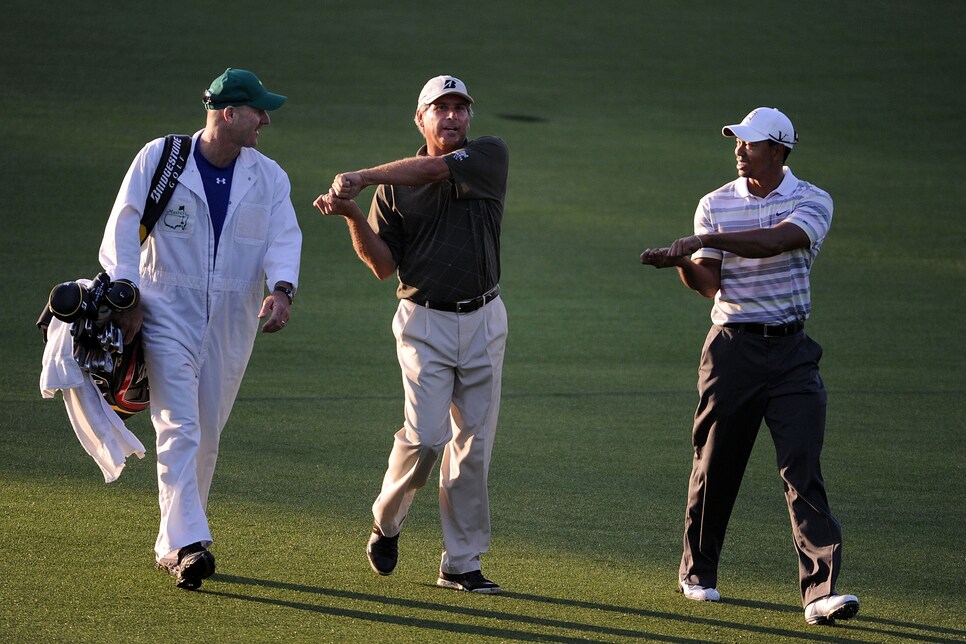 CHARLOTTE — It was first reported on Tuesday at the Wells Fargo Championship that Tiger Woods' longtime caddie, Joe LaCava, had made a permanent move to Patrick Cantlay's bag. He replaced Matt Minister, known by the nickname "Rev," who has worked with Cantlay since 2017. But if fans were hoping Cantlay's Wednesday press conference in Charlotte would shed more light on the situation, they were disappointed.
Cantlay, striking a matter-of-fact tone, confirmed the basic facts of the switch—that he let Minister go after the Zurich Classic of New Orleans and is bringing LaCava in as a full-time replacement—but wouldn't elaborate on the cause of his split with Minister or any dialogue with Tiger Woods.
In fact, Cantlay revealed only two new nuggets—that Fred Couples was the facilitator, to a degree, and that he didn't communicate with Woods in any way during the process.
"I've been friends with Fred Couples a long time," Cantlay said. "He's been in Newport Beach for a number of years now, and we've played a lot of golf together. So I've heard a number of great things about Joe … when I reached out to Joe, he said it was possible and [it] ended up working out. I'm really happy about it. … I haven't spoken to Tiger."
LaCava, however, did speak with Woods, getting his approval. Woods' agent Mark Steinberg told ESPN that "you shouldn't read anything more in to that other than Joe wants to caddie. He loves it. It's his passion."
Cantlay called LaCava a "steady hand on the steering wheel," and added that "I know he's been in every moment a caddie could be in and he's just a good guy."
As for Minister, Cantlay's words sounded slightly prepared, in the manner of a press release.
"We accomplished a lot together, and I'm really proud of all we accomplished," he said. "He's a great friend of mine, and we had a lot of good finishes together and a lot of wins. So I'm incredibly grateful to him. Just needed a change."
Minister was on Cantlay's bag for eight PGA Tour wins, including three playoff events, the latest of which came at the BMW Championship last August. Cantlay's play in majors has been less impressive, with just three top-10s in 24 tries, which the 31-year-old tour pro chalked up on Wednesday to an anomaly. If that had anything to do with turning to LaCava, he gave no indication of that, and it's doubtful he will at any point in the future.