Course Strategy
'Find the lanes:' Patrick Cantlay's ingenious par-5 strategy, explained
Patrick Cantlay tees off on the ninth hole during the third round of the 2022 Shriners Children's Open.
Matthew Bolt/Icon Sportswire
Patrick Cantlay is not a swashbuckling or daring golfer, by design. Conjure up a few ways to best describe his game, and golf fans will land on words like efficient, effective, simple, consistent.
And it's what makes him one of the most fearsome players in golf today.
In many ways Cantlay is the kind of modern-era answer to Nick Faldo. He plods his way around the golf course, unceremoniously and relentlessly, squeezing his opponents to death before they even realize. It's the kind of approach the rest of us, as fellow golfers, can stand to learn a lot from.
To figure out what, exactly, we should be learning from Cantlay's game, I called up his coach, Golf Digest Best in State and 2022 PGA of America Teacher of the year Jamie Mulligan. Mulligan has been coaching Cantlay since high school, and speaking moments after his longtime student came inches away from shooting 59 at the Shriners Children's Open on Saturday. His answer was to look closely at Cantlay's course management, especially on par 5s, where he led the tour in scoring average last season.
"He knows when to hold them and when to fold them," Mulligan says.
Here's how that works in practice.
Cantlay isn't your prototypical PGA Tour bomber, yet he thrives on par 5s anyway because of how he uses the speed he does have. Rather than excelling in one area — distance or accuracy — he birdies almost 60 percent of his par 5s courtesy of a careful application of both.
"He's not the longest player out there, but he's got sneaky length," Mulligan says. "He'll try to use his speed a little more on those longer holes."
Where Cantlay excels off the tee is, for lack of a better term, keeping his drives in the ballpark. He ranked 12th in Fairway Proximity last season, and while he may draw on his extra speed reserves on par 5s, it's smart speed. He'll never swing for the fences. You can't birdie a par 5 with your first shot, after all. It's why Cantlay's initial goal is always giving himself an opportunity to attack on the second shot, and not lay up.
"He plays chess out there," Mulligan says. "He's always thinking about where the best place is to hit the next shot."
It speaks to a player whose engine has an extra gear, but never one that's in danger of spinning the car out of control.
Put simply, that means even though Cantlay is further away from the green on his second shot on par 5s than his peers, he's going for the green more often anyway, and ending closer than his peers after doing so (he ranks sixth in proximity after going for the green)
Cantlay does this by chasing "lanes," Mulligan says. When he's sizing up his second shot, Cantlay doesn't just laser focus on the green. He's also carefully charting what's happening between the green and the shot he's about to hit so he can use the ground game to his advantage.
"He's very good at taking advantage of different lanes on par 5s," he said. "His goal is to advance his ball as far down as possible [even] when he can't get there."
In many ways, despite Cantlay going for the green, he's planning more for the subsequent pitch shot than any potential putt. Eagles are fun when they happen, but birdies are the goal.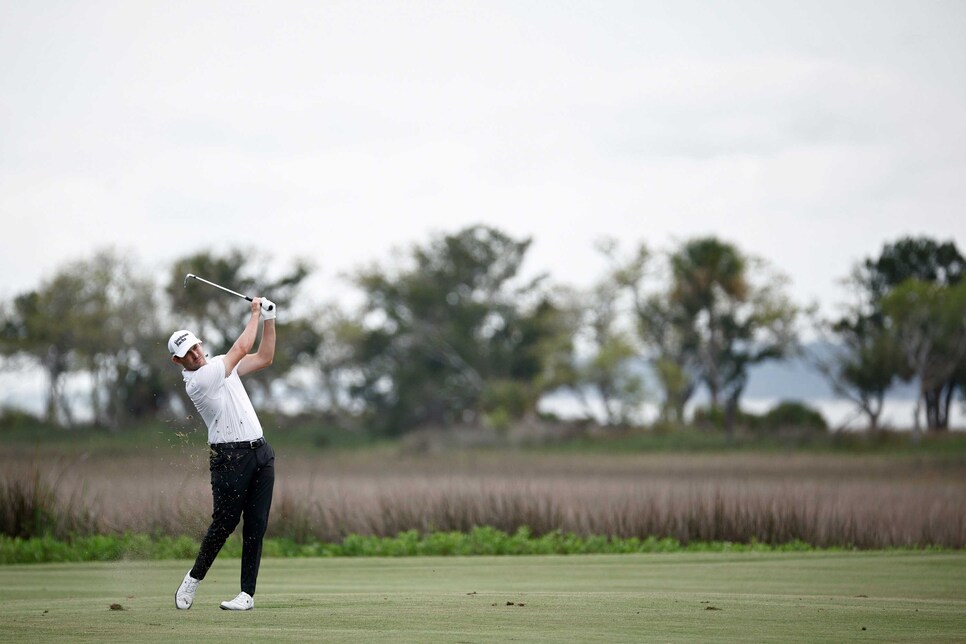 Cantlay's average distance away from the pin after his second shot after going for the green was a little more than 21 yards and Cantlay's goal is to pick a lane to fly-and-roll his ball down that will give him the clearest route to that day's hole location on his next shot.
"He finished in the top 10 in scrambling last year, because he works hard and does a great job leaving himself in a good spots to make the pitch shot easier," Mulligan adds.
Step 3: Pitch to 'quadrants'
With Cantlay now in close proximity to the green, he is basically targeting the pin, but he's not doing so unconditionally.
"He and his caddie will divide the green into four, and we work on pitching the ball to different quadrants," Mulligan says.
Hitting his ball into a specific quadranet, rather than the pin itself, is the primary aim, Mulligan explains. His quadrant of choice will vary based on that day's pin position, so when the pin's back left, the back left quadrant is the target.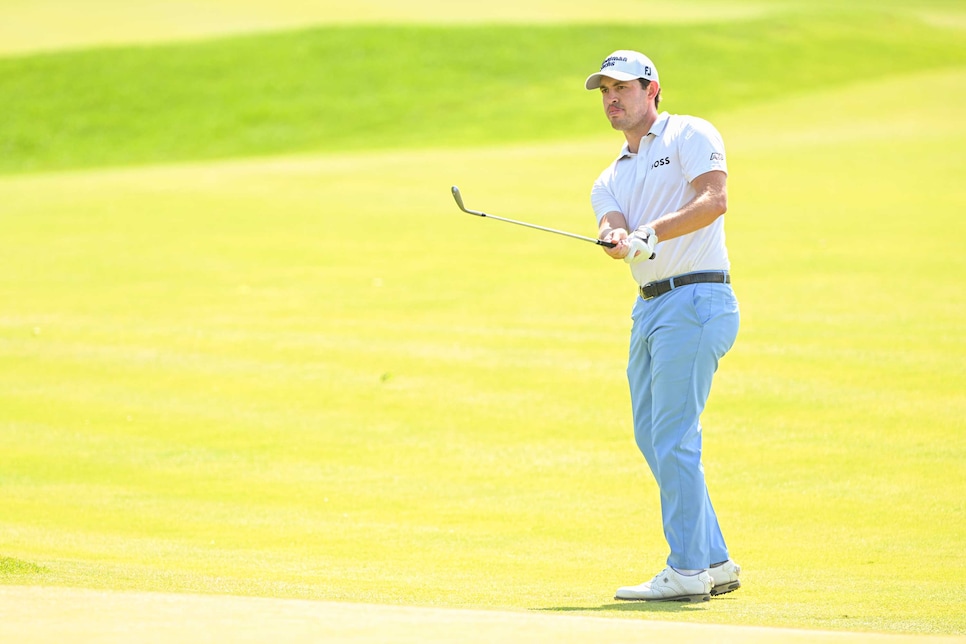 It speaks to the common theme in Cantlay's approach to par 5s, Mulligan says: Always trying to advance his ball forward, constantly keeping an eye on what the next shot may be and never chasing the perfect shot.
"The goal of your current shot is to make your next one easier," he says. "It's about hitting good shots, to good spots.
And the formula, in practice, works like clockwork.
More than 60 percent of Cantlay's par 5s ended in birdies (or better) last season, and his par-5 birdies account for 40 percent of all his birdies, despite par 5s comprising just 16 percent of his overall holes. Consistent, clever and relentless. It's an approach that defines Cantlay's approach to the game. And it's on par 5s where we see its benefits shine through the brightest.