59 Watch
Patrick Cantlay nearly rolls a 59 in Vegas, settles for 60 and the co-lead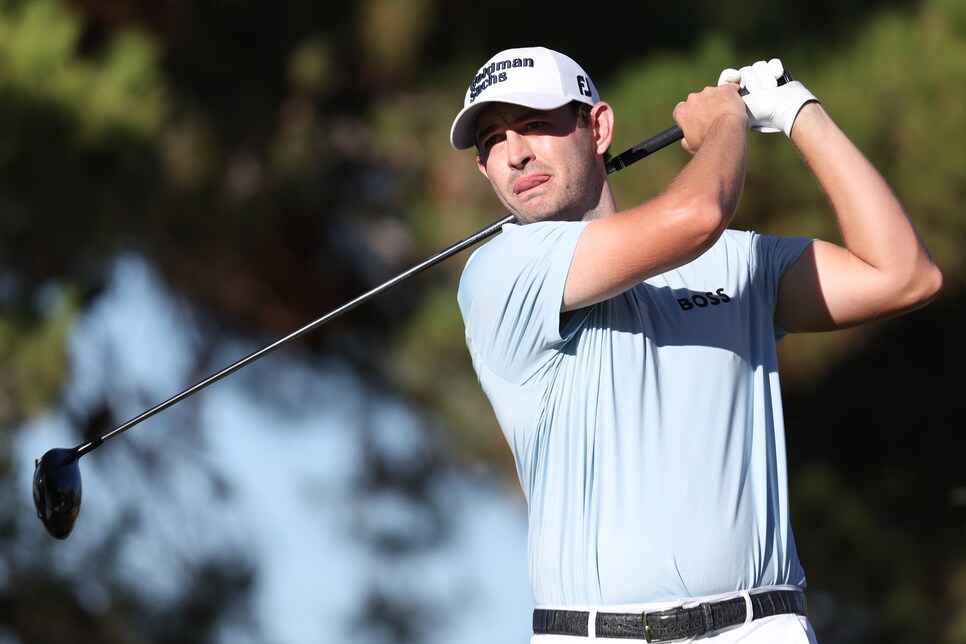 Patrick Cantlay plays his shot from the 16th tee during the third round of the Shriners Children's Open at TPC Summerlin.
Jed Jacobsohn
Thanks to third-round 60 on Saturday that tied the course record, Patrick Cantlay will have another chance to win the Shriners Children's Open, which happens every time he tees it up at TPC Summerlin.
Cantlay just missed recording the 13th sub-60 score in PGA Tour history when his left-to-right 24-foot birdie putt on the 18th hole stayed left of the cup. Instead, he settled for his second 60 in his tour career and enters the final round in Las Vegas tied with Presidents Cup foe Tom Kim at 19-under 194. Kim, who electrified the International team at the recent Presidents Cup at Quail Hollow Club, shot 62 and will vie for his second tour win in his last four starts.
"I hit good putts all day today. You can't make every single one as much as you'd like to. I'm very happy with how I played, and I'm in a good spot going into [Sunday]," said Cantlay, 30, who won the first of his eight tour titles in the same event in 2017. In his three other career starts in Vegas, Cantlay has finished runner-up twice and in 2020 he shared the third-round lead with Martin Laird before a closing 73 dropped him to T-8.
Cantlay's bogey-free round was a thing of beauty. He converted 11 birdies, hit 12 of 14 fairways, led the field in strokes gained/off the tee at plus-1.560, found 17 greens in regulation, and his approaches averaged 30 feet from the hole, third best in the field.
Overall, the field faced ideal scoring conditions on the par-71 TPC Summerlin that measures 7,255 yards. The scoring average on the day was 67.870. Of the 77 players to make the cut, 72 shot par or better and 56 rounds were in the 60s.
"All in all, I played real good today—and needed to get into position to win this tournament," said Cantlay, who's ranked fourth in the world. "I hit the ball really well and had a bunch of looks and made most of them.
"I had a bunch of wedges, and you get a bunch of good numbers, and I was pretty dialed in. I hit my numbers a lot better today than I did the first two days."
On the final hole on Saturday, Cantlay faced an approach from the fairway from 120 yards to the hole and played a hard sand wedge. "It was a perfect spot and … I thought I hit it high enough and it took a huge bounce when it landed," he said. "Then the putt probably carried a bit too much speed, and just missed it a little high."
It was the second time he came up a stroke shy of a round in the 50s. As an amateur in 2011, Cantlay fired a 60 in the second round of the Travelers Championship at TPC River Highlands after he birdied the final hole. He never has shot a sub-60 round in his life, not even in a casual round.
Scottie Schiffler recorded the last sub-60 score in 2020 when he posted 59 in the second round of The Northern Trust at TPC Boston.
Asked why he plays well repeatedly at TPC Summerlin, Cantlay said that he relies on his driver and plays aggressively. He figures he'll need the same game plan on Sunday.
"It's going to take a low one again [Sunday]," he said. "This golf course yields low scores, and I expect the same tomorrow. Everyone will be gunning for me, and I've got to shoot a low one."