The Real Deal
Garrick Higgo wins the Palmetto Championship with a little luck and a whole lot of talent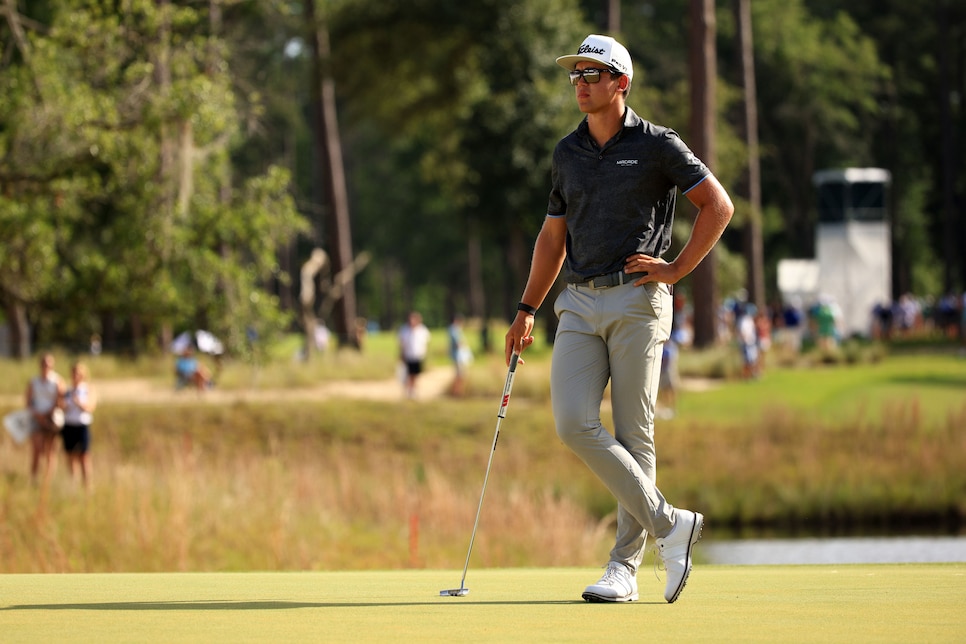 RIDGELAND, S.C. — Move over, Collin. You too, Viktor. Wolffie, Zalatoris, y'all need to clear some space. For we have yet another star of barely legal drinking age on the PGA Tour.
Garrick Higgo, a 22-year-old lefty from South Africa with a toothy smile and a killer instinct, won the Palmetto Championship on Sunday, albeit, it must be said, with some serious assistance from Chesson Hadley.
But details like Hadley's six final-round bogeys, including each of the last three holes, will fade from memory. The enduring image from ruggedly beautiful Congaree Golf Club will be that of Higgo, erasing a six-shot deficit to win just his second career start on the PGA Tour. He's the youngest South African to win on tour since Gary Player—who's been a frequent sounding board for his countryman.
"I've spoken to him quite a lot actually," Higgo said. "I spoke to him the whole week throughout Kiawah. He phoned me after every round. We spoke about the round, about all sorts of things about my swing, whatever, all that stuff. Then he phoned me this morning, actually, and he told me he's done it before quite a few times, the way he's won from six behind, seven behind. He just said don't think too much about what the other guys are doing, just kind of do your thing and stay up there, and you never know what could happen."
Despite Player's plea, coming back from six down doesn't happen often—it's the largest comeback on the PGA Tour this season. But this is anything but a fluke. Those fond of waking up to watch European Tour action have known of Higgo for some time. He's already a three-time winner on the Old World Circuit and won two of his last four starts across the pond, both on the Canary Islands, by a combined nine shots, which pushed him all the way inside the top 60 in the World Ranking. That got him into the PGA Championship, where he made the cut on the number then flashed his all-world potential in the final round, birdieing seven of his first 11 holes and looking remarkably calm while doing so. He hung around the low country after Kiawah, setting up a temporary base in Sea Island, Ga., a two hour straight-shot down I-95 from Congaree.
This, then, would be a pretty comfortable week. The area surrounding Congaree is not exactly a bustling metropolis; the fan turnout all week was what you'd expect at a Korn Ferry Tour event. Most of the top-ranked players opted to skip this event, it falling between Jack Nicklaus' Memorial Tournament and that little gathering at Torrey Pines. The venue itself also played into his hands; it's aesthetically similar to Frederica Golf Club, where Higgo has been practicing, and it's the first time Congaree has hosted a tour event, which levels the playing field. And the last of those two wins was only a month ago. Still, he poured cold water on the idea that he was on some sort of heater coming into the week.
"I think I am bowling from scratch," he said Wednesday. "I'm not going to say that I don't have any momentum going into any week after that stretch, but I kind of just want to try to do the same things and see if that will work over here. I'm pretty sure it will, but obviously the strength of fields are going to be a lot stronger. It's going to be a much bigger challenge, but I'm looking forward to it."
"It made it a lot easier," Higgo said after a gritty 68 that left him six back heading into Sunday. "We could speak a bit of Afrikaans in between shots. My caddie was the only one that didn't know what we were talking about, so that was great. Yeah."
He busted out the blocks quickly on Sunday, birdieing Nos. 3 and 4 to get to 10 under but gave them back with bogeys on No. 6 and No. 9. It wasn't until an eagle on the par-5 12th—364-yard drive, 183-yard approach to nine feet, a bucket from there—that he began to think I might be able to actually win this thing.
"I didn't have to scoreboard watch—I knew already I was kind of up there or close enough. It was just whether Chesson was going to run away with it."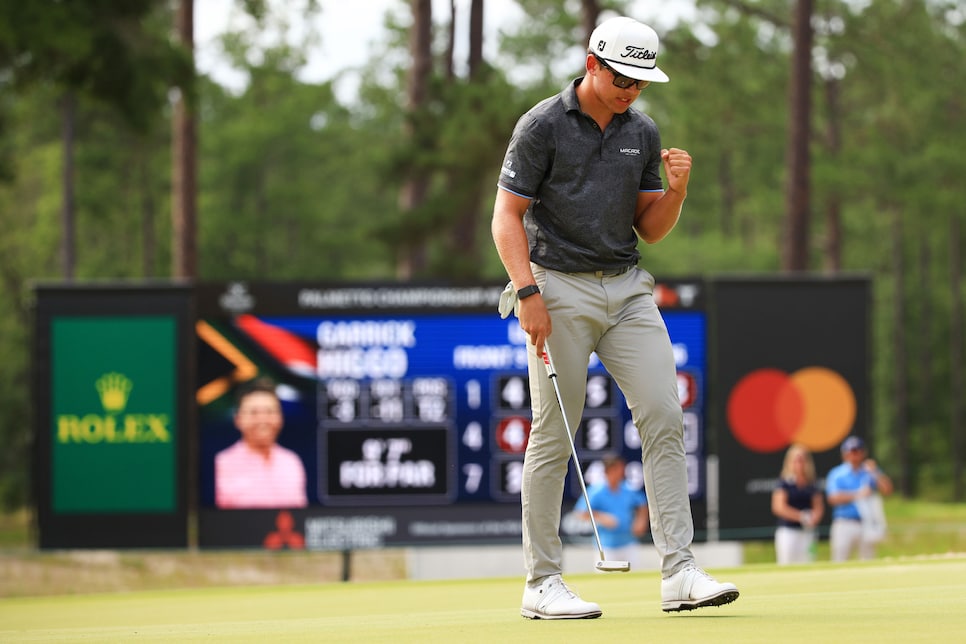 Garrick Higgo reacts after saving par on the 17th hole during the final round at the Palmetto Championship at Congaree.
Mike Ehrmann
He did nothing of the sort. Simply put, Hadley had no idea where the ball was going when it mattered most. He'd hook one and then he'd over-compensate with a block-fade. The 33-year-old, who was chasing his first PGA Tour win in more than seven years, stopped short of using the c-word to describe his brutal ball-striking day—he lost 4.6 shots with his approach play—but you'd do well to find a more fitting descriptor.
Hadley fanned a drive well right on 16, only to inquire about, and be denied, relief from an ant hill. Punch out, bogey. On 17, he pull-hooked an approach from the fairway and sent a relatively standard bunker shot racing through the green. Bogey, and a good one at that. At 18, from 163 yards in the fairway and needing a par for a playoff, he missed his target with an 8-iron by a good 20 yards. He gave himself a nine-footer for par that might as well have been 90 feet, and it limped by on the low side.
"It sucks, right?" he said. "I can only imagine what it looked like on TV because it looked freakin' awful from my view. I mean, I could barely keep it on the planet. That 8-iron from the fairway on that last hole is inexcusable."
Higgo played his last six holes in one under par—nothing spectacular, but precisely what he needed on an afternoon when no one seemed particularly keen to close the deal. Bo Van Pelt, who nearly quit the game in 2018 and didn't have a top-10 on tour since 2015, bogeyed 16 and 18 to finish one back. World No. 1 Dustin Johnson briefly reached 11 under before a triple bogey at 16 promptly shifted his focus to Torrey. Harris English shared the lead early but shot 40 on his back nine. All these veterans, and the only guy who played mistake-free coming in was the youngin'.
Higgo now moves inside the top 40 of the World Ranking after being 728th on June 1, 2019, and will ride a wave of confidence all the way to California. He gets full PGA Tour status, a spot in the Masters, all that jazz. And yet, in every star player's career, there comes a point where he progresses past the "Getting into this tournament" stage and enters "He can win anywhere" territory.
"I've just gone to another level now. So I'll just see what my game can do. I enjoy playing and seeing what my game does and where it takes me. I'm going to continue with that."
Those paying attention knew it was a matter of time until Higgo made that leap. It just happened a little sooner than expected.