steak dinner
Padraig Harrington drills spectator with tee shot, gives him wad of 50s to make up for it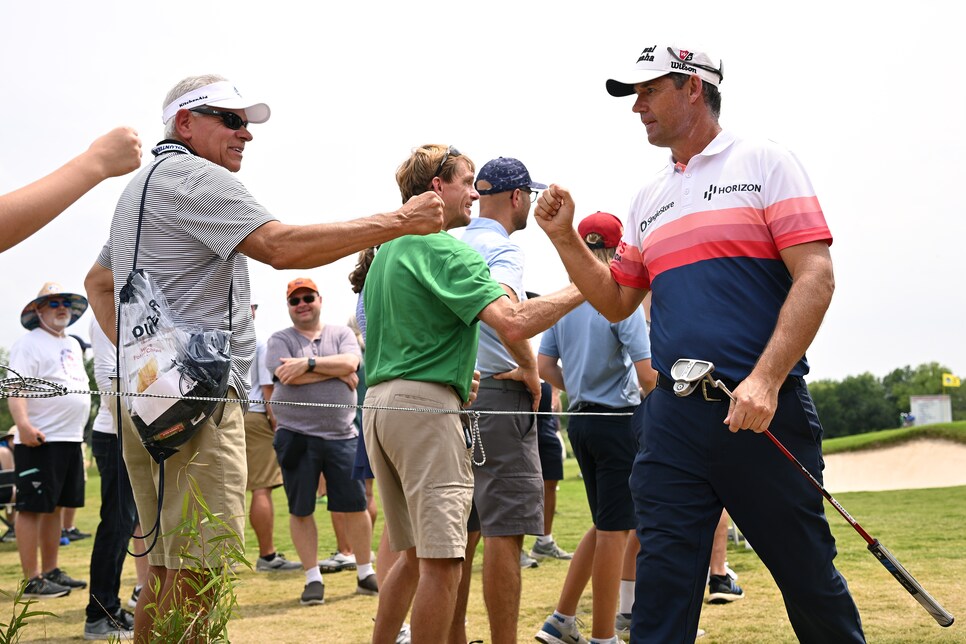 If you're going to get hit by a major champ's golf shot, you could do much worse than Padraig Harrington.
The future World Golf Hall of Fame inductee was quite generous—despite being in the hunt for a second senior major title—after an errant tee shot struck a patron on Fields Ranch East's par-4 16th. Battling back and forth with fellow golf great Steve Stricker for the Senior PGA Championship, Harrington's shot sailed left of the fairway hitting a fan on the top of the head. By the time Harrington made it over to him, the injured man had a compress on his head and was about to be taken away in a cart.
Harrington went to sign a golf glove for the man, as one does, but decided this wasn't enough for his troubles. It was time to take the wallet out.
"Thank you very much. You got it going in the right direction," Harrington said. And then the man replied, "I was trying to get you back closer to the fairway there … Good luck, the rest of the way."
Such a cordial exchange and a head injury deserves much more than a glove, at least according to Harrington.
"I bought him a dinner," Harrington said after the event. "He nutted my ball back to the fairway. So, yeah, like, you give him a glove, but it never really seems adequate to give a guy a glove. He's a grown man, like what's he want with a glove with my signature?
"So I thought – he said his wife was inside – but, please take your wife out for dinner on me was the sort of thing. I don't know, I hope I gave him enough for dinner."
Despite the goodwill and positive vibes, the Irishman couldn't hold onto the victory ultimately losing to Stricker in a playoff. $380,000 in second-place prize money will more than make up for that $300 loss though.