When you have to go
Padraig Harrington leads Senior PGA despite gaffe after 'longest pee ever'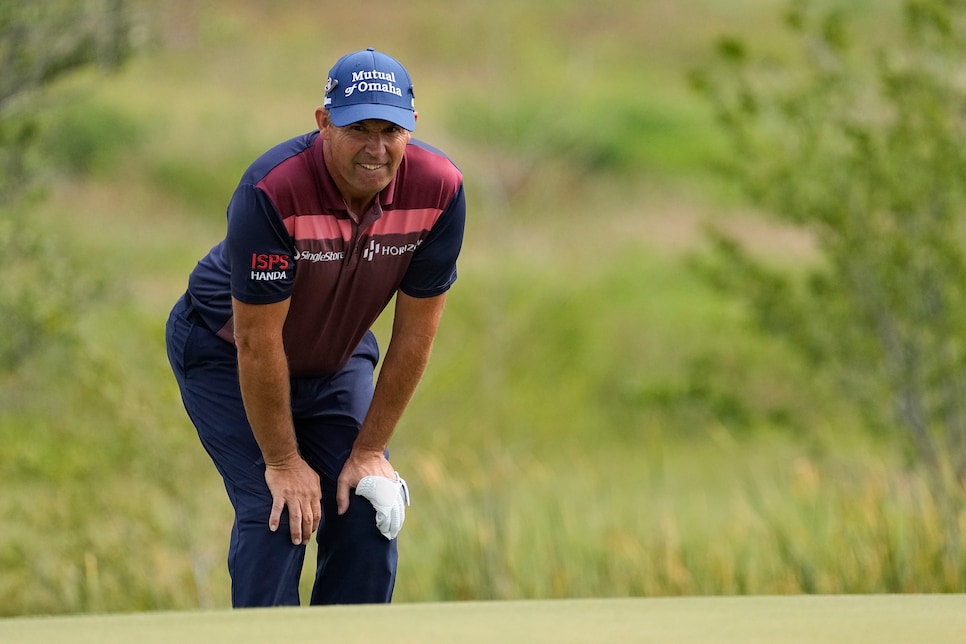 Padraig Harrington reads the first green during the third round of the KitchenAid Senior PGA Championship.
Sam Hodde/PGA of America
It figures there are plenty of bathroom jokes told among those on the senior golf circuit. The athletes are, after all, 50 years and older, and they likely are separated into two camps: those who have prostates the size of oranges, or those who dutifully take their meds. Either way, there are frequent trips to the toilet.
But those issues rarely go public, unless you have a player as open and chatty at Irishman Padraig Harrington. Long a favorite among scribes for his thoughtful and lengthy answers, Harrington, um, exposed his own bathroom issues in a hilarious way after the third round of the KitchenAid Senior PGA Championship, which he leads by one over Steve Stricker heading into Sunday's final round.
Harrington, 51, had not suffered a bogey during the week at PGA Frisco outside of Dallas. Then, after hitting his drive on the 16th hole, he made a run for the porta potty. Padraig will take it from here:
"Sixteeen came out of nowhere. So, essentially, I went in the toilet. The door was locked. Took me a few minutes to realize there wasn't somebody in there, another while to get the door open. As we are on the Champions Tour, I had the longest pee ever. And then I kind of rushed down the fairway and hit my shot."
With sand wedge in hand, Harrington hit a bad approach that ended in the penalty area. "I just wasn't focused," he said. "I wasn't into it, and I hit a bad shot in the hazard. The second one was a bad lie, so I blast that out." He ended up making a double-bogey 6.
All he could do was shrug it off as the penalty of age and laugh. "So, when you get over 50, it sometimes takes a long time to have a pee," Harrington said. "That's my excuse. That's got to be original, I would assume."
He also had a nice rationalization, saying, "I'm glad I broke my par streak. It's not good not to have made a bogey. That's not a good thing. I know that sounds strange, so that's the first thing I'll say."
After the mishap, Harrington rallied to birdie the 18th and shot four-under-par 68 to have the one-shot lead over Stricker and three-stroke margin over Stewart Cink. who scored a hole-in-one in his round of 67. Cink was playing with Harrington and had his own story about the bathroom break. "I knew he went to the restroom," he said, "because I was telling a story and he dipped in. Must not have been a very good story, because he just had to go hit the restroom instead of listening to the rest of my story."
The jokes aside, Harrington has a chance to win his second senior major following last year's triumph in the U.S. Senior Open. The Dubliner captured three regular-tour majors.
"In the end of the day we all play for that buzz coming down Sunday evening in with a chance at winning, trying to manage our game, our thoughts," Harrington said. "And it is really our thoughts, what we're thinking, good, bad, indifferent. And that's why we do it. We put ourselves out there and you would love in a perfect world that there was no drama in it, but the likelihood is at some stage tomorrow it will be a bit of drama and we'll have to figure it out."