PGA Tour
Padraig Harrington is squeezing out the last bit of game from a career with highs and a few regrets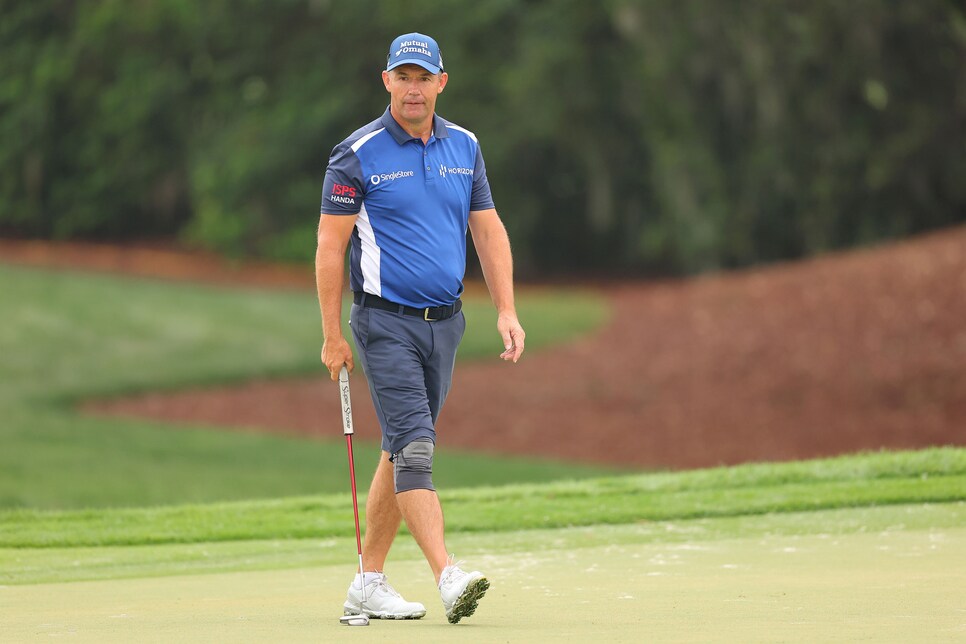 Padraig Harrington looks on during the pro-am prior to the Arnold Palmer Invitational.
Michael Reaves
ORLANDO — At age 51, Padraig Harrington is at a stage in his life where his top goal isn't necessarily winning but enjoying life around professional golf more. That wasn't the case 15 years ago, when the Irish great won consecutive Open Championships in 2007 and 2008, as well as the 2008 PGA Championship, in a period when Tiger Woods was reaching the second peak of his career. Back then, nothing could stop him from chasing wins, not even social dinners.
"If it was 2010, say, and the Irish guys told me, 'We're going for dinner 8 o'clock,' I would've told them no because I had to go to the gym, or the physio," Harrington said. "I worked hard. But I was definitely burned out by 2015. I couldn't keep the pace I was going at."
And now? The self-confessed workaholic is taking it easy while jumping between the PGA Tour Champions—where he won four times last year including the U.S. Senior Open—and the PGA Tour and DP World Tour.
It's why Harrington, the 2021 Ryder Cup European captain, was spotted on the practice fairway at Bay Hill on Tuesday, where he's competing at the Arnold Palmer Invitational on a sponsor's invitation, engaging in shenanigans with countryman Shane Lowry. The 2019 Open winner at Portrush wanted to see Harrington, who is perpetually tinkering and grinding on his game, reach 192 miles per hour ball speed with his driver. Lowry put down his credit card as a bet and was seen shaking his head with laughter when Harrington, a 15-time DP World Tour winner stepped up to the plate.
"Shane isn't laughing in bewilderment of me reaching [192 mph], he's laughing because he put something on the line," Harrington said. "He knows what I'm like. Goading [me] is one of the best ways of gaining speed."
It was Lowry, and several other Irish players including Northern Ireland's Rory McIlroy, who inspired Harrington to change his approach to touring golf in 2015 when Harrington was considering retirement.
"In 2015, I looked at doing commentary and coaching and I really liked both," Harrington said. "Then I went to Europe, and a few other Irish guys were there. I'd missed the FedEx Cup playoffs. I played [DP World Tour events] in Prague, Crans-Montana. Hamburg, Amsterdam and London in a row. How could you not enjoy that? I realized that I really love playing golf."
Harrington also likes testing himself against the best. It's why he skipped this week's PGA Tour Champions event in Tucson in favor of the elite, 120-player Palmer Invitational in Florida. At the famed Orlando course, 44 of the top 50 players in the Official World Golf Ranking (the most at any event since the 2022 Open Championship) are competing at the third full-field designated tournament on the PGA Tour. The Palmer Invitational features a $20 million purse, $3.6 million of which will go to the winner.
Later this summer he'll play in the U.S. Open at Los Angeles Country Club, his first appearance in the championship since 2013.
Harrington's 2023 PGA Tour season debut came at last week's Honda Classic, where he shared 60th. Last season, Bay Hill was the only cut Harrington made in six PGA Tour starts. On the DP World Tour, Harrington is still competing with the best. He finished fourth in the Abu Dhabi stop in January and tied 25th at the recent Ras Al Khaimah Championship.
Two years ago, Harrington posted a top five at a major—a tie for fourth at the PGA at Kiawah that would have garnered far more attention if fellow senior Phil Mickelson hadn't stole the show and won it to become the oldest major champion in men's golf history. Harrington said his finish set up his four-victory 2022 season on the senior's circuit.
"I had started playing well before I went to the Champions Tour, but the Champions Tour helped me a lot in the sense of … when you're in contention pretty much every week, you prepare for Sunday and not Thursday," Harrington said, referencing the fact the Champions Tour features regular events [non majors] with 54 holes and no 36-hole cut. "When you're preparing for Sunday, you do things a little different. It's a reminder every week that I need to get my head in the game."
Harrington is playing the opening rounds of the Arnold Palmer Invitational with England's Danny Willett, the 2016 Masters champion, and Ben Taylor. He won't be in the field next week, but will have his eye on the Ponte Vedra Beach/St. Augustine area as the World Golf Hall of Fame is expected to announce inductees for the Class of 2024, for which Harrington is a finalist.