As you wake up on Friday, here's everything you need to know about Day 2 of the men's Olympic golf tournament
The removal of an accessory—his trusty Nike hat—has been the story this week surrounding Rory McIlroy, and perhaps the reason some people thought he'd play well (2016 Ryder Cup, anyone?). But it was the addition of a far more important accessory that might help McIlroy win the gold medal in Tokyo.
Well, technically, it was addition by subtraction, as McIlroy ditched his TaylorMade putter in favor of an old Scotty Cameron flat stick for this week's games. The early results are good, McIlroy opening with 69 on Thursday at Kasumigaseki Country Club and following it with a five-under 66 on Friday, his official "entered the chat" moment on a week most thought McIlroy would be on "do not disturb."
"I think I sort of want to get back to being as athletic and instinctive as possible," McIlroy said of the putter switch. "And I feel like that style of putter, that blade, it sort of helps me do that."
McIlroy sits four off the lead held by Team USA's Xander Schauffele as a thunder storm forced play to end for the day on Friday. The key stretch of holes for the four-time major champion came at Kasumigaseki's par-4 sixth, par-3 seventh and par-5 eighth, where he went birdie-birdie-eagle to quickly climb into contention. He was in desperate need of simply seeing a putt go in, and just like that, he saw three in a row fall.
"It makes me become very target-oriented, at the hole, and having my focus be out there," he said. "I've had a lot of success with that style of putter, and I've messed around with that putter all during the lock down last year … I putted with that thing, I was just messing around and I mess around with it at home. And I just thought I may as well bring it with me and see how it goes."
McIlroy, who interest level in the Olympics seemed to have cooled prior to arriving in Japan, is now fully engaged, which is just about the most Rory McIlroy thing you can possibly think of, no?
"It's funny, when you sort of approach tournaments like that, it's funny how you end up playing some of your best golf. Sometimes you can want things too much. Obviously, I've never competed in an Olympic Games, I watched them from a far, but I said this yesterday, being a part of something that's completely different and bigger than me, and even our sport in general, that's a pretty cool thing. So I didn't know if this was going to be my only Olympics that I play or whatever, and I'm already looking forward to Paris."
Xander Schauffele lights it up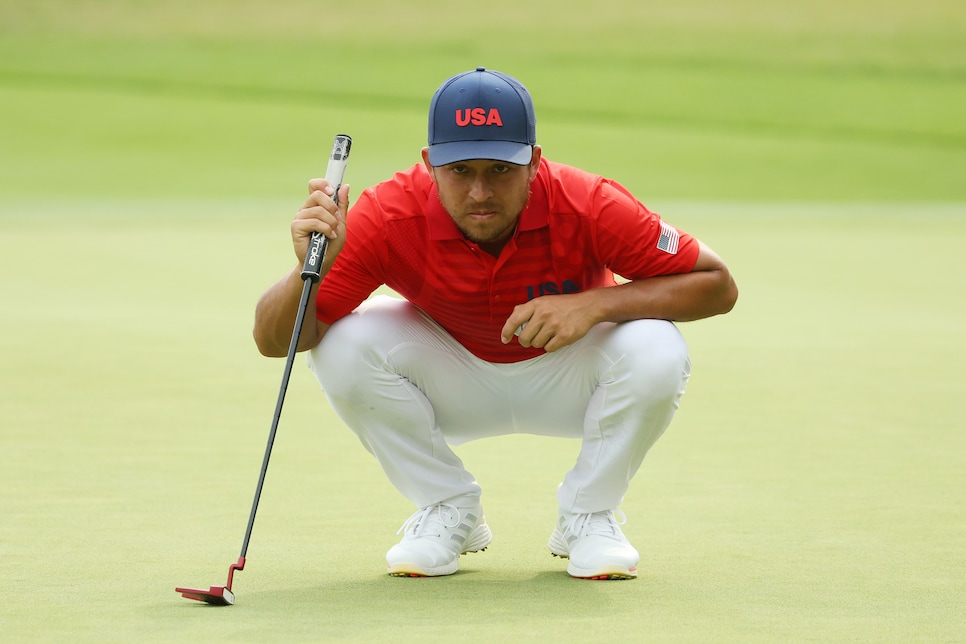 Even with five top-seven finishes in 2021, it feels like it's been a while since we've seen Xander Schauffele display his full bag of tricks, a product of him tinkering with his putting grip. That was not the case on Friday outside Tokyo, with Xander throwing up a scorching-hot eight-under 63 to match Sepp Straka for the low round of the tournament so far. Schauffele made two eagles, one at the drivable par-4 sixth and another at the par-5 14th, and six birdies, including three straight to close out his round, finishing just before play was suspended for the day. If not for a pair of silly bogeys on the front, we'd be talking about something truly special, not that his 63 wasn't special enough already. At 11 under, he is your solo leader, and he can't be caught even with Round 2 play being suspended for the day. Speaking of …
It wouldn't be the Olympics without some extra issues
In case the pandemic didn't put enough of a damper on these Summer Games, weather has been a huge issue as well. It's now affected both opening rounds at Kasumigaseki, where there was a lengthy delay on Day 1 and another on Day 2. The small field helps keep play on schedule, but just when it looked as though they'd get it in, the horn sounded a second time on Friday. Unfortunately for South Africa's Christiaan Bezuidenhout, who was playing alongside Schauffele, it sounded during the backstroke of his putt on the 18th green. He missed, and now will have to finish up at the final green on Saturday morning. Sixteen players still need to complete their second rounds, with all of them through at least 14 holes.
Hideki Matsuyama climbs into contention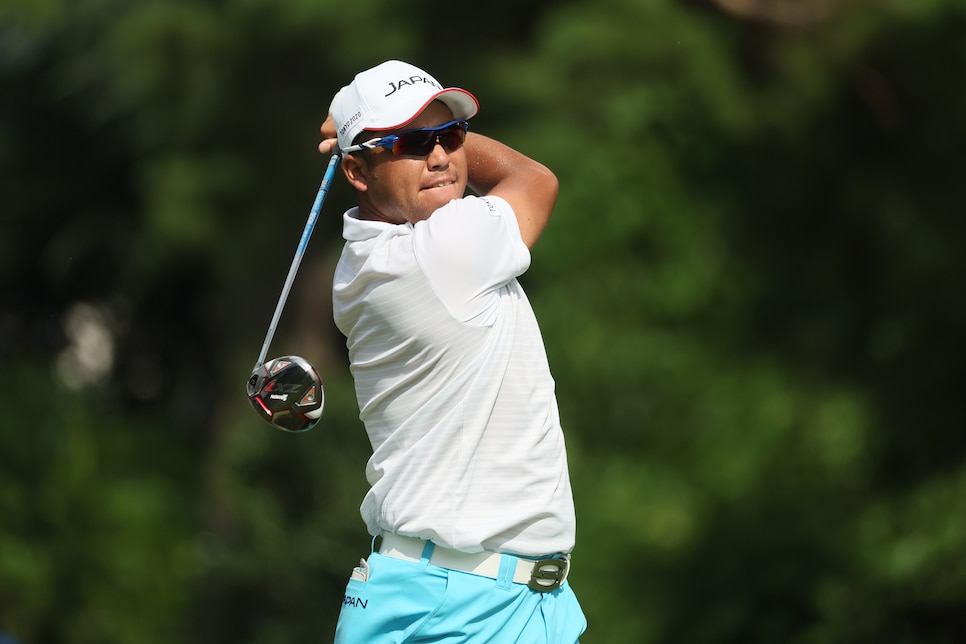 The "Si Woo Kim / Sungjae Im potentially avoiding military service" storyline was obviously a notable one heading into the week, but a close second, or, let's call it 1B, was Hideki Matsuyama going for gold in his home country. He already did an immeasurable amount for golf in Japan with his Masters victory. Now just imagine the gold medal being draped over the green jacket, too. It would go down as one of the more special years in golf history, and it's now very much a potential reality with Matsuyama vaulting into contention on Friday, going six under through 16 holes without a bogey. At eight under for the tournament, he still has two holes left in his second round, with a makeable birdie putt ahead on 17 when play resumes, and he sits just three off Schauffele's lead. You may recall, Matsuyama and Schauffele were paired on Sunday at Augusta National, and they might be on a collision course again, this time for the gold medal.
Don't sleep on the rest of the contenders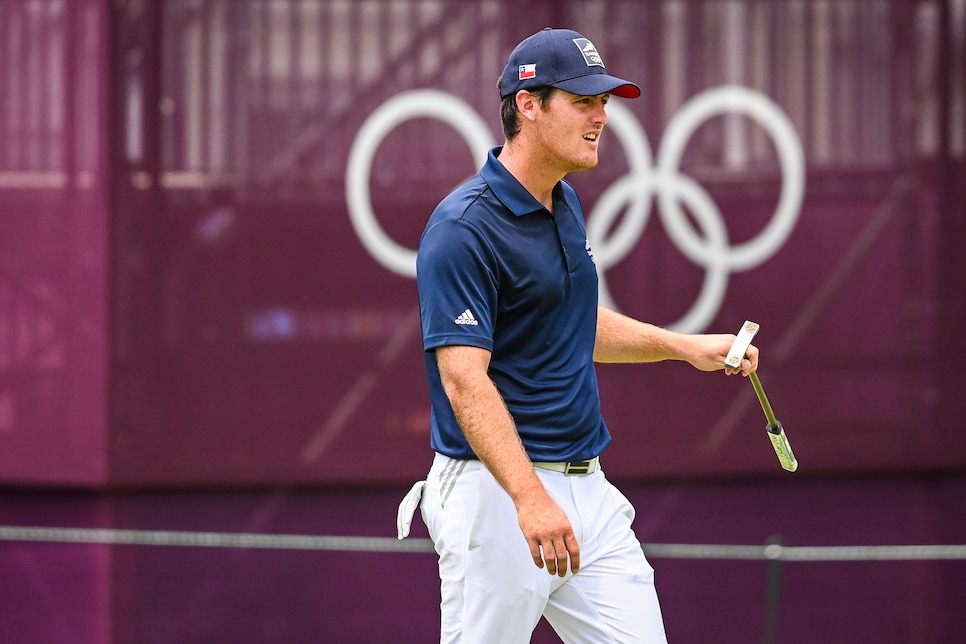 There's a very solid chance this becomes the Xander-Hideki-Rory show, but a number of guys at the top of the leader board will have plenty to say about that. Alex Noren, a 10-time winner on the European Tour, shot a second-straight 67 on Friday, putting him at eight under. He's tied with Chile's Mito Pereira, who posted a six-under 65, continuing his extremely strong run of form that's carried over from the Korn Ferry Tour to the PGA Tour. Carlos Ortiz, who has been quiet since his Houston Open win last November, is the closest to Schauffele at 10 under thanks to a second-round 67. First-round leader Sepp Straka fell to five under after a brutal start, but fought all the way back to level par to finish at eight under heading into the weekend. Paul Casey and Shane Lowry also lurk at seven under, where they are joined by McIlroy and Jazz Janewattananond. Indeed, Friday saw the Olympic leader board get a whole lot spicier.