News
Oklahoma State faces Alabama in 2018 NCAA Championship final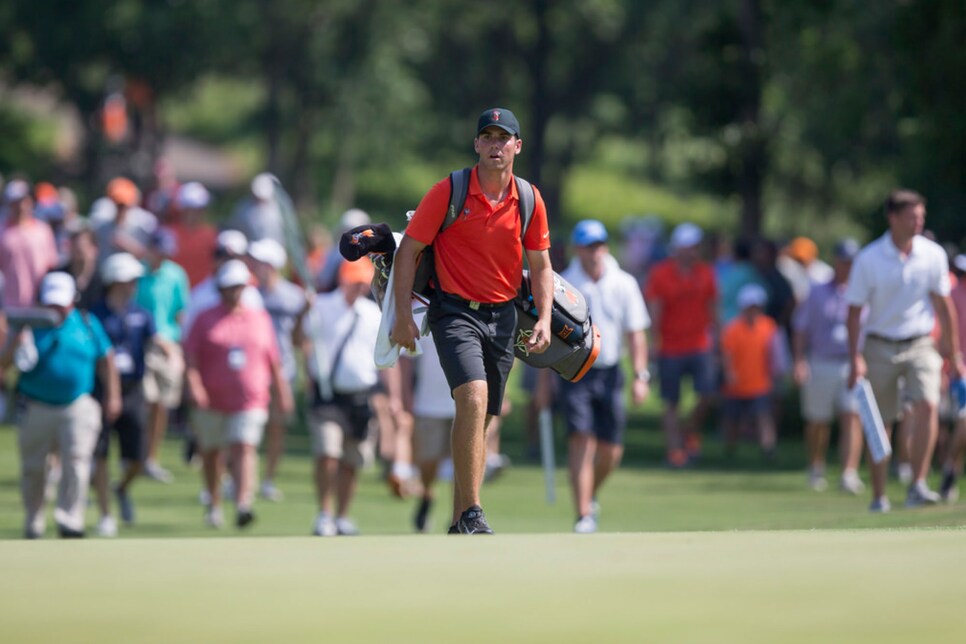 Bruce Waterfield/OSU Athletics
Can you be the No. 1-ranked men's golf team in the country and still have a chip on your shoulder?
When Oklahoma State takes on Alabama to decide the 2018 NCAA Championship at Karsten Creek Golf Club on Wednesday, the Cowboys will be the favorites by most any measure you choose. They have won nine team titles in the 2017-'18 season compared to the Crimson Tide's three. They beat Alabama by 16 shots in the 72-hole stroke-play qualifying, grabbing the No. 1 seed in match play, their opponent surfacing as the sixth seed. They have two first-team All-Americans (sophomore Viktor Hovland and junior Matthew Wolff) while Bama has none. Oh, and they will be playing on their home golf course in front of a highly partisan crowd wearing every last bit of black and orange they can find.
Arguably, though, the most important thing working in Oklahoma State's favor is something its coach, Alan Bratton, can't quantify. Call it a rampant belief among his players that enough is enough. That it's finally time for the Cowboys to shine. That having won their 10th national title in 2006, 12 years is long enough to wait for an 11th.
Since the NCAA Championship added match play to determine the team winner in 2009, OSU has advanced to the tournament's knock-out stage six times, tied with Illinois for the most of any program. Yet the Cowboys have not walked away with the brass ring, having reached the finals in 2010 only to be upset by Cinderella Augusta State, and 2014, falling to Alabama as it went on to claim a second straight title.
For many, the Cowboys are due. And this is the squad, with the talent, depth and motivation—they are "Driven" as the TV show chronicling their season will let you know—to do it.
It played that way on Tuesday in front of its hometown faithful, knocking off Texas A&M in the morning quarterfinals, 3-2, before beating Auburn, 3-2, in the afternoon semifinals.
OSU's All-Americans have done their part. Hovland and Wolff won their morning matches against the Aggies, allowing freshman Austin Eckroat and Zach Bauchou to ease into match play. Eckroat securing the third and final point in defeating the country's No. 2-ranked team.
Come the afternoon, Hovland again came through, while Eckroat and Bauchou grabbed wins of their own.
"We had a lot of goals for the week, and we took care of the first one in the stroke play," Bratton said. "Next, was to win the first match, then win the semifinal match. That's three down and the ultimate goal tomorrow. I'm just pleased for our guys. We've had contributions one through five in the lineup this week, so I'm pleased with our play. We've got a job to do tomorrow."
Indeed, OSU's final opponent may well be its most challenging. Coach Jay Seawell's roster at Alabama has turned over since the school's back-to-back title wins in 2013 and 2014—Justin Thomas and Trey Mullinax off to the PGA Tour. In their place, a pair of freshmen in Wilson Furr and Davis Shore have joined upperclassmen Davis Riley, Lee Hodges and Jonathan Hardee, to forge their own path during the season.
The group handled Texas Tech in the morning quarterfinal, winning 3-2, only to turn around in the afternoon and make a statement against Duke in the semifinals, winning all five matches. It was the first sweep of a session at NCAAs since Texas did it to Washington in the quarterfinals in 2012 at Riviera … en route to claiming the national title.
"I think the emotion of the day with everybody in the morning kind of just relaxed everybody, and we got off to a good start," Seawell said. "In the middle of the round we kind of got up on Duke a little bit and were able to hit some great golf shots, so our guys I think just fed off what happened in the morning, and I'm proud of them."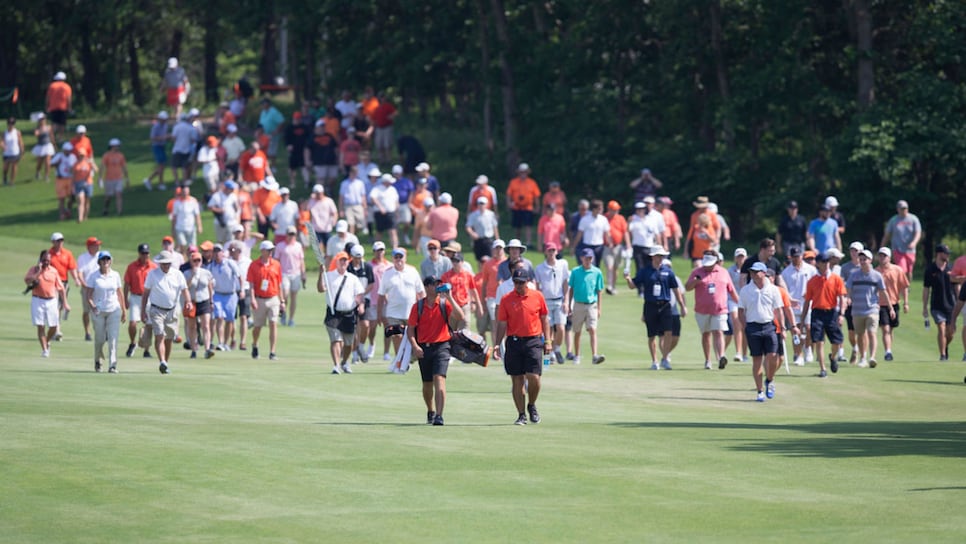 Bruce Waterfield/OSU Athletics
While his players don't necessarily have experience in this setting, Seawell does; this is the fourth time in seven years he'll have led his squad to the NCAA finals. It's something he'll try to channel as the squad preps for their role as road dogs.
"It's a big opportunity they have before them that very few people ever get to do," Seawell said. "I'm excited for the guys. They worked tremendously hard. You work your whole life to do this."
If there's extra motivation for Alabama, it's also to try and avenge the loss by the Crimson Tide women's team to Arizona in last week's NCAA women's finals at Karsten Creek.
"I thought it was kind of special to come early to see the girls, seeing what they experienced, being in their shoes," Riley said. "I know they're playing for a national championship, watching how hard they worked, and it kind of sucked for them to lose in the end, but that kind of almost self-motivated me more. I know that's the case on behalf of myself. Yeah, I mean, there will be a lot of Oklahoma State people out there. We're just going to try to block out the noise and just play like we have been all week."
Yes, the crowds on Wednesday could be the X factor, as was the case in part two years ago at Eugene Country Club, where host Oregon harnessed the energy of the hometown crowd to a team title.
"It'll be a good test, two good teams, hopefully in front of a massive crowd, and I'd like them to be making lots of noise," Bratton said. "If we can take care of our business, get some birdies going, that's going to be a really fun environment. College kids don't get to play in that setting. This is very unusual, and what a dream scenario to get to perform in front of a crowd, and we're excited for the opportunity tomorrow. That's why you play. And I expect us to come out on top."