King Kyrgios
Nick Kyrgios arguing with an umpire about the length of a fellow player's number-two break is a classic U.S. Open moment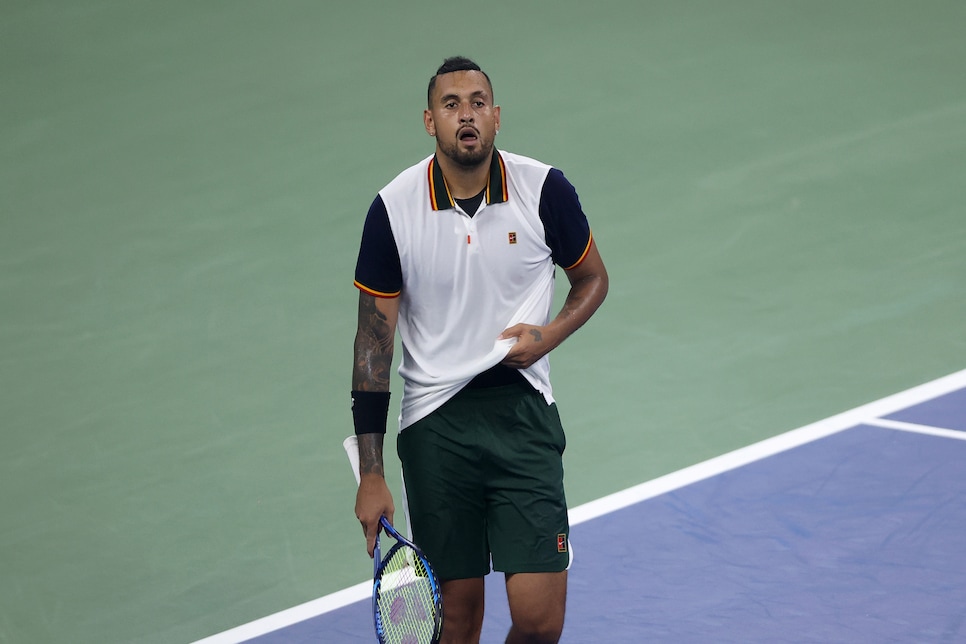 At the time of writing on Tuesday afternoon, we're about 24 hours into the 2021 U.S. Open and it's already been chaos. Things began on Monday evening when Andy Murray accused Stefanos Tsitsipas of receiving illegal coaching after the third-ranked male player in the world brought his phone into the john for a lengthy bathroom break in the middle of their first-round match. Then, as if that weren't a feisty enough start, Nick Kyrgios took the court a few hours later.
The mere appearance of the rogue Aussie usually produces some sort of fireworks, good, bad, or somewhere in between, and Kyrgios played exactly to type, beginning his tournament with some absolute genius …
… and also some patented lunacy, getting into a sparring match with the umpire over the placement of his towel between points. Unhappy with Kyrgios casually tossing his towel to the side, chair ump Carlos Bernardes directed Kyrgios to use his damn legs and walk his towel to the designated towel spot, not toss it like a teenager discarding their Hot Topic tee shirt on the bedroom floor.
The whole sequence felt nitpicky on the part of Bernardes, and Kyrgios didn't like that one bit, immediately bringing up the length and, ahem, nature of Tsitsipas' aforementioned bathroom break to defend himself, leading to the following exchange.
"I need to take a sh*t, part of the game" has to be one of the all-time quotes in U.S. Open history. Unfortunately Kyrgios fell in straight sets 6-3, 6-4, 6-0, limiting his Flushing stay to just a single match. But my oh my what a match it was.