On the Clock
Let's "redraft" the best PGA Tour rookie classes in recent memory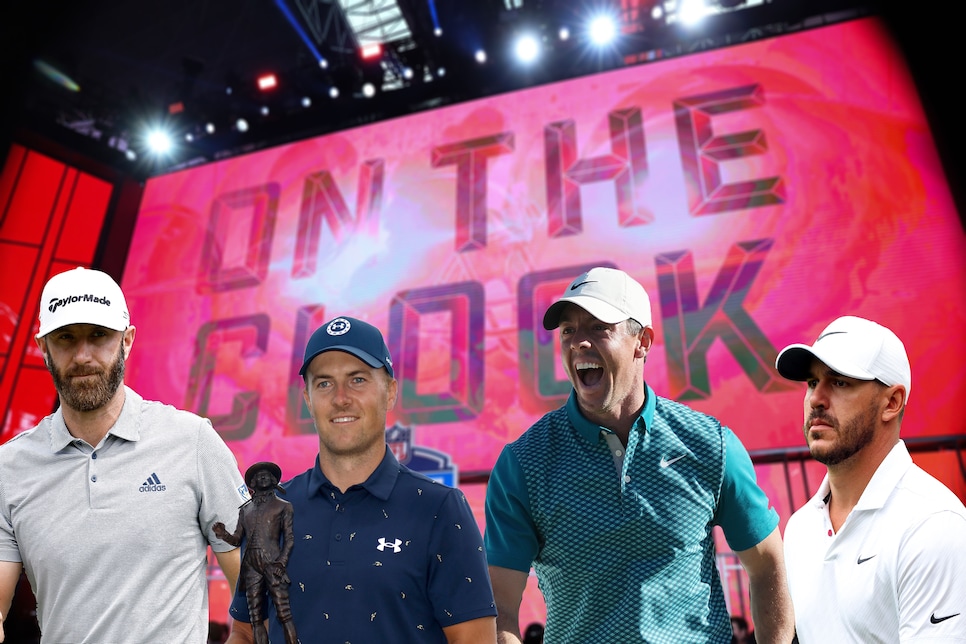 The NFL Draft is a three-day event that lives 365 days a year. For several months before Roger Goodell gets booed at a podium reading the first pick, draft pundits (an assortment of characters that can make Comicon attendees look normal) discuss which teams should take which players in which round, running endless numbers of mock drafts ahead of the real deal. In the weeks after, they discuss which teams should have taken which players in what rounds, reviewing how right or wrong their mock drafts were and grading how well the 32 teams did in the process. From there, the discussion begins surrounding the next year's draft, or the one in five years when Arch Manning will go No. 1. It's more than a cottage industry. It's a self-contained universe.
For better or worse, men's professional golf doesn't have a parallel to the NFL Draft. Players earn their PGA Tour cards and experience their "rookie" seasons at different points in their careers, some right out of college, others years after turning pro. Sure, there is some anticipation for how well the newcomers will do, but most discussion about the next big thing is limited to hard core fans and most "hype" for a budding star doesn't get much louder than a golf clap.
Yet there is a way in which the PGA Tour and the NFL can cross paths that can make for entertaining conversations even draft pundits might approve of. The NFL Draft universe enjoys looking backward as much as it does forward, returning to past drafts to see how well teams did with several years of data on players to sort through. Some even hold "redrafts" to look back on how things "should" have played out.
What if you looked back on the PGA Tour and compared players' rookie hype to how their overall careers played out? Did players with the most buzz after their first season on tour continue to deserve the praise? Or did others from that rookie class prove to have better overall careers?
We explored every season from 2005 to the present and singled out four rookie classes over that time. In three instances, the first-year stats weren't the best indicator of future performance, at least when it came to the No. 1 player in that class. But we also picked one year where the top rookie was also the most successful pro in the years afterward too. Let the (re)draft begin.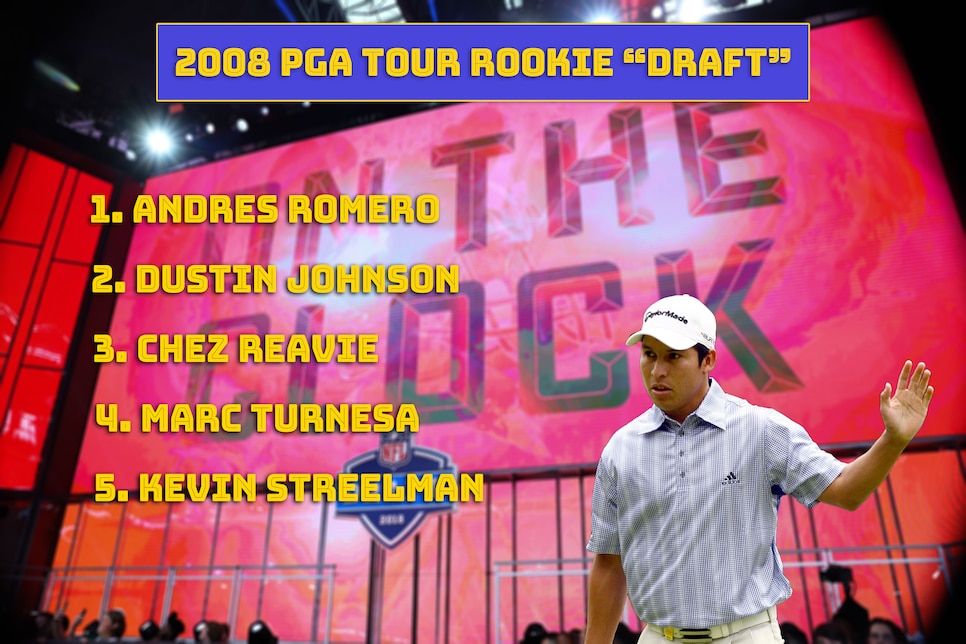 Does the name Andres Romero ring a bell to anyone? The Argentinian was 26 years old when he played his first season on the PGA Tour in 2008 and he made a big splash when he won the Zurich Classic of New Orleans (then an individual event) in his 12th career tour start. That proceeded top-10 finishes in the Masters and PGA Championship. With all that on his résumé, Romero won the vote for the PGA Tour Rookie of the Year.
As it turns out Romero would play nine full seasons on tour but he would never win another tournament. Meanwhile, three of the four golfers Romero beat out in the ROY voting turned out to have even more success on tour.
Does the name Dustin Johnson also ring a bell? Yep, Romero beat him in 2008, but DJ would of course go on to have the more impressive career. The others Romero beat were Chez Reavie, Marc Turnesa and Kevin Streelman. Reavie and Streelman won tour events and still play regularly on tour.
Also a rookie in 2008 was a young guy from Australia named Jason Day. In that rookie season, Day played 28 times, had two top-10s but missed 15 cuts. He, too, however, would become a shining star.
If you did a "redraft" of that 2008 rookie class, Johnson of course is the No. 1, followed by Day. We'd make Streelman our No. 3, with Y.E. Yang getting the fourth spot. Yang only won twice in his career, but when you're the first guy to come from behind and beat Tiger Woods in a major, that counts for a lot (as a rookie, Yang had 29 starts but just three top-25 finishes).
For fifth, we'll put Reavie tied with another Arizona State alum, Matt Jones. Their career numbers are weirdly identical.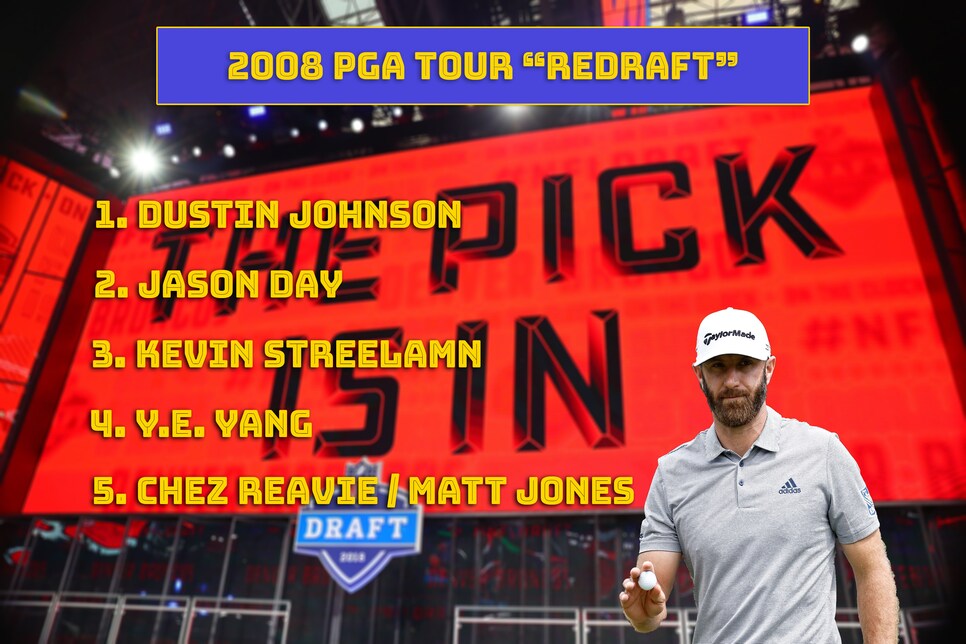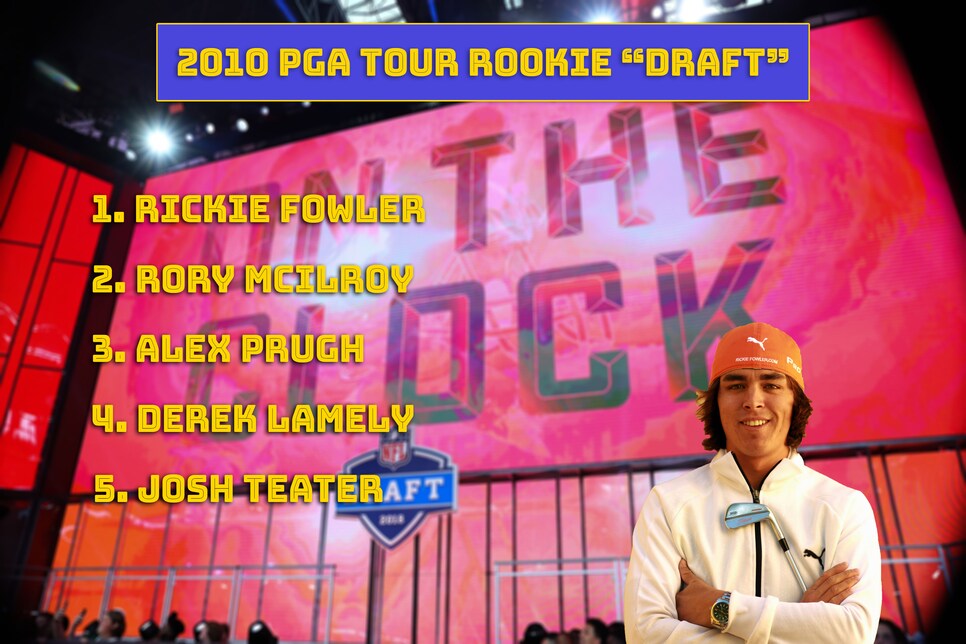 With all the hype surrounding Rickie Fowler coming out of school, that he would go on to win rookie of the year in 2010 is little surprise. He didn't win that first year, but had two runners-up and a third, plus seven top-10s, in 28 starts. It was good enough for Fowler to beat out Rory McIlroy and Derek Lamely despite the fact both those players actually won in their first seasons on tour. Alex Prugh was also on the ballot for ROY that year and Josh Teater was the next highest ranked rookie on the FedEx Cup points list.
Fast forward 12 years, and well, it's obvious that in a redraft from this rookie class, McIlroy goes No. 1 thanks to 20 wins and four major titles. We'd keep Fowler at No. 2, but there's an outsider that grabs the No. 3 spot in Billy Horschel, who was injured in 2010 after earning his PGA Tour card. He only played four events in what was technically his rookie year, missing four cuts. He bounced back in 2011, playing on a medical extension and keeping his card. He'd become more widely known in 2014 when he ran off with two wins during the FedEx Cup playoffs and took the FedEx Cup title.
In the No. 4 and 5 spots, Cameron Tringale and Matt Every move ahead of Lamely, Prugh and Teater. Tringale still hasn't won on the PGA Tour but has made the most money of anyone without a victory. Every's success on tour was fleeting, but he did win twice.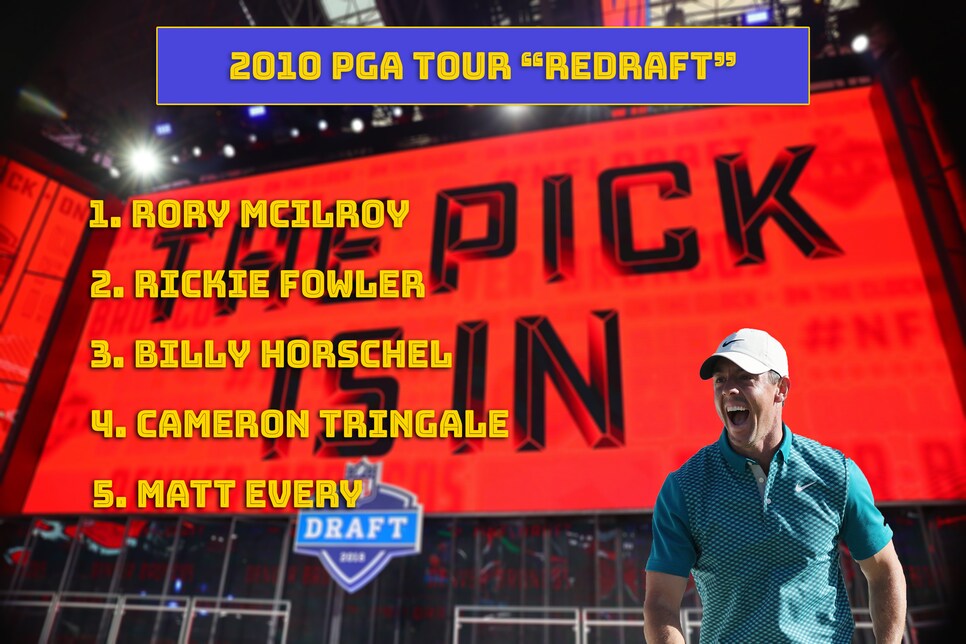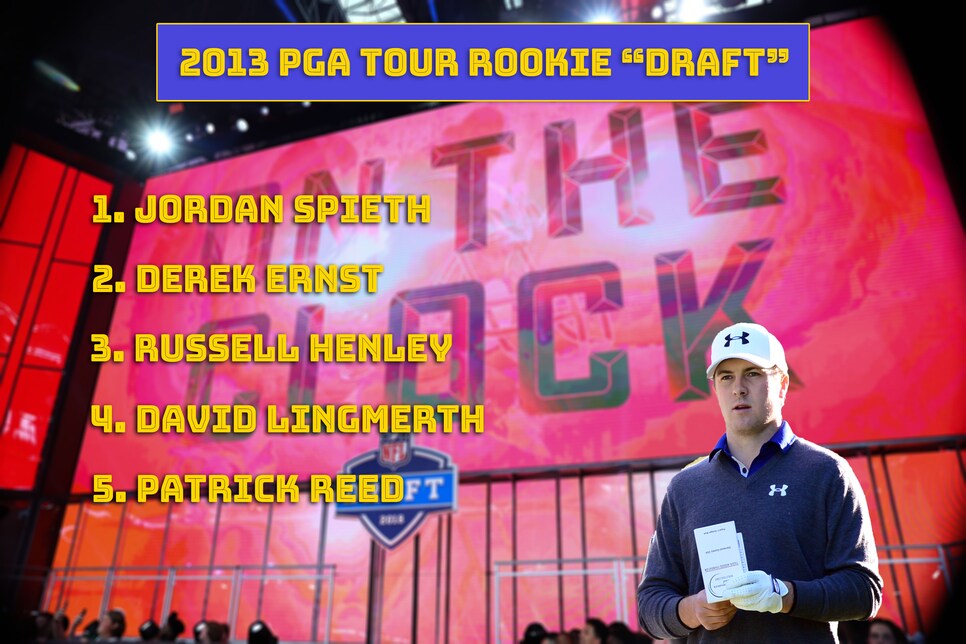 Jordan Spieth, all of 19 at the time, started the year with no status on any tour, having left Texas halfway through his sophomore year the previous December to turn pro and see if he could earn a card via sponsor's exemption. Seven months later, his bet on himself proved smart as he claimed the John Deere Classic and began an impressive tour career.
Spieth grabbed the ROY award at year's end, beating out Derek Ernst and Russell Henley, both of whom also won in their rookie seasons, along with David Lingmerth. That same year, Patrick Reed was a tour rookie and was an early winner too, although he wasn't on the ROY ballot.
Suffice it to say, Spieth continued on an amazing career trajectory and in any "redraft" of the 2013 class he would easily remain No. 1. We'd slide Reed into the No. 2 spot, thanks to nine wins including the 2018 Masters. Henley sticks to the No. 3 spot, a three-time tour winner who almost got his fourth in Hawaii in January. For the final two spots, we're adding in Robert Streb and Luke List. Neither had a top-10 in their rookie years, but both would become winners with career earnings exceeding $10 million.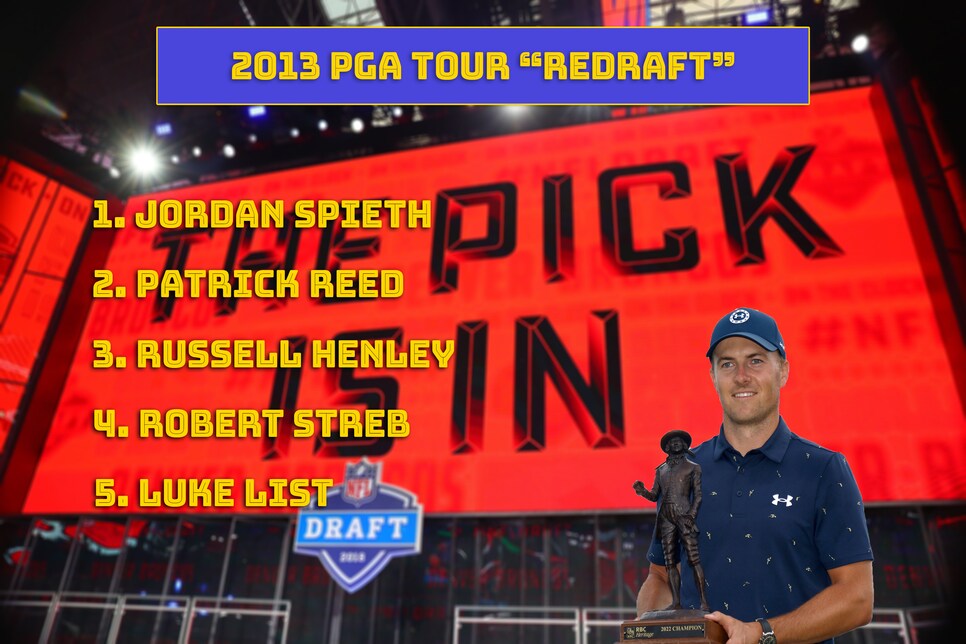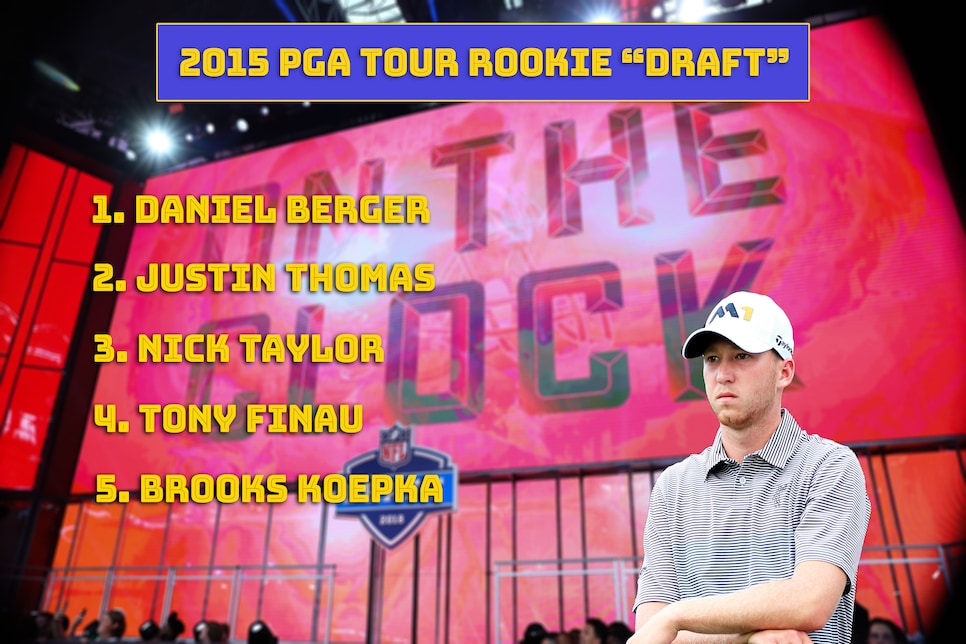 Daniel Berger, a quiet guy who isn't very flashy on the course, is overlooked by some fans when talking about top players on the PGA Tour. But Berger has been successful from the start of his career, winning ROY in 2015. Yet he's part of a rookie class that you can argue has been even more successful.
That group includes Justin Thomas, Tony Finau, Brooks Koepka and Francesco Molinari. (Technically speaking, Koepka and Molinari were labeled "first year" players and weren't eligible for the ROY awards in 2015, in part due to their time on the European Tour in previous seasons).
In redrafting for 2015, Koepka needs to go to No. 1 over Thomas. He has far fewer overall wins, but four majors is four times as many as JT. We'd also bump Finau over Berger in the ranking given Finau's top-10s. In the No. 5 position, we'd also give Max Homa some love. In 2015, Homa made 27 starts and had just one top-10 finish while missing 15 cuts. Things got rough for the former NCAA champion, but he turned it around eventually and now has three wins to his credit.