Equipment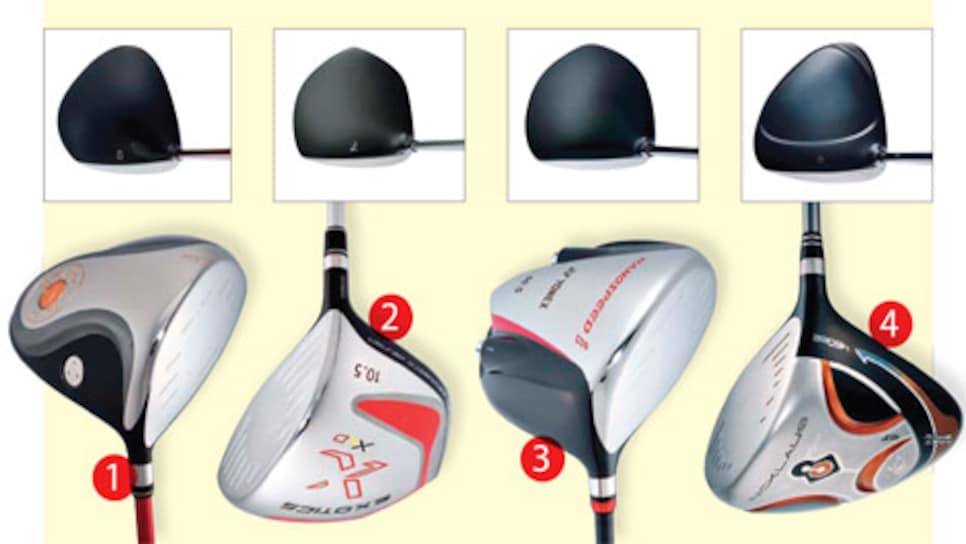 If you can hit it on the screws, it doesn't matter what shape the clubhead is -- cylinder, box, cone, anything. "Swing the head of a railroad spike at 100 miles per hour, and as long as the spike's center of mass is positioned directly behind the ball at impact, you'll hit a fine shot," says Doug Matson, professor of mechanical engineering at Tufts University and a member of Golf Digest's Technical Advisory panel.
But swing that railroad spike a fraction off-center, and you've got problems. The U.S. Golf Association gives engineers a five-inch square box to draw in, and they're trying to find the ideal shape that's most forgiving on off-center hits. Square, like the CALLAWAY FT-i Squareway fairway wood ($350, callawaygolf.com), is based on the idea that the highest moment of inertia (MOI) is achieved when weight is pushed to the extreme corners. And high MOI means more stability on off-center strikes.
"But square really only helps on extreme toe and heel hits," says Jesse Ortiz, designer of the BOBBY JONES Workshop Edition (1), a triangular driver with a flared toe ($500, bobbyjonesgolf.com). "For average mis-hits, you need gear effect to bring the ball back to the fairway, and a single concentration of mass behind the hitting area creates more gear effect." In other words, Ortiz says square designs are a compromise.
Somewhere between square and triangular are the EXOTICS XLD (2) ($350, exoticsgolf.com) and YONEX NanoSpeed i (3) ($300, yonexusa.com). Both blend a traditional pear shape with square and an extended rear point to increase MOI and deepen the center of gravity. Yonex designers suggest their shape enhances the clubhead's aerodynamics.
Then again, there's no rule that says shapes must be symmetrical. The NICKLAUS Dual Point FastBack (4) ($300, nicklaus-golf.com) ignores the top-right corner of the design box, moving weight to the heel where it can help players rotate the clubface to square at impact.
So which shape is best? It depends how far off-center your mis-hits are.
Scotty Cameron by Titleist Studio Select putters feature custom weighting beneath the soleplate to match specific shaft lengths ($300, titleist.com).
The insert on the GEL line of stainless-steel putters (Emerald, right) is milled aluminum with tiny horizontal grooves designed to reduce initial spin and prevent skidding ($165, gelgolf.com).
Heavy Putter fans can now try the classic Anser look with the 465-gram C2-DF. The deep face is designed to keep the putter's vertical center of gravity near the ball's ($170, heavyputter.com).