Equipment
New looks: How long is too long?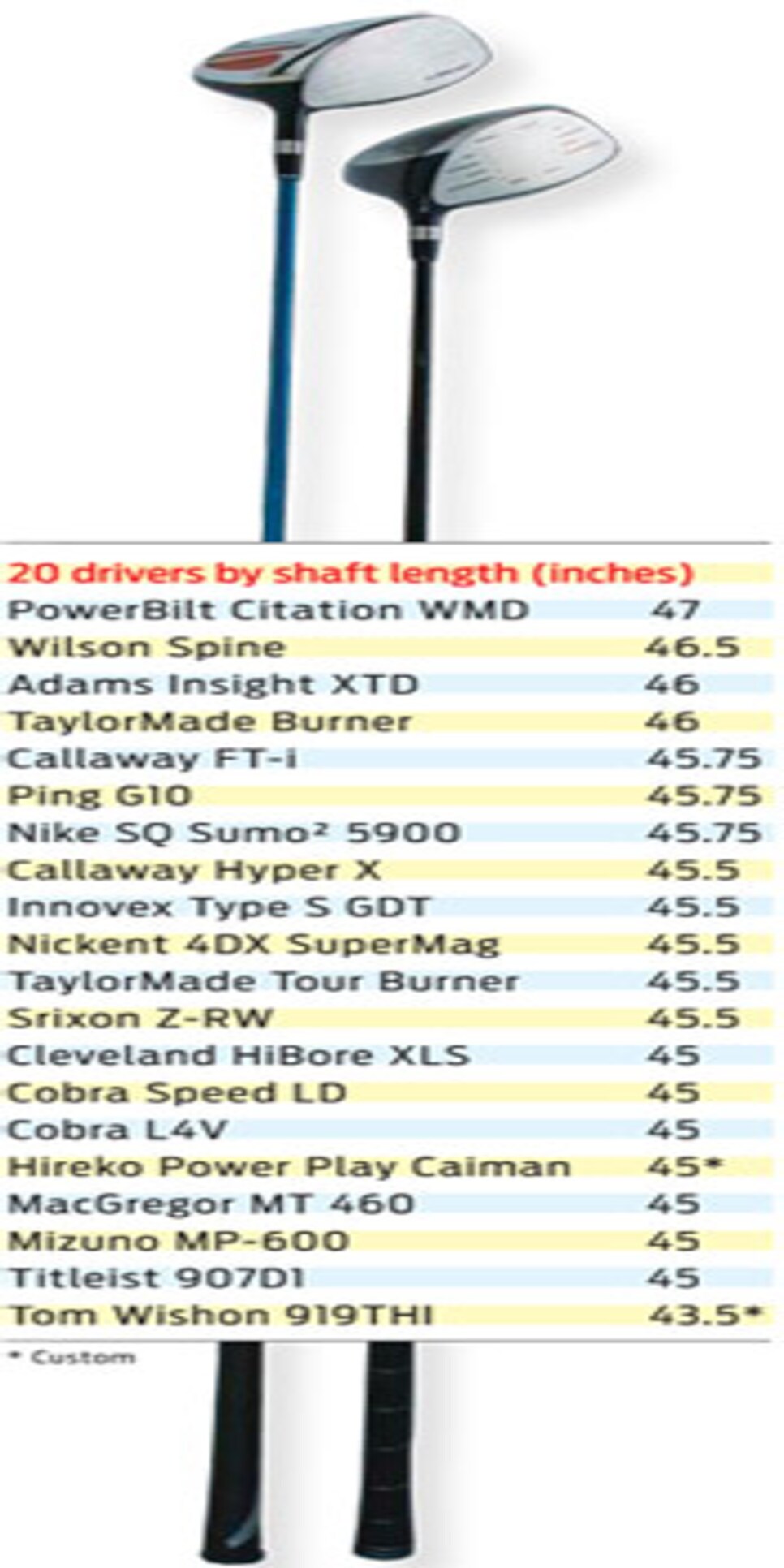 Mi Hyun Kim is only 5-feet-1, yet the winner of eight tournaments on the LPGA Tour swings a 46-inch driver. She has tried shafts as long as 48 inches but backed off because "at the top of my backswing I could see the clubhead out of the corner of my eye," she says, "and I was afraid it would touch the ground." Athletic ability and tempo are what allow Kim to be fitted for distance. When you're hitting the center of the face, the idea is simple. A swing is a circle. Grow the radius of the arc, and the speed at the perimeter increases. Every mile-per-hour increase equals an extra 2.5 yards of carry.
But should average golfers try longer shafts? Many in the industry think so. Drivers increasingly are stretching beyond the standard 45 inches. Fifteen years ago the standard was closer to 43 inches. Many say advances like high moment of inertia (MOI) and high coefficient of restitution (COR) across a wider area of the face make the penalty for off-center hits less severe. "Because tighter design tolerances let us distribute weight better throughout the club, we can make the shaft longer and still maintain playability," says Jeff Butcher, president of Innovex Golf.
TaylorMade has championed this idea with its "SuperFast" technology in which the club is made to be lighter and longer. The company says increasing the length of its SuperFast shaft one inch to 46 inches results in a five-yard gain. PowerBilt's new 47-inch driver has a two-weld head that makes the club 10 percent lighter than the average titanium driver. But it's designed for golfers whose swing speed is 90 mph or less.
But not everyone says longer is always better. "I'd only give extra shaft length to those golfers whose typical misses were the edges of the fairway or light rough," says Jim Hofmeister, CEO of Henry-Griffitts. "With anything over 45 inches, a fast swinger's misses will be deep in the trees." Of the 11,000-plus drivers Henry-Griffitts has custom-fit the past five years, 40 percent were shorter than 45 inches and 24 percent were longer.
Tom Wishon, founder of Tom Wishon Golf Technology, agrees longer isn't necessarily better. His latest driver can be custom-fit to 43½ inches. "A club that's farther from the axis of rotation, the spine, has a higher overall MOI and is harder to swing. Length hurts speed by training the wrists to release early."
In addition, Wishon says a clubhead's heel-toe MOI will increase significantly when moving from a 45-inch to a 43½-inch shaft.