College golf
Rose Zhang eyes her biggest college golf feat ever and three other takeaways from NCAA Women's Regionals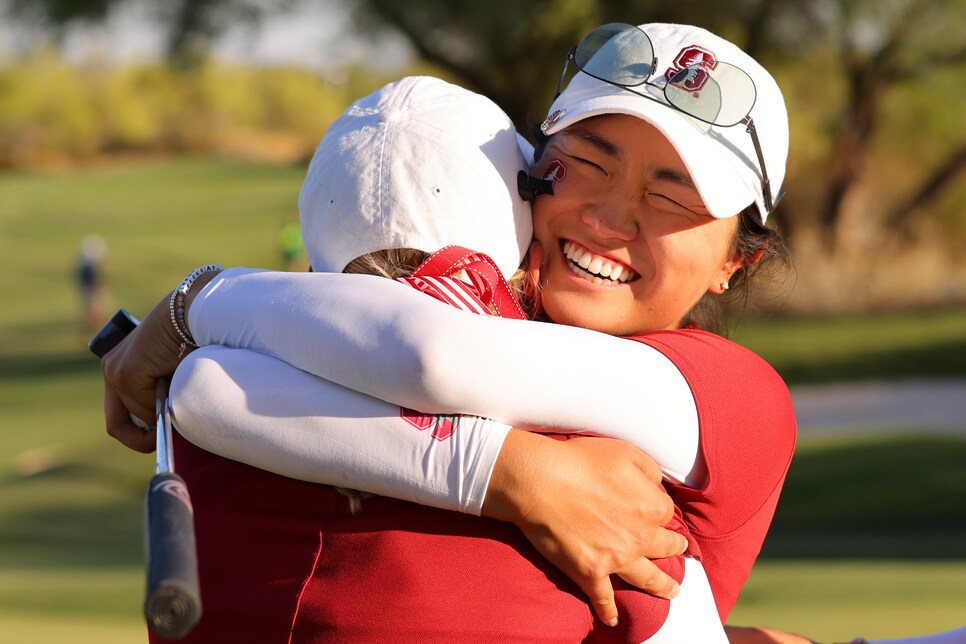 Stanford's Rose Zhang celebrates with teammates after defeating the Oregon Ducks to win the 2022 NCAA team title. The Cardinal are back at Grayhawk as Zhang looks to become the first golfer to ever repeat as the NCAA individual champion.
C. Morgan Engel
Rose Zhang once again made the historic feel routine Wednesday at the NCAA Women's Regional in Pullman, Wash. At Palouse Ridge Golf Club, the Stanford sophomore claimed medalist honors, breaking the NCAA record for the low 54-hole score at Regionals by three shots with her 19-under 197 showing. In the process, Zhang also helped the top-ranked Cardinal smash the NCAA 54-hole team scoring mark by 17 strokes.
Next up: The NCAA Women's Championship at Grayhawk Golf Club in Scottsdale, where Zhang claimed medalist honors a year ago and helped Stanford win the 2022 team title. If Zhang were to win again, she would become the first player to claim the women's individual title more than once, let alone repeat as champion. Meanwhile, the Cardinal are looking to become the first school to successfully defend their team title since Duke won three straight from 2005-07.
Zhang and Stanford were just some of the intriguing stories to emerge as the six NCAA Women's Regionals wrapped up on Wednesday across the country. Here are four more takeaway.
Actually, let's talk a little more about Zhang, shall we. The victory, in which she beat Stanford teammate Sadie Englemann by four shots, was the 11th of her college career in just 19 starts. During 27 rounds in her sophomore season, Zhang (who is also the No. 1 ranked women's amateur golfer) now has a 68.7 stroke average, nearly one stroke lower than her NCAA record 69.68 average from her freshman season.
In addition, Zhang's career scoring average is now 69.22 through 58 rounds, more than a stroke and a half lower than the NCAA all-time career best mark of 70.85 set by Arizona's Lorena Ochoa in in 60 rounds in 2000-02.
"There are no words left to describe what Rose Zhang has accomplished in college golf and specifically here at Stanford," said Cardinal women's coach Anne Walker. "It's mesmerizing to watch and learn from her. She has elevated our entire team and you can see that this week with the huge performances from her teammates."
The saying about NCAA Regionals is that it doesn't matter whether you win or finish fifth, as long as you one of five schools advancing to the national championship. That's certainly how the LSU Tigers have to feel after squeaking out of the Palm Beach Regional.
Arriving at PGA National as the No. 1 seed, the Tigers were in tied for seventh after 36 holes, five shots out of the fifth spot and looking like their season would come to an unexpectedly early end. But over the final eight holes, the Tigers shot a collective eight under par, junior Carla Tejedo posting a 69 and senior All-Americans Ingrid Lindblad and Latanna Stone shooting 71s, to help LSU move to fifth place, one shot clear of Arkansas and moving on to Grayhawk.
"I'm proud of the way they showed up when they needed it most," said LSU Women's coach Garrett Reunion. "A lot of regionals have some funny things. There are some crazy moments at the end and if you look at our roster, it looks like an older roster, but the reality is we haven't really had too much regional experience."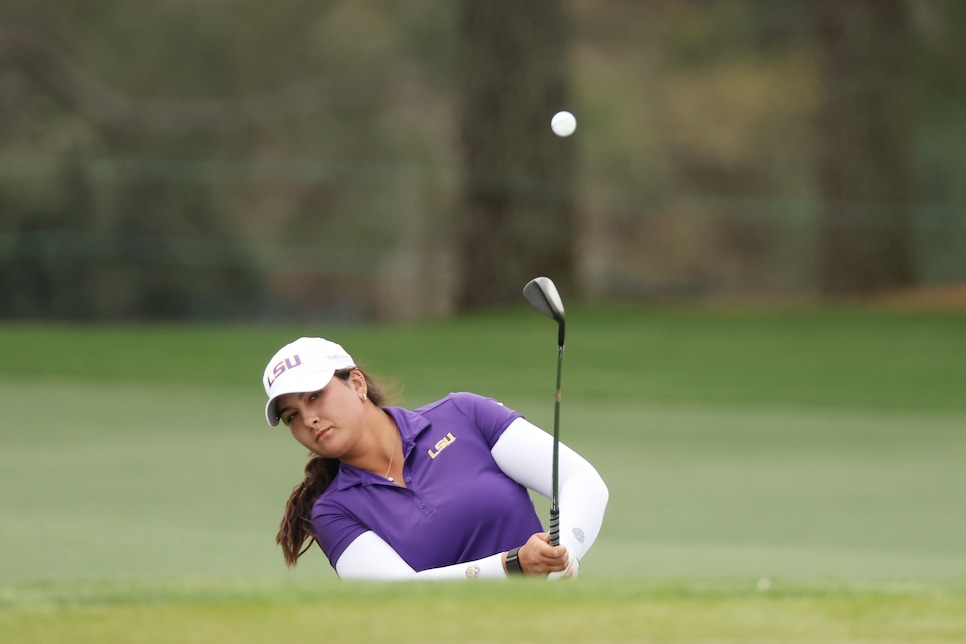 Latanna Stone's late rally helped LSU grab the fifth and final spot into the NCAA Championship from the Palm Beach Gardens Regional and earned her medalist honors in the tournament.
Gregory Shamus
On the reserve side of LSU was the fate of three other top-15 ranked schools. Arizona State was hoping to advance out of the NCAA Raleigh Regional in order to play in front of their hometown fans at Grayhawk. But a seventh place showing had their season end on Wednesday, missing out on natioanls for the first time in six years. Similarly last year's NCAA runner-up Oregon finished 10th at the NCAA Westfield Regional, failing to get another crack at the national championship. And Auburn, ranked seventh by Golfstat starting the postseason, finished in sixth place at the NCAA San Antonio Regional five shots away from the final spot.
A fresh face at nationals
Augusta was the 11th seed at the NCAA Athens Regional, meaning it would have to pull off some magic to advance to its first ever appearance into the NCAA Women's Championship. And that's what the Jaguars did, shooting a closing six-over 294 to finish in fifth place, holding off Ohio State make school history.
Interestingly, Augusta weren't the only school from a non-Power 5 conference to advance to nationals.
NCAA Women's Championship field
University of Georgia Golf Course, Athens, Ga.
PALM BEACH GARDENS REGIONAL
PGA National Resort, Palm Beach Gardens, Fla.
Palouse Ridge Golf Club, Pullman, Wash.
Lonnie Poole Golf Course, Raleigh, N.C.
Dorota Zalewska, Chattnooga
TPC San Antonio, San Antonio, Texas
The Club at Chatham Hills, Westfield, Ind.
Isabella McCauley, Minnesota