Betting 'Analysis'
7 vomit-inducing prop bets for The Nathan's Hot Dog Eating Contest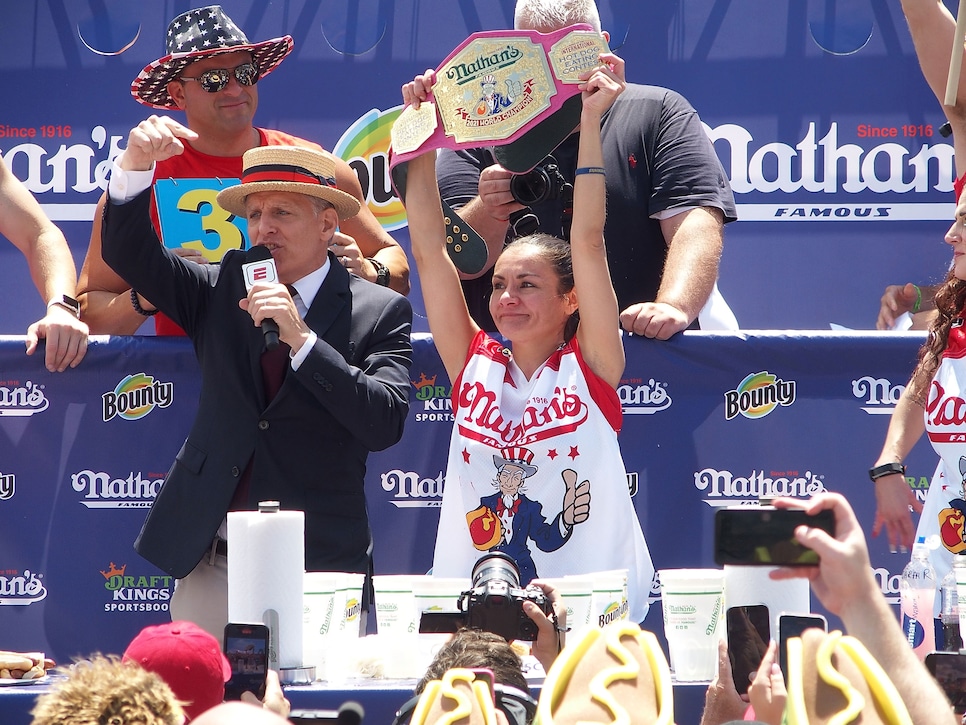 Myself and Stephen Hennessey like to call ourselves betting "experts," or at least that's what the headline of our picks column says every week. Our area of expertise, however, is golf, though we certainly have been known to dabble on other sports, ping pong included (COVID was a weird time).
So when our fearless Loop leader Coleman Bentley messaged me on Thursday "can you do some sort of betting post for The Nathan's Hot Dog Eating Contest?", I said yes without hesitation. We can come up with just about any reason to bet on something, and they aren't limited to sports with balls or sticks.
So without further ado, here are our favorite prop bets for one of the Fourth of July's greatest traditions, The Nathan's Hot Dog Eating contest," otherwise known as the Joey Chestnut Invitational.
Men's Outright Winner Without Joey Chestnut: Geoffrey Esper (-140, DraftKings) — In different terms, the second-place bet. In his last three Nathan's Hot Dog Eating Contest appearances, Esper has steadily improved, finishing fourth in 2018 with 41 hot dogs, third in 2019 with 47 and then second in 2021 with a personal-best 51 doggos. Outside of Nick Wehry, a longtime Nathan's competitor, Esper doesn't have anyone else to worry about in the race for second place, which he's happily gunning for knowing Chestnut is guaranteed to bag his seventh straight win. --CP
Nick Wehry: 49.5 or More Total Hot Dogs Eaten (-110, DraftKings) – Ready for some next-level analysis? Wehry became a dad last year, as fellow competitive eater Miki Sudo gave birth to the couple's first child. As a new father myself, I know that my eating prowess is at an all-time high (#dadweight). I bet Wehry will be PEAKING this year in Coney Island. --SH
Miki Sudo (+115) over Nick Wehry (DraftKings) — In hilarious news I just found out^^, these two are engaged, which adds a whole 'nother dimension to this matchup. I'll roll with the female in this one though. Sudo is a seven-time champ who has downed at least 31 hot dogs in her seven victories, with a career-high of 48.5 coming in her last appearance in 2020. To win the women's event, you really only need to eat 30-plus dogs, but the added motivation of beating your future husband might push Sudo to go for a 50 spot. --CP
Michelle Lesco: 31.5 or More Hot Dogs Eaten (+100, DraftKings) – Lesco won the women's Hot Dog Eating Contest last year in Sudo's absence. She ate 30.75 hot dogs (and buns) en route to winning. I'd bet she thinks she can win again this year (she can't, sorry Michelle). But maybe that'll boost her up to another dog. --SH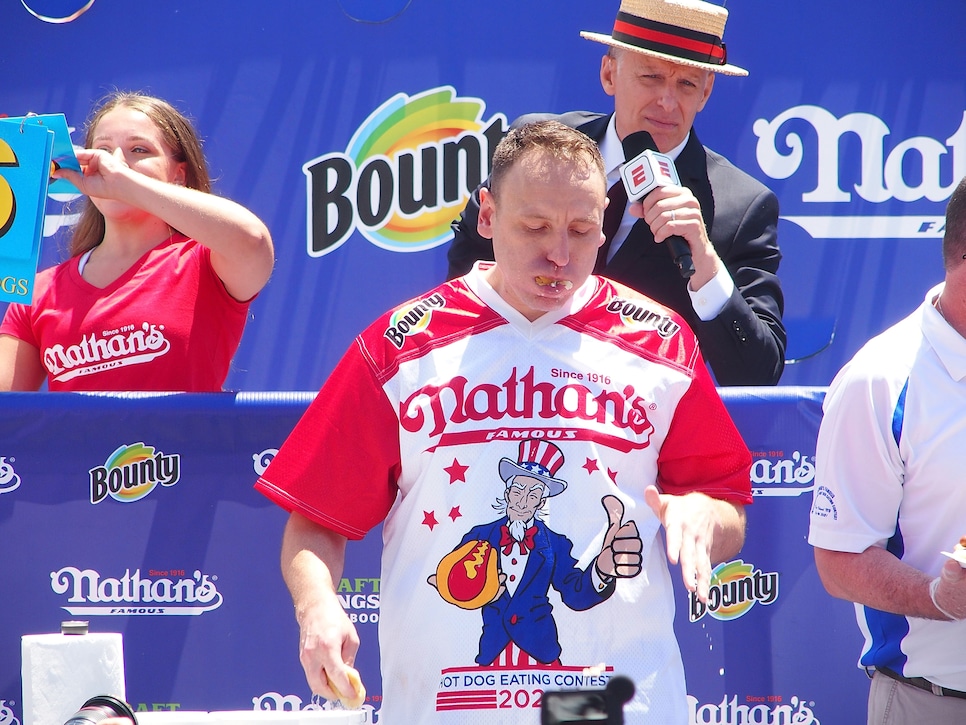 Joey Chestnut: 74.5 or More Hot Dogs Eaten (-140, DraftKings) — Imagine not betting the Chestnut over on the Fourth? That'd be like not betting the over in the Red River Shootout. Five minutes in, you'd hate yourself for missing out. What else does Joey have left to prove other than setting a new record each year? He's gone 74, 71, 75 and a record-setting 76 in his last four wins, and I have to imagine the no. 77 is on his brain in 2022. --CP
Gideon Oji: Less than 41.5 Hot Dogs (-125, DraftKings) – Oji proves that competitive eaters are, in fact, athletes. Oji played college basketball at Clayton State University in Georgia and is now a mainstay on the eating circuit. He has yet to eat 40 dogs in six appearances, so there's a reason why this line is juiced to the under. --SH
James Webb (-125) over Gideon Oji (DraftKings) – My fade of Oji continues in taking the Aussie James Webb here. Webb ate 41.5 hot dogs plus buns in a qualifier earlier in the year, and now he'll get the adrenaline of Coney Island. He is making his debut appearance there, so he doesn't have the experience of Oji (yes, I felt as dumb typing that sentence as you might feel reading it) – but let's roll with the Aussie. --SH