News
Nathaniel Crosby selected to captain U.S. team in 2019 Walker Cup at Royal Liverpool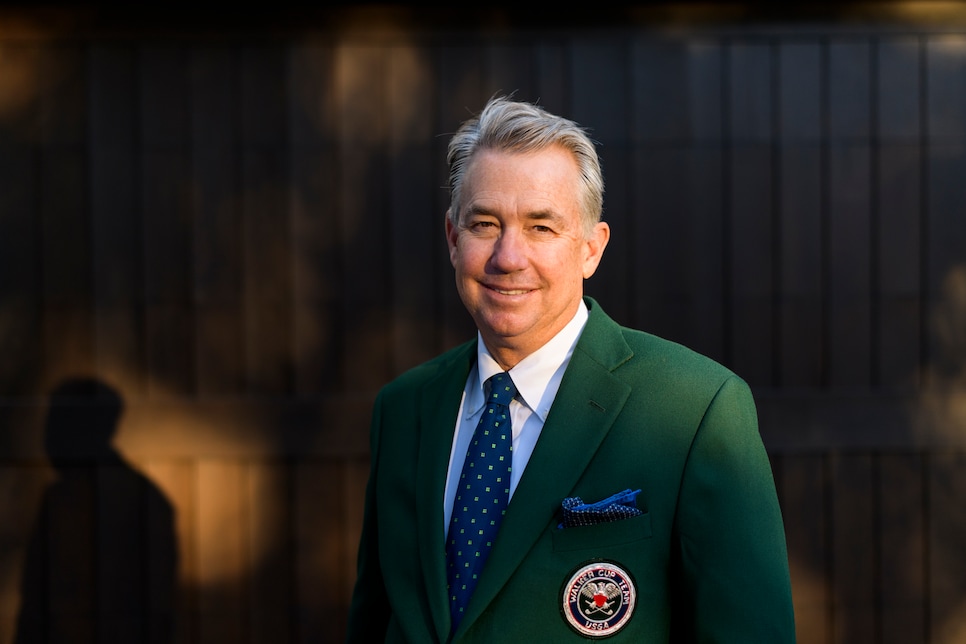 Nathaniel Crosby's victory in the U.S. Amateur in 1981 was among the most memorable in its long history, "a magical moment in golf," Terry Jastrow, who produced the telecast for ABC, called it. It helped earn Crosby a berth on the U.S. team that won the Walker Cup at Royal Liverpool Golf Club in Hoylake, England, two years later.
Two years from now, Crosby will complete the circle, returning to Hoylake, this time as the captain of the U.S. Walker Cup team. The USGA will make the announcement official on Wednesday.
"I haven't had a great moment in 35 years, haven't won a tournament in 35 years," Crosby said. "So when Diana Murphy [the USGA president] called me, I was extremely surprised. For someone that has something to say about everything, I was taken aback. I had a serious loss of breath when she told me I would be the next Walker Cup captain."
Crosby largely had reconciled with the idea that he likely would never be the Walker Cup captain based on the fact that the job generally goes to those who were career amateurs. For Crosby, he intended his amateur career to launch him onto a successful professional career. He played a few PGA Tour events and was a member of the European Tour for two years, but essentially retired from competitive golf to pursue a business career.
But when he turned up on the short list of candidates, his appeal to the USGA was that a preponderance of Walker Cup players these days similarly aspire to a professional career and as a result he can relate to them.
"To consider being an amateur golfer as a career made no sense to me when I was 17 years old," he said. "My pitch to the USGA was that I'm more in touch with guys trying to be successful golf pros who are 18, 19, 20, 21 years old."
Crosby, 56, is the son of the late entertainment industry icon Bing Crosby, which likely will heighten interest in the biennial amateur competition between teams from the U.S. and Great Britain & Ireland.
Bing was revered in the United Kingdom for his work on behalf of the war effort in the U.S. and his entertaining troops during World War II, and he was on record expressing a preference for courses in Great Britain and Ireland over those of the U.S. He also played in a British Amateur on the Old Course at St. Andrews, which still hosts the annual Bing Crosby Trophy, a competition for senior amateurs held in September.
Nathaniel has his own history in Great Britain. It began with the '83 Walker Cup at Hoylake, where he had a 1-1 record in the Americans' 13 ½ to 10 ½ victory. His teammates included three other future U.S. Walker Cup captains—Jay Sigel, Jim Holtgrieve and Bob Lewis Jr.
There, too, was his role in Bing's annual Christmas show, this one, "Bing Crosby's Merrie Olde Christmas," recorded in England in 1977. It was on that show that Bing and David Bowie, the original odd couple, collaborated on the song "Little Drummer Boy/Peace on Earth," that has become a Christmas standard.
A few weeks after recording was completed and Nathaniel had returned home, Bing died of a heart attack moments after finishing a round of golf in Spain.
Four years later, Nathaniel, 19 at the time, won the U.S. Amateur at the Olympic Club not far from the family home in Hillsborough, Calif., and next door to the San Francisco Golf Club where he remains a member.
"Bing Crosby's son winning in San Francisco, with his mom there?" Jastrow said recalling the telecast. "You're supposed to be impartial and try to present a balanced story, but this was magical storytelling. One shining moment. Never before, never again."
Crosby, who regained his amateur status in 1994, has been a partner and executive in three golf equipment companies—Toney Penna Golf, the Jack Nicklaus Equipment Company and Orlimar Golf. Today, he is chairman of the AppleTree Golf Society.
"Nathaniel Crosby has proven experience as an amateur player at the highest levels in both individual and team competition, and this will lend itself well to providing leadership for the USA Walker Cup Team in 2019," Stuart Francis, USGA Championship Committee chairman, said in a statement. "His father earned the USGA's highest honor, the Bob Jones Award, and I know Nathaniel possesses similar traits, including sportsmanship, patriotism and a competitive spirit, that will assist him as captain."
Incidentally, U.S. Walker Cup captains typically are retained for a second term. It would seem likely that Crosby, too, would be the U.S. captain again in 2021, given that the Walker Cup will be played at Seminole Golf Club in North Palm Beach, Fla., where he also is a member, as was Bing. Crosby, however, is not looking that far ahead.
"To be honest with you, I'm so grateful and so appreciative of the incredible gesture of being named the Walker Cup captain," he said. "Mike McCoy [another candidate for the 2019 position] also is member at Seminole and is worthy of being a Walker Cup captain."