News
U.S. delivers dominating performance, wins Walker Cup, 19-7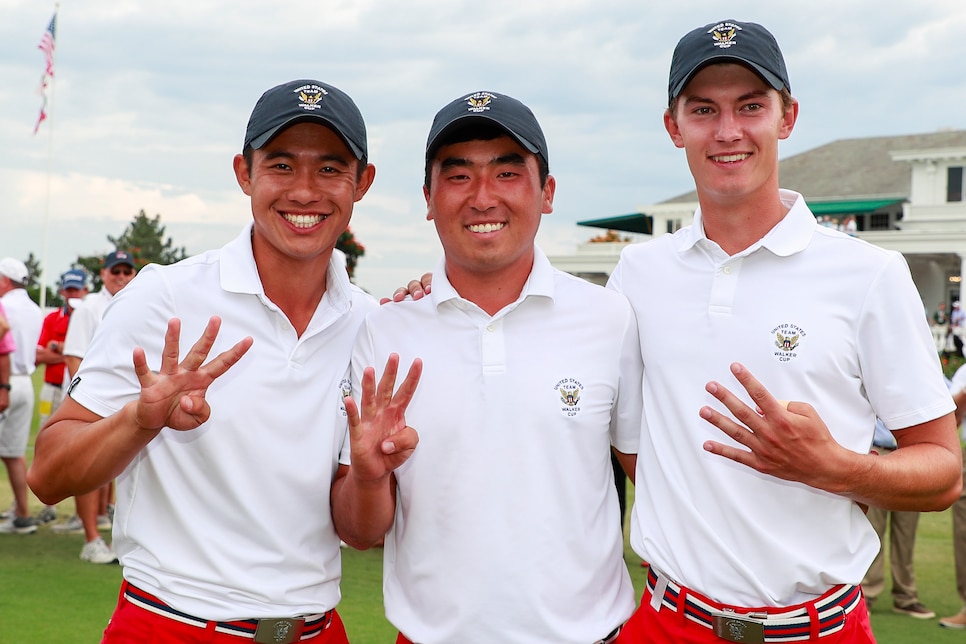 LOS ANGELES — It was, more or less, an afternoon victory lap, a means by which to assign a number illustrative of the U.S. Walker Cup team's dominant performance.
The number was 19, equalling the most points ever scored in a Walker Cup, and its 19-7 landslide victory over the Great Britain & Ireland team was the second widest margin of victory in the history of the event.
Victory had become a formality by virtue of the lead the U.S. had established from Saturday afternoon singles and Sunday morning foursomes.
It took an 11-5 lead into Sunday's singles and deftly completed its task, winning eight of 10 matches, to avenge a seven-point loss for U.S. captain Spider Miller and one of his players, Maverick McNealy, in 2015.
"It's not easy to lose," a jubilant Miller said, "and Mav was there with me. We had a choice to be either the 2017 Walker Cup team or the winning 2017 Walker Cup team. and it was up to them and how they played and their performance, and they chose to be known as the winning team and they did that. And it's a memory for these guys. These guys, when they're my age, they will have the defining moments in golf in their careers, and it's going to be a number of things that will define them, but they will always remember the Walker Cup and they will always remember being a part of this winning team. And that's what it's all about. That's why it is so special."
McNealy went 0-2-1 in the '15 Walker Cup, but more than made amends this time, when he went 4-0 in the final tournament of his amateur career.
"I think it starts with the U.S. team getting that big trophy, and that was our goal at the beginning of the week. I'm so excited to be part of the 2017 winning Walker Cup team," McNealy said. "That's what's most important to me. I'm so glad we could win this for our team, win this for Captain [Spider] Miller, and win this for the country."
McNealy, in fact, was only one of three U.S. players to go 4-0, a first in the Walker Cup. Doug Ghim, the runner-up in the U.S. Amateur, and Collin Morikawa also went 4-0.
Ghim defeated Matthew Jordan, 3 and 1, to complete his sweep. Only a few weeks ago, Ghim was on the wrong end of a match in these parts, losing the U.S. Amateur Championship to Doc Redman on the 37th hole.
"Well, the Monday after the U.S. Amateur, I was on Twitter and it kind of just hit me," he said. "Yeah, certainly I was disappointed that I didn't get the W at Riviera, but I played great and I just ran into a really tough competitor.
"But I was really excited for the Walker Cup, and I really wanted to play well. And, more than anything, it wasn't so much that I wanted to get redemption for the U.S. Amateur, it was more like I really wanted to win for Cap [Miller]. I know how much this means to him and I'm just so happy that we could pull it through and win for him. He's such a great guy."
Morikawa, meanwhile, defeated Harry Ellis, 2 and 1, after which he called his performance "a dream come true.
"I've never really gone undefeated in one of these team events," he said. "And just to have some momentum to know that I can do it against these guys, these guys are the best [amateur] players around the country and the entire world, really. So just to come out here and I just had a great time with everyone. I'm just glad we can come out with a win."
It was close only for a short time, on Saturday morning, when GB&I played the Americans to a 2-2 tie. After that, it was all red, white and blue. the U.S. won the next three sessions, 6-2, 3-1 and 8-2, its most dominating victory since it beat GB&I, 19-5, in 1993.
"I guess back home we call it a bit of a hedgehog day," GB&I acting captain Andrew Ingram said. "We couldn't get anything moving forward. And it is just wonderful for these guys to play at the very top of amateur golf, it's great for their career.
"The Americans are amazing. What a team."