The Loop
Natalie Gulbis' resurgence, Paulina Gretzky's #SB2K18, and an actual wild goose chase at a golf tournament
Welcome to another edition of The Grind, where we're suckers for a good comeback story. And there's nothing more uplifting than a golfer returning from three microdiscetomies on a bad back that nearly made her hang up her golf skirts for good. Oh, you thought we were talking about Tiger Woods? Nope.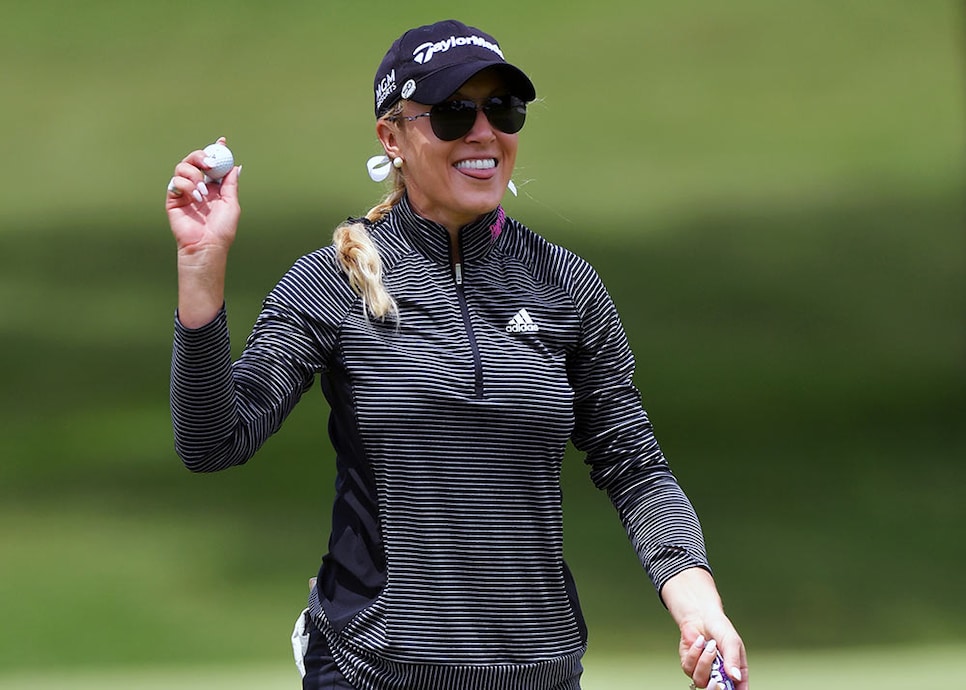 Remember Natalie Gulbis? Of course you do, although we wouldn't blame you if you know her more for yoga and paddle boarding than golf thanks to her popular Instagram handle. After all, Gublis' last LPGA victory came before Woods' most recent major title. But after going through almost exactly what Woods did (she hasn't had a fusion as her fourth surgery), Gulbis, 35, made her first cut in three years. Baby steps, yes, but it's nice to see her playing well again. And while she ponders a back fusion that would likely give her a 128-mph swing speed and total LPGA domination, let's discuss what else is going on in golf.
Andrew Landry: What's the best way to calm the nerves when you're trying to win your first PGA Tour event? Just go out and birdie the first three holes of the final round like Landry did at the Valero Texas Open. Things got close down the stretch, but Landry picked up his maiden victory — and a new pair of snazzy boots: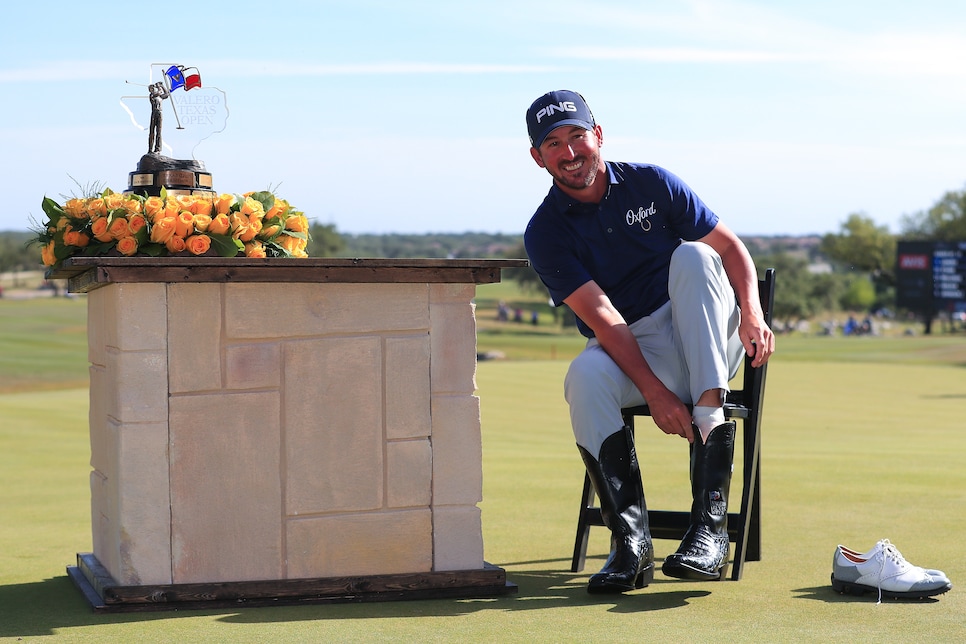 Congrats, Andrew. You officially are no longer "that guy who led the U.S. Open at Oakmont."
Alexander Levy: When it comes to cool prizes, though, we're going with this dagger given out to the winner of the European Tour's Trophee Hassan II (You know it's a good prize when trophy is part of the tournament name).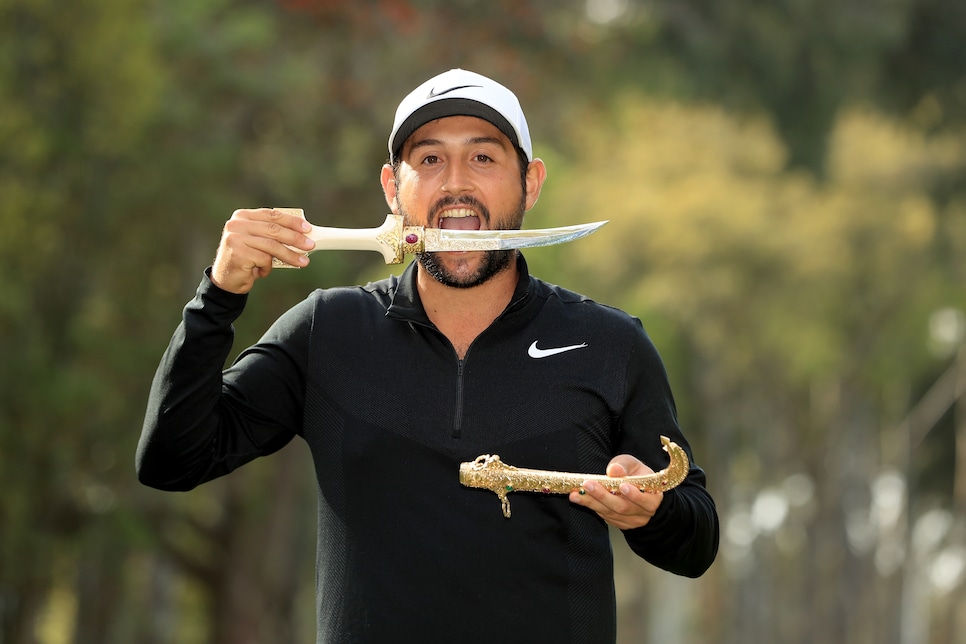 Levy was also thrilled to receive a slew of World Ranking and Ryder Cup points that vaulted him into the top 50 for the first time and put him in position to qualify for Team Europe and play on his home turf of France this fall. Bringing his newest "trophy" there might be more intimidating than Patrick Reed bringing his green jacket.
Jimmy Walker: Another comeback story! It was just over a year ago that Walker was diagnosed with Lyme disease, but his struggles (feeling fatigued, sick and in a fog) began months before. Not surprisingly, his game suffered, racking up just one top-10 in 2017 and needing to miss time while he found a treatment. Thankfully, those days look behind him. After a T-8 at Pebble and a T-20 at the Masters, Walker finished solo fourth at the Valero. It was great to see him contending on Sunday again and it was great to have him on this week's Golf Digest Podcast to discuss it all.
Yoenis Cespedes' golf ban: The star slugger promised the Mets he'd stay off the golf course this year, but now that he's slumping at the plate, he said this recently: "When I was playing golf, I had to keep my hands inside. It helped me a lot." Translation: Hint, hint.
If the Mets are smart, they'll let him play. And if you're smart, you'll tell your boss that more golf will increase your work productivity. Good luck.
Web.com Tour finish: As in, it didn't finish. Bad weather wiped away the final round of the Northern Mississippi Open. It stinks when this happens, but particularly in this case. You see, everyone had teed off and Eric Axley had already coughed up a three-shot lead when play was suspended for good. But with scores reverting to what they were through 54 holes, Axley was declared the winner. Good for Eric (Yet another comeback!), but a bad break for those chasing him on the leader board.
Mike Leach's thoughts on golf: Apparently, the football coach isn't a fan of the game we love so much:
That being said, that was one heck of an entertaining rant. … And he made a lot of good points …
Goose attacks: This actually happened at a high school golf tournament:
Utterly terrifying. And yet utterly hysterical at the same time. Let this be a warning to golfers out there: Geese ain't nothin' to mess with.
The PGA Tour heads from the Lone Star State to Louisiana for the Zurich Classic, AKA the tournament involving two-man teams now. Cue some awkward (un)coordinated celebratory dances!
Random tournament fact: Also cue the music. After introducing a team format last year, the event added walk-up music for the first tee this year. Fun! Jimmy Walker is already on record saying he and Sean O'Hair might go with LL Cool J's "Mama said knock you out." TPC Louisiana is going to be lit, y'all.
RANDOM PROP BETS OF THE WEEK
—Walker and O'Hair will perform "Mamma said knock you out" on the first tee themselves: 1 MILLION-to-1 odds
—Justin Rose and Henrik Stenson will go with "Sunglasses at Night": 10-to-1 odds
—Players at TPC Louisiana are more worried about gators than geese: LOCK
How could it be anything other than these? Golf Digest's director of photography called them "National Geographic quality." Amazing.
VIRAL VIDEO OF THE WEEK (ON-COURSE DIVISION)
Derek Jeter's celebrity golf tournament had a live "statue" that not even the host knew about. And the reactions — particularly Ray Allen's — were fantastic.
I'm not sure Ray even moved that quick when he starred in He Got Game.
VIRAL VIDEO OF THE WEEK (OFF-COURSE DIVISION)
How about this perfect, but savage chant breaking out at the end of a playoff game from Winnipeg Jets fans.
Although, it might have been comforting for anyone on the Minnesota Wild who actually plays golf. The NHL season is a grind.
VIRAL VIDEO OF THE WEEK (ADORABLE DIVISION)
Check out this kid presenting his second-grade research project on Jordan Spieth:
Great job, Chance. And good choice of topic. The next kid did George Strait? Rough.
What a great letter from some random golfer, and a great response by European Ryder Cup captain Thomas Bjorn:
This dude deserves a weekly pass to the event at the very least.
THIS WEEK IN DUSTIN JOHNSON-PAULINA GRETZKY PUBLIC DISPLAYS OF AFFECTION
With Rickie Fowler, Jordan Spieth and Justin Thomas recently attending Smylie Kaufman's wedding, DJ and Paulina's crew filled the void of #SB2K18 festivities at Baker's Bay, doing everything from hanging by the beach to playing golf.
Not all heroes wear capes. Thanks for picking up the slack, guys.
"I feel like a veteran right now, I feel like a Tour player now. I know I can beat these guys, and just going to wait for my week and try to win." —19-year-old Joaquin Niemann. When you finish sixth in your first start as a pro and make $223,200, you're allowed to say such things. This kid is a stud.
Kirk Triplett's holed bunker shot in a playoff gave the Triplett/Paul Broadhurst team a win over Bernhard Langer/Tom Lehman at the Bass Legends of Golf. That's the kind of crazy stuff that needs to happen to beat Bernhard on the senior tour. … Actually, Bernhard will beat himself next month when the defending Senior PGA Champ misses the event to attend his son's high school graduation. Well played, Bernhard. … Speaking of dads, check out this incredible onesie my co-workers gave my daughter!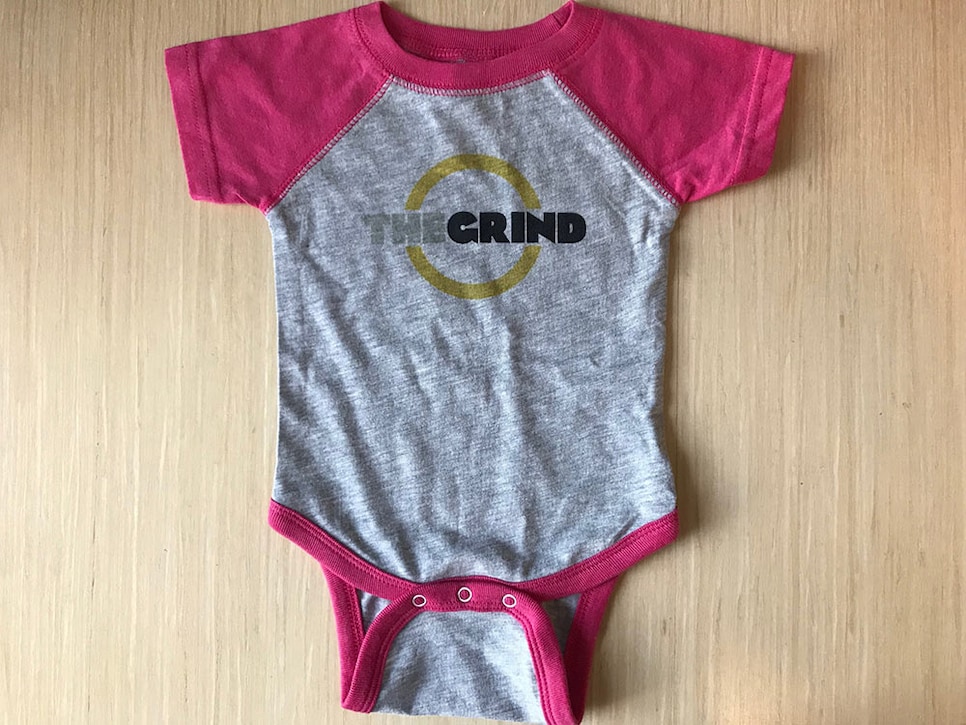 If I'd known having a baby would have gotten The Grind its own merch, I would have gotten on this whole baby thing sooner. . . . And finally, I saw someone on the train working on this the other day: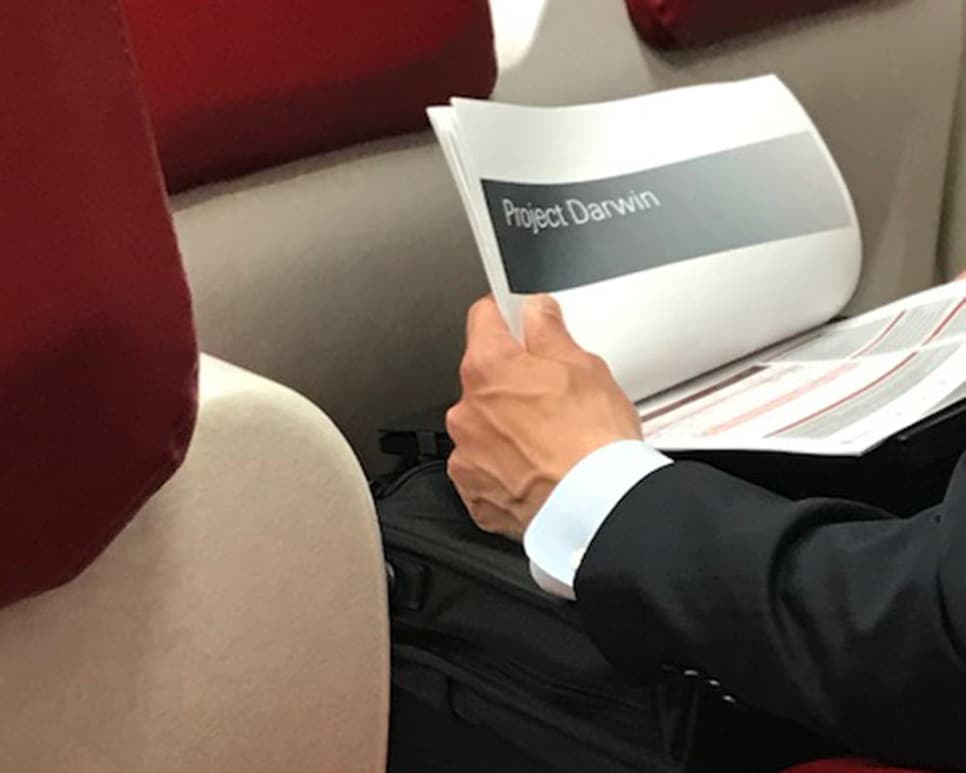 "Project Darwin"? Should we all be worried? Sounds pretty serious …
RANDOM QUESTIONS TO PONDER
Who will wind up with a better career: Joaquin Niemann or Joaquin Phoenix?
What would you choose as your first tee walk-up music?