News
Natalie Gulbis goes from considering retirement to making first cut in three years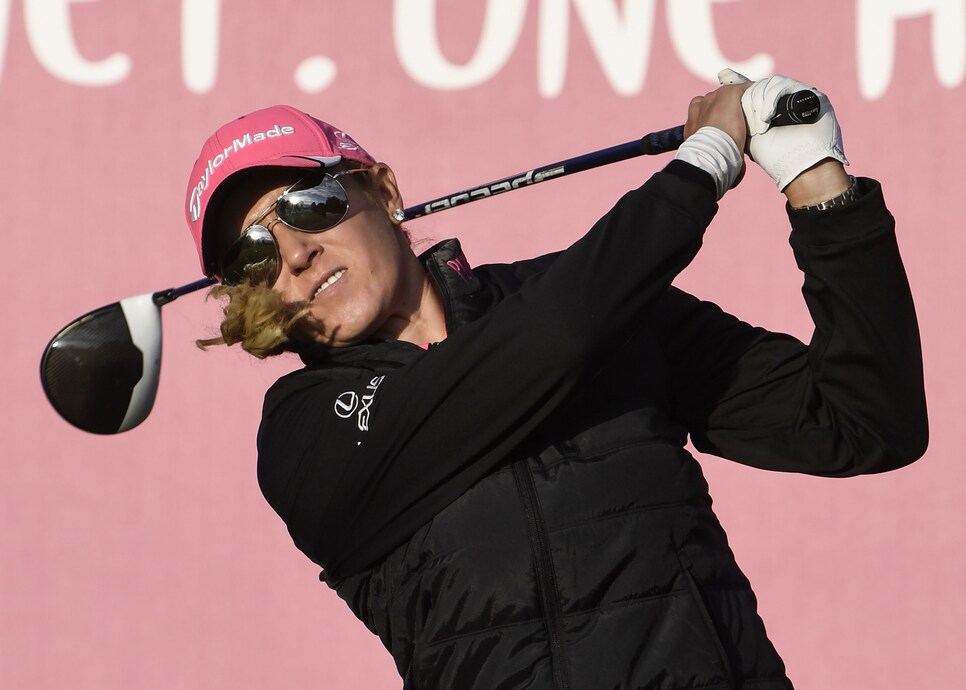 Photo By: PHILIPPE DESMAZES
Making the cut in an LPGA event used to be a given for Natalie Gulbis, who in the early 2000s was considered one of the tour's rising stars. Yet when she posted rounds of 69-76 at Wilshire Country Club on Thursday and Friday at the HUGEL-JTBC L.A. Open, it was a milestone of sorts for the now 35-year-old. It marked the first time since the 2015 Meijer LPGA Classic that Gulbis would be playing the weekend.
Subsequent rounds of 76 and 68 (the third best on Sunday) left her tied for 42nd in her first start since the Evian Championship last September. It might not seem like much, but for Gulbis it was more than a little satisfying.
Gulbis' journey to simply playing four rounds again has been a sequence of surgery, followed by recovery, followed by surgery, recovery and surgery again. It turns out Tiger Woods isn't the only player who struggles with a bad back. So debilitating was Gulbis' problems, she thought she was going to retire.
In a conversation with Golf World over the weekend, Gulbis explained her experience, beginning with her first back surgery which occurred in 2008. It was a discectomy that attempted to treat bulging discs. Unfortunately, it wasn't very successful.
"I struggled with getting re-injured," said Gulbis, whose lone career win came at the 2007 Evian. "I had to get cortizone shots. I was constantly in ice baths or getting physical therapy. I spent more time in physical therapy than practicing."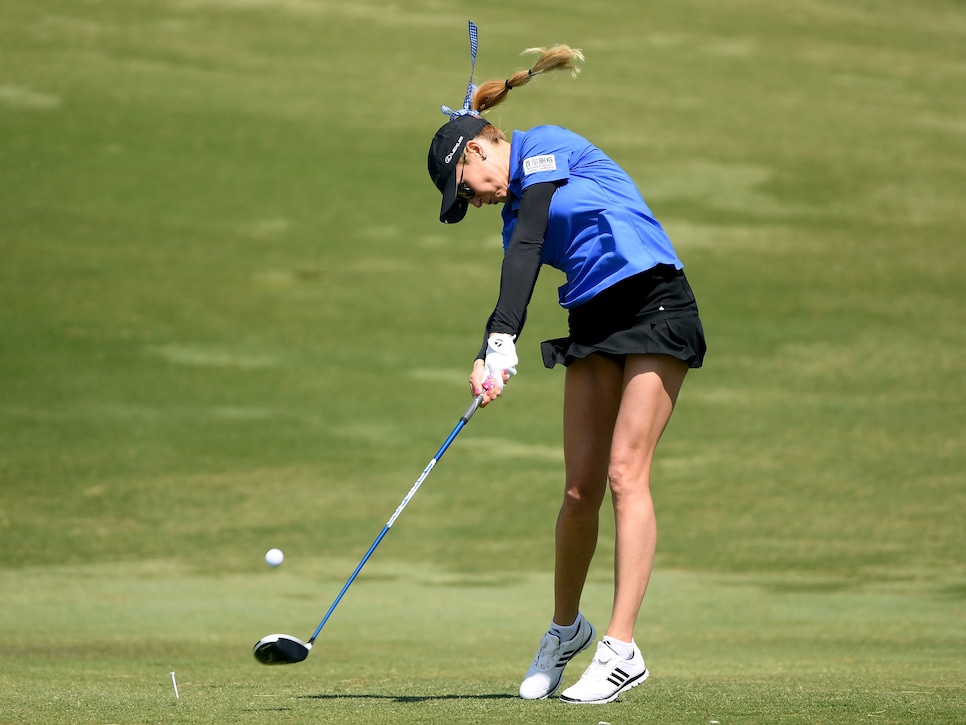 Gulbis played golf hurt, but it was more than that. Her quality of life was affected. Only in her 20s, she couldn't walk up stairs without pain. She couldn't sit in a car without her back hurting. A career as a competitive golfer no longer made sense. So she sat down with her coach, Butch Harmon, to come up with a plan on how to leave the LPGA on a good note.
But then Gulbis learned that Peter Jacobsen had had the same surgery, but his first had proven successful. Gulbis began contemplating having the procedure done a second time, weighing the options with her doctors and coach. There appeared little downside, with doctors telling her she had an 80-percent chance of success. She might not be able to play professional golf, but she should be able to live painfree. So she decided to try it again, going Phoenix to have the procedure done at the Laser Spine Institute.
"I had the surgery, and I felt no pain two weeks later," Gulbis said. "A month later I played on tour. Recovery was easy, we just moved forward from there."
In the years following, Gulbis played full seasons, her best coming 2012, where she has three top-10 finishes, including a T-4 at the Evian.
Her results didn't improve after that season, and a bad bunker shot in June 2017 brought the bad days back. Gulbis was playing in the ShopRite Classic and had an odd, one-foot-in-the-bunker, one-foot-out lie. The ball was buried. When she went to hit it, her back went out.
"I was stuck sideways," Gulbis recalls. "I was bent to the left. I thought I was gonna be done. My back got better just from taking time off. But at the end of the year—I knew I'd have surgery after Evian, just for quality of life."
And so Gulbis had a third discectomy, one disc up from the one she had operated on previously. Another option for this type of surgery would be a spinal fusion, but Gulbis didn't really consider it, thinking that athletes who move rotationally wouldn't be able to come back and compete after that. Now, of course, she's seen Tiger Woods' recent play after spinal fusion.
"It's been really inspiring to watch his success," Gulbis said, "not just in how he's played but how much he's played. His speed and how far he's hitting it, it's made me look at how much golf I could play. He's played events that have sidehills and rough and I wasn't sure if i could play those. He's been one of the best, greatest success stories in back injuries."
She and Woods haven't spoken about their back surgeries, but she said she has a lot of questions, and would like to see a scan of his back. When talking about other golfers who have dealt with bad backs, Gulbis also brings up Stacy Lewis as a success story.
Gulbis' third discectomy, done in September, went well, but the recovery took a longer than anticipated. Gulbis had hoped to be back playing on tour in January, but had to push her return back until the April event in L.A.
"There's a lot of things I can't do," Gulbis said. "I can't practice as much. I've never seen a range ball I didn't wanna hit, but now I have to have different discipline. My workouts are different. I have to be smarter. Everything I do has to have a purpose."
Instead of playing a few events spread out over the season like she's been doing, she and Harmon decided to organize her schedule as a "mini season." This was the first event, and in the coming weeks she will continue to play consecutive events. After her impressive final round at Wilshire, there are a lot of positives Gulbis can take away from the first weekend of her mini season. For one, her back doesn't hurt. That opens her up to think seriously about her goals.
"Win a tournament, that's my only goal," Gulbis says. "I love to compete, that's the only reason I do it. It's my only motivation."