PGA Tour
Morgan Hoffmann returns to PGA Tour after taking 'mind-blowing' path in Costa Rica to relieve his muscular dystrophy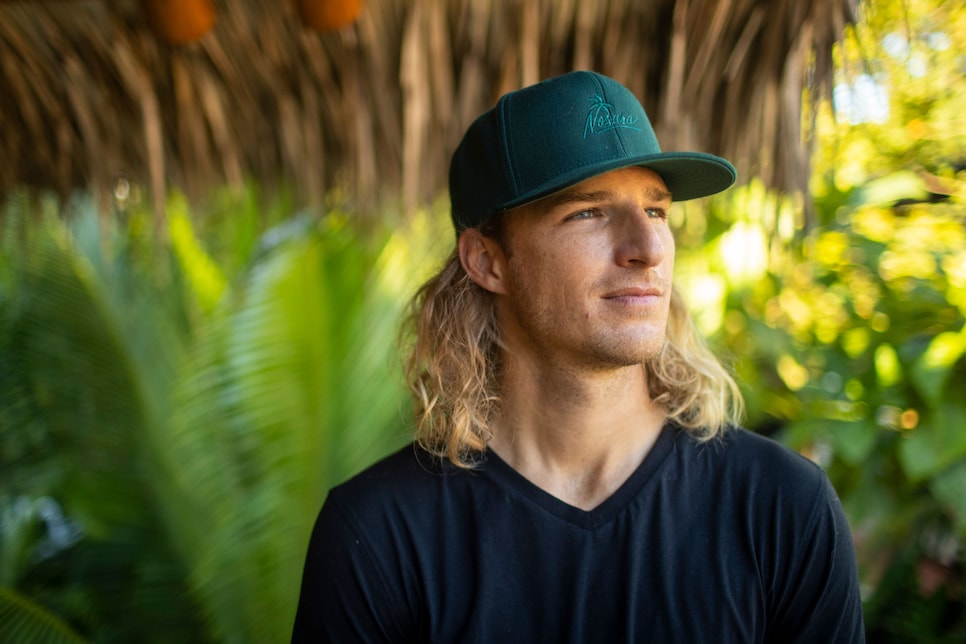 Morgan Hoffmann, pictured in Nosara, Costa Rica, on October 22, 2021.
HILTON HEAD, S.C. — Imagine a world in which the following words were uttered in a pre-tournament press conference on the PGA Tour, on the topic of evolving spirituality and mind-bending drugs:
"Since I started on this journey of soul searching, my spirituality has definitely changed and been opened up to so many different things and different aspects of life, whether that's physical or on different planes dimensionally. It's something that's hard to talk about here because not a lot of people understand and it can be deemed as crazy, but I think that's kind of what most people see me as anyway.
"Some of the plant medicine has been truly amazing, mind-blowing. And a lot of people call some of the things that I've embarked on as hallucinogenic. But the way I see them is so much different. I think it's like a kind of a back door or a side door to really different dimensions or different planes."
Morgan Hoffmann made the journey this week from Costa Rica to the RBC Heritage to play on the PGA Tour for the first time since October 2019. He's using the 16th of 18 starts granted to him on a medical exemption dating back to 2018, which means that as far as his tour career is concerned, the clock is ticking, and every start counts.
The 32-year-old walked into the press center Tuesday afternoon in a black shirt, high black socks, and light blue shorts, his sunglasses perched upside down at the back of a white hat featuring the wolf logo of Greyson Clothiers, a company he co-owns. His long hair was tied into a bun, and from straight on he almost looked like a "normal" golfer—slightly tan, with the same sharp nose and thin face you remember from the years before his muscular dystrophy diagnosis and his departure from the tour. This past December, he broke his shoulder and four ribs in a motorcycle crash in his driveway, but it barely slowed down his physical progress.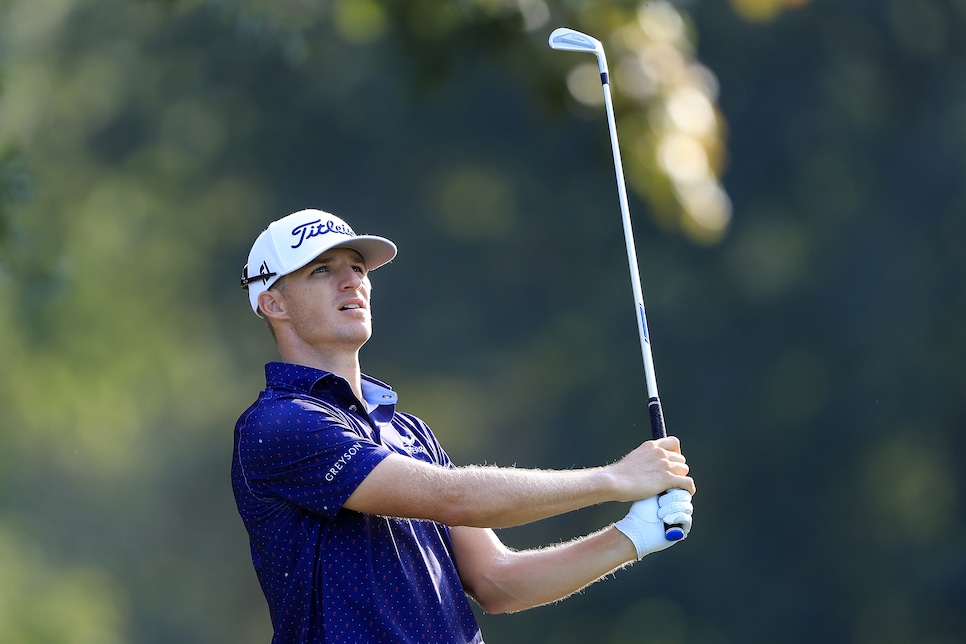 Morgan Hoffmann, shown in the 2019 Sanderson Farms Championship, played his last competitive round later that fall.
Sam Greenwood
"My muscles, ever since I went to Nepal about probably four years ago, have been slowly getting better," Hoffmann said. "There hasn't been any more atrophy, which has been amazing. And now, my right pec was the worst—it kind of got down to my ribs, where all you could see is bone—and now when I put my hand here and I flex, I can feel it again. It's very, very exciting."
Digest's Dan Rapaport visited Hoffmann at his home in Costa Rica, and the feature that came from that visit was jaw-dropping in its detailed look at a professional golfer who had gone as far off the grid as you can imagine. The story documented his fight to gain control of his disease by by traveling to Central America, and his retreat from western medicine, including him using ayahuasca treatments and "urine therapy," which involves, you guessed it, drinking his own urine.
Of his use of psychedelics, he said, "I think it's like a kind of a back door or a side door to really like different dimensions or different planes. ... I've been shown how to heal so many times just by closing my eyes and having, whether a voice in my head or a visual for me specifically, is like an envisioning like a white light all through my body."
Hoffmann, who played fulltime on the tour from 2013 through '17, has a habit of smirking, just slightly, as if he's withholding something amusing from you, but he's more open than he looks when the questions fly—a fact confirmed by his willingness to talk about arcane spirituality and psychedelics. As far as golf this week, he's optimistic, but some of his responses on Tuesday seemed to hint at lower expectations.
"What do you expect this week?" a writer asked.
"Some smiles," he said. "Some golf on a beautiful course. That's really about it. I've been practicing hard and my game actually feels pretty solid. ... Obviously, you come to tournaments to win, and I've never done that [win] before, so might as well shoot for the stars, right?"
Hoffmann chose to return here for a few reasons, including his physical health, the fact that the course isn't "crazy long," and his personal connection to the area—he went to high school on nearby Dafauskie Island and played at the Harbour Town course on weekends. In the lead-up to this week, he's spent the last 10 days practicing at Ohoopee Match Club in Cobbtown, Ga. He practiced on Tuesday with Luke Donald and Camilo Villegas and remarked—not happily—on how some of the holes have been lengthened.
He liked the Digest feature, and enjoyed the renewed attention that came from it, and part of the goal of his return journey is to spread his message of healing to others facing supposedly incurable diagnoses. Say what you will about his rejection of western medicine, but he believes firmly in transformation, for himself and others. He's the same person he was before his life was turned upside down, but at the same time, everything's different, including his own perspective on what the PGA Tour means.
"It was a lot more stressful, preparing for a golf event," Hoffmann said of his life before muscular dystrophy. "I feel like I needed to do things specifically and put a lot of pressure on myself, and that was to my detriment out there. Now it's been fun. ... I've had an amazing time and hit some great shots, hit some really terrible shots ... obviously, I want to play well and results would be special, but I think this week and whatever happens is already a success."