U.S. WOMEN'S OPEN
Minjee Lee surges into lead at U.S. Women's Open, has sights set on second major victory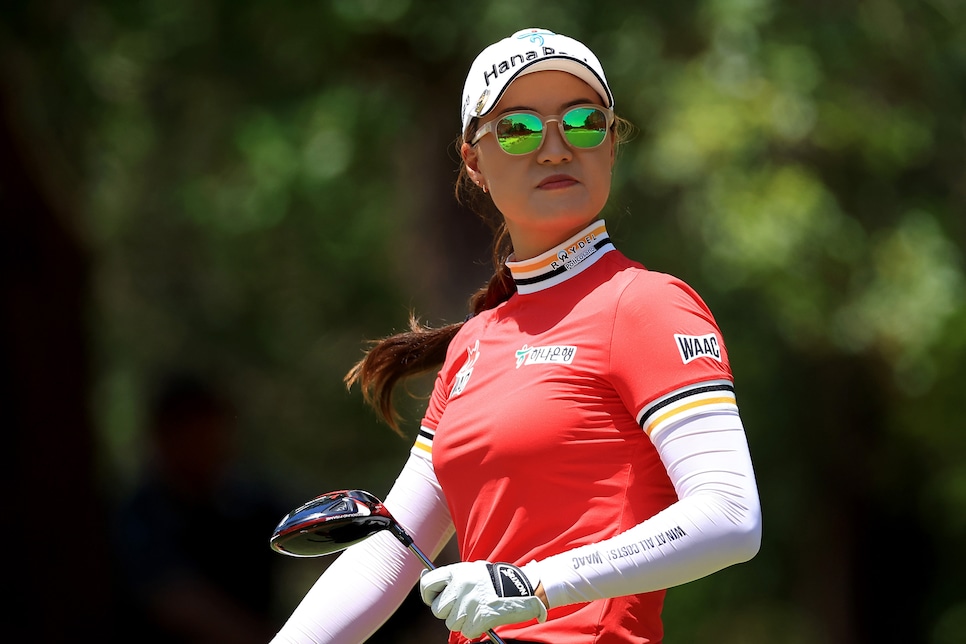 Minjee Lee takes a three-shot lead into the final round of the U.S. Women's Open, looks for a major win in consecutive years.
SOUTHERN PINES, N.C. — Through eight holes, Minjee Lee's Saturday was merely average. On a relatively pleasant, slightly windy day at Pine Needles, she had made one bogey and one birdie, and stood a shot behind leader Mina Harigae, who had fought her way to 10 under. Four holes and an hour later, she had the U.S. Women's Open in a chokehold, and if her Sunday 64 to win the Amundi Evian Championship last year is any indication of what we can expect in the final round at Pine Needles, the Harton S. Semple Trophy may be bound for western Australia in 24 short hours.
The decisive stretch for the 26-year-old Aussie came in holes 9 through 12, when her entire game, from driver to short irons to putter, caught fire and she left herself putts of 12 feet, 12 feet, eight feet, and 12 feet again for birdie. She made all four. Combined with two bogeys from Harigae, the average Saturday narrative for Lee was flipped on its head; suddenly, she was at 13 under and holding a four-shot advantage.
"I went on a little run there," Lee said. "I just had good numbers, and having shorter irons in, I think it was easier to calculate the bounce."
Lee spoke about her calm demeanor, and the advantage it gives her, and that serenity was on full display as she dropped approach after approach to birdie distance and dropped the putts right after. Still, the reality of leading a U.S. Women's Open did begin to register, and nerves crept in at the end of her round.
On the par-5 15th, she reached the greenside bunker in two shots, and a strong shot from the sand left her a five-footer for birdie, but she missed. On 18, a monster drive of 294 yards left her just 99 yards from the hole, but a mediocre approach barely caught the front edge of the green and made birdie impossible.
Still, despite the slight waver at the end, Lee signed for four-under 67 and held her ground at 13 under, a 54-hole scoring record at this championship. Harigae recovered from her difficult stretch at the start of the back nine and hit a laser on the par-3 16th to set up a birdie that brought her back to 10 under, where she finished the day.
Lee's three-shot lead is far from safe—particularly considering Lexi Thompson's collapse from five shots ahead with eight holes to play at this tournament last year—but to see her speak after the round was to see someone in full command of herself.
"I don't think I get too high or too low. I think that's a strength of mine," Lee said. "I'm just going to stick to what I know. I've been to plenty of U.S. Opens and been in pressure situations like this before. Just take away my experience from the other events and the other Opens and try and get it done tomorrow."
Simple words, but her recent pedigree backs her up. At the 2021 Amundi Evian Championship, Lee trailed Jeongeun Lee6 by seven shots, and embarked on a historic comeback with a Sunday 64, eventually defeating the 54-hole leader in a playoff to capture her first major. Now the No. 4-ranked player in the world, she stands on the verge of adding a second major just a week after her 26th birthday.
Her main challenger—perhaps her only challenger, unless Lee has a very poor day—will be Harigae, whose opening-round 64 put her in the tournament lead, and who has hung tough to improve her score each day. This is Harigae's 48th major championship, and until now, she's never managed to card a single top-10 finish. That was due to her reaction to pressure, she concedes, and it took a good deal of work on her emotions to get her to a place where she could better process the nerves in big moments.
"Just a lot of self-awareness, a lot of butt-kicking from my caddie," she said, referring to her fiance Travis Kreiter. "A lot of good hard talks. But I just realized if I wanted to get to the next level, I really had to get a hold of myself emotionally … it definitely feels different. Everything moves a lot slower in my head now."
Harigae has been a fixture on the LPGA Tour for more than a decade but has never had a tournament win at this level. She's aware of what it would mean for her legacy, and even more aware of the money at stake; a second-place finish comes with more than $1 million in prize money.
She has a great chance to secure at least that much; there's a gulf between Harigae at 10 under and Bronte Law, whose 68 on Saturday brought her to seven under and solo third place. Below Law, a massive crowd that includes Lydia Ko, Anna Nordqvist, and amateur Ingrid Lindblad lurk at six under.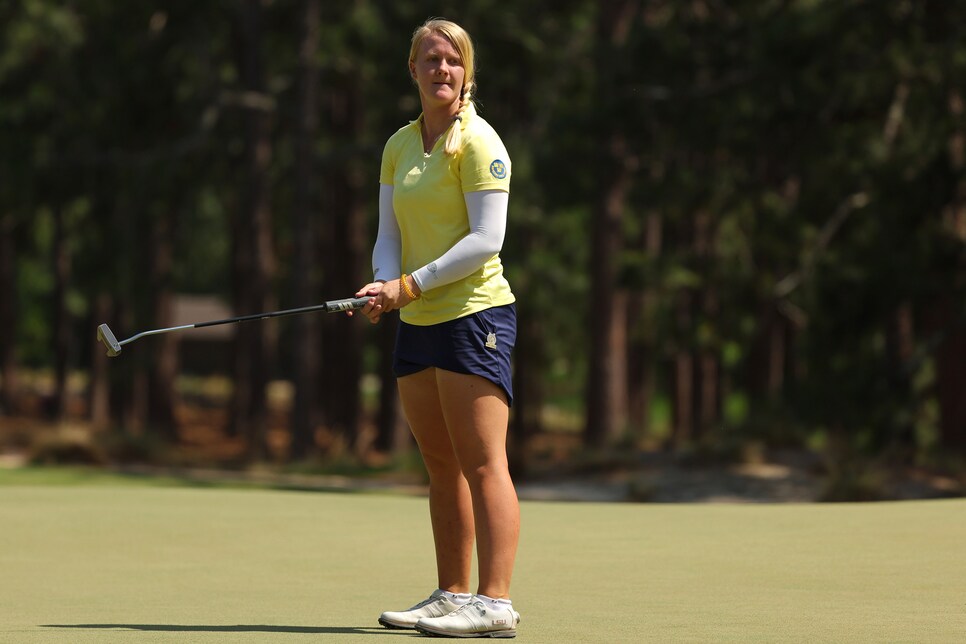 Swedish amateur Ingrid Lindblad has made headlines for three straight days, is tied for fourth place.
Early on, 22-year-old Lindblad threatened to make a big jump to catch the leaders, making birdie on the third and fourth hole to reach nine under. She cooled off later, though, and spent much of her back nine touring the various bunkers of Pine Needles. On 15, a shot from a greenside bunker rolled backward into a different bunker, sacrificing a chance at birdie, and a hole later she chipped from off the green all the way into the sand on the other side of the hole. A bogey there brought her to 17, where her drive found a fairway bunker, her approach landed in another greenside bunker, and she was unable to go up-and-down to save par. Just when she seemed to be in a freefall, though, her approach on 18 stopped four inches from the cup, and she tapped in to make birdie to shoot 71 and return to six under.
Despite the late fade, Lindblad is still soaking up her major experience, and particularly her first two rounds, when she was paired with her childhood idol Annika Sorenstam.
"I remember after the first day I read a few articles," Lindblad said on Saturday. "She said I was fearless and she knew that I hit the ball pretty far, but she was really impressed by my short game, especially on this course. You need to be able to hit really good chip shots to get close to the pin ... so it was really cool that she said that because it's Annika."
Nelly Korda, playing in her first tournament since the discovery of blood clots in her left arm led to a surgery and a long rehab process, shot up the leaderboard on the back nine, reaching seven under with her fifth birdie of the day on 15. But a disastrous final three holes—three consecutive bogeys—dropped her to four under and seemingly out of contention.
"That was tough," Korda said of her finish. "I'm sure that was tough to watch, too. But yeah, I'm just happy to be out here, even though that was a tough pill to swallow."
In all, conditions at Pine Needles were softer than expected—Minjee Lee said that although there's a superficial resemblance to courses in Australia's Melbourne Sandbelt, the ground here isn't anywhere near as firm—and aggression was rewarded. The day's best round belonged to world No. 3 Lydia Ko, the only player to card a 66, as she reached six under. Smart money would say she's a little too far off Lee's lead to make a run, but Ko knows that these things don't always go to plan.
"You just never know, right?" she said. "There have been some lower scores at this course. I don't know ... it's the U.S. Women's Open, there's always that little bit of adrenaline and little bit of nerves that maybe necessarily don't come at any other event."
Sunday afternoon, Minjee Lee will be the heavy favorite, but as she proved at the Evian less than a year ago, and as Lexi Thompson proved in the opposite way just one U.S. Open ago, having a major trophy in your grasp is not the same as raising it above your head.