U.S. Women's Open
Danielle Kang's brother reveals she has spinal tumor; she says she's pondering next step with doctors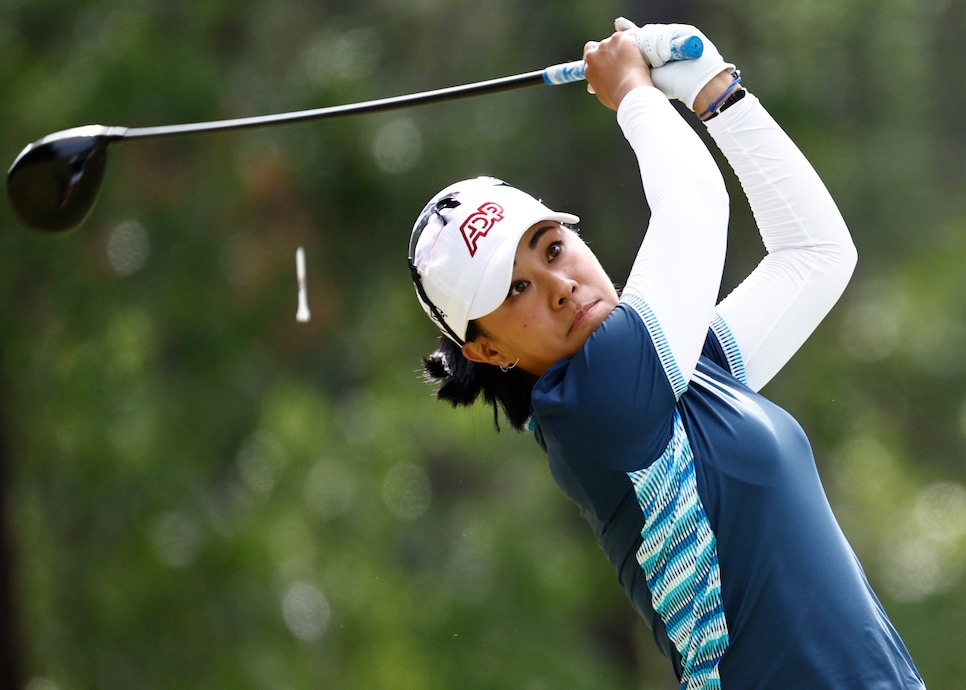 Danielle Kang plays her tee shot on the 12th hole during the second round of the 77th U.S. Women's Open.
Jared C. Tilton
SOUTHERN PINES, N.C. — According to an Instagram post from Danielle Kang's brother, the world's No. 12-ranked golfer has a tumor in her spine. Alex Kang, Danielle Kang's brother, posted the news on Thursday as Kang teed off in the U.S. Women's Open at Pine Needles:
Kang shot a 71 on Thursday and a 74 on Friday, and at three over she was on the cutline as play continued in the afternoon. She was asked about the possible spinal tumor after her round on Friday, but offered little new information.
"I'm actually doing everything I can," she said. "I don't know how to answer these things right now. I don't have all the answers. I've been working with [my doctor] and he has been really great, and my physio, Heather Lyndon, has gone above and beyond ... they're just keeping me together."
According to Golfweek, Kang told a small group of reporters after the round that she doesn't know if the tumor is malignant or benign.
"I've gone through a lot of procedures so far and with the process of elimination we are narrowing it down," she said. "It's going to take time."
She professed to feeling "OK," but owned up to her struggles over the last two months, including the month she took off after playing the Palo Verdes Championship in late April. Back pain plagued her throughout April, forcing her to withdraw from the Lotte Championship, and two weeks later she withdrew after the first round in Palos Verdes.
"I played so bad for the last couple of months," she said. "Not only that, I haven't touched a club or practiced for a long time."
As it stands, Kang would reach the weekend at Southern Pines. Evaluating her own play, she was ambivalent.
"I'm pretty stoked that I'm able to hit certain shots, and I feel like my game is a little bit there," she said. "I can't expect it to be a flawless round, especially at the U.S. Women's Open. … For the last seven, eight weeks I've done everything I can to get here. After this week I will focus on addressing the issue and then trying to figure it out from there."