John Feinstein
Mike Weir and John Daly show senior golf still provides great theater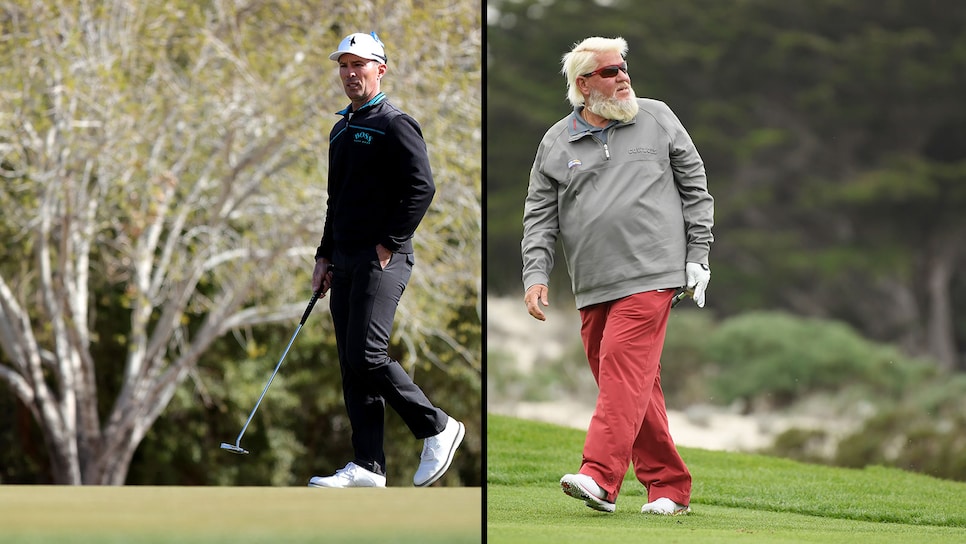 Great golf theater doesn't always come at the major championships, and it doesn't have to involve the 10 guys the PGA Tour is going to dole out $40 million to later this year for being popular.
In fact, it doesn't always take place on the PGA Tour. Sunday was an example. While Sam Burns was strolling up the 18th fairway at the Valspar Championship with a four-shot lead en route to his first tour victory, there was very real drama taking place about 1,000 miles away at The Woodlands, outside of Houston, where the final round of rain-delayed Insperity Invitational was taking place.
This is no knock on Burns, who had been close to victory in the recent past and, at 24, clearly has the potential to win some more in the next few years. It wasn't his fault that Keegan Bradley went sideways on the back nine, turning a quality duel into a coronation. This is about real golf theater, involving characters everyone who follows golf is familiar with, although very little of their success has taken place in the recent past.
Four players had a chance to win the PGA Tour Champions event. Three of them were past major champions:
• David Toms, who won the PGA in 2001, beating a then majorless Phil Mickelson down the stretch.
• Mike Weir, who became the first Canadian and the first lefty to win the Masters in 2003.
• And John Daly, whose golf and non-golf resumes can't possibly be captured in one sentence. Long story short, Daly won the 1991 PGA after getting into the field as the ninth alternate and then won the Open Championship at St. Andrews in 1995 when he was the 108th-ranked player in the world. There's no need to relive Daly's off-course issues and there's also not enough time or space to do so here. Put it this way: Daly's official PGA Tour profile mentions his three children, but none of his four wives. Easier that way, no doubt.
Daly turned 55 last week and has won once—at this same senior tournament in 2017—since turning 50. In the last 16 months, he's played 16 times and, coming into the weekend in Houston, had one top-10 finish—a T-9 at the Cologuard Classic just before the pandemic shut the tour down last March. He last won on the PGA Tour in 2004, although he lost a playoff a year later to Tiger Woods in a WGC event.
Nowadays, Daly is sporting a long white beard, which, combined with his less-than-lean body, makes him look like Santa Claus in sunglasses and outrageous pants. He's had health issues, diagnosed last September with bladder cancer that required surgery. But, when he's feeling up to it, and the mood strikes him, he can still play.
And, he's very much a draw. So much of the crowd was with Daly's group—the second-to-last—coming down the stretch Sunday that Golf Channel's Bob Papa commented that Weir, Petrovic and Toms, the final group, "are playing in almost complete privacy."
Weir turned 50 last May and had to wait out the pandemic to get his chance to play against the senior set. He last won on tour in 2007, although that same year he beat Woods in a Presidents Cup singles match, an outcome that is still looked at in Canada as one of sport's great moments even though the U.S. easily won the Cup.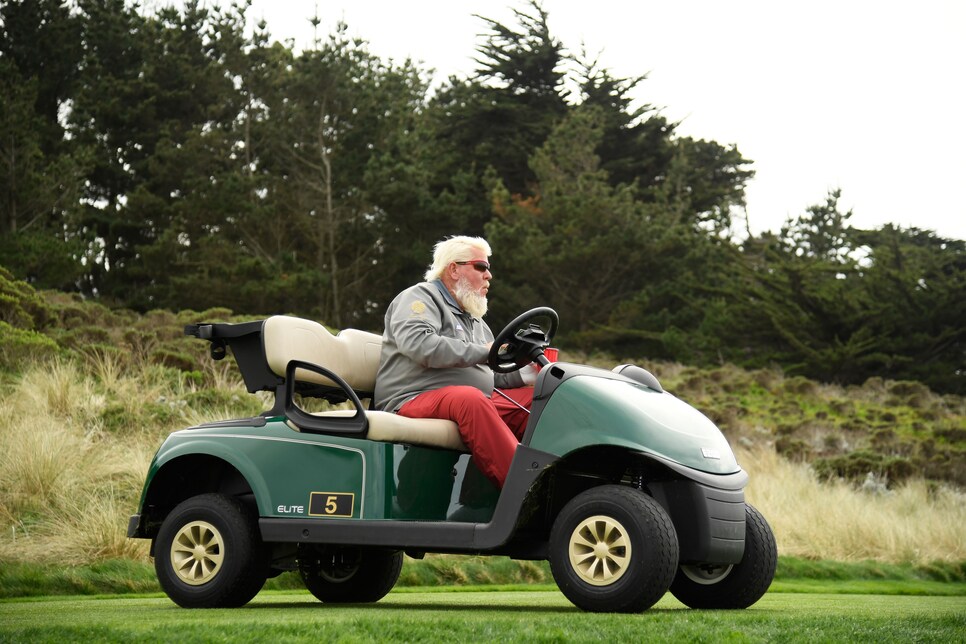 After a bladder cancer diagnosis last September, John Daly has returned to play on the PGA Tour Championship and in February at the AT&T Pebble Beach Pro-Am.
Harry How
Since winning the Masters 18 years ago, Weir has been through a divorce, numerous swing changes, serious injury and all sort of setbacks and frustrations. But he's found happiness the last five years with girlfriend Michelle Money and a swing he can trust since hooking up with veteran instructor Mark Blackburn.
While working with Blackburn has been important, Weir says a real turning point for him came when he played on the Korn Ferry Tour for two years ahead of turning 50. It wasn't the results that mattered, it was that Weir was able to find real joy on the golf course for the first time in years.
"A lot of the guys knew who I was [a Masters champion] and approached me looking for guidance on how to get from where they were in the sport to where I had been," he said. "I never felt uncomfortable out there, even playing with kids who were hitting it 75 yards past me off the tee. We'd sit around during breaks and they'd ask me, What was it like when you won the Masters? What did you do to get there? I felt a little bit like the wise old man telling the kids the secrets to success in life. It was fun."
There's also hockey—an important part of Weir's life for as long as he can remember. He was a natural left-handed shot as a kid even though he was right-handed and that's why he's always played golf left-handed. Beyond that though, for better or worse, is the hockey mentality that was—and is—an important part of who he is.
"In hockey, you get knocked down you don't just lie on the ice," he said. "You break a collarbone, a wrist, whatever it is, if you can get up, you skate to the bench and, if you can, you play through it. I think that's in the DNA of all Canadians. That's why I kept playing when I first got hurt [in 2011] because you should always be able to play through pain. But I couldn't do it. I needed surgery.
"Now though, I think the hockey mentality was what kept me going through all the bad times. I never would have forgiven myself if I'd just said, 'too tough,' and walked away. I needed to give myself this chance."
Weir has played in 14 PGA Tour Champions events. He's finished in the top 10 in six and has been in the top four in four of the last eight. He'd finished second twice before Sunday and found himself locked in a four-way battle on the back nine. The tournament had been shortened to 36 holes because of weather, and Weir, Daly, Toms and Tim Petrovic all took turns at the top of the leader board.
Daly seemed to have gained control when he eagled the par-5 13th for a two-shot lead, but, a moment later, Weir hit his second shot at the same hole to three feet and matched the eagle, tying Daly for the lead. Weir bogeyed the 14th, Daly leading again by one. But then Daly parred the par-5 15th and Weir birdied it and they were tied again. Petrovic was a shot back by then, Toms two shots behind.
It all came down to the 18th hole at The Woodlands, one of golf's most entertaining finishing holes. To get anywhere near the flag, a player has to take on the water with his second shot, regardless of where he puts his drive. Daly blasted a driver and had only 141 yards to the flag. He took a 9-iron and appeared to catch a wind gust, the ball splashing into the water well short of where it needed to land. From there, Daly made double-bogey 6.
Knowing that Daly had gotten wet, Weir also took driver and hit a bomb of his own—not Daley-esque, but more than respectable. He had 161 yards to the flag and hit a perfect shot, the ball landing just short of hole-high and 15 feet left of the flag. Weir almost never shows emotion on the golf course, but he shook his fist when he saw where the ball had ended up. Weir knew unless Petrovic made a miracle putt from across the green or he somehow three-putted, he was going to win for the first time since the Fry's Electronics Open in October 2007. And when he closed out the victory, it was indeed cause for celebration.
Suffice it to say, Daly-Weir duel, with Petrovic and Toms chasing, was wildly entertaining. The quality of the golf—Daly's second shot at 18 aside—was excellent. There were no five-minute conversations between players and caddies or anyone marking a two-foot putt and pulling out his greens book. The ending had real drama, especially since it involved two players who have known the highest of highs and the lowest of lows in golf.
It was good for Daly; better for Weir and terrific for the sport. One more rain delay early in the day pushed the finale back until 8 o'clock eastern time. It was worth the wait.