News
A forgotten and forlorn major champ is close to long-sought victory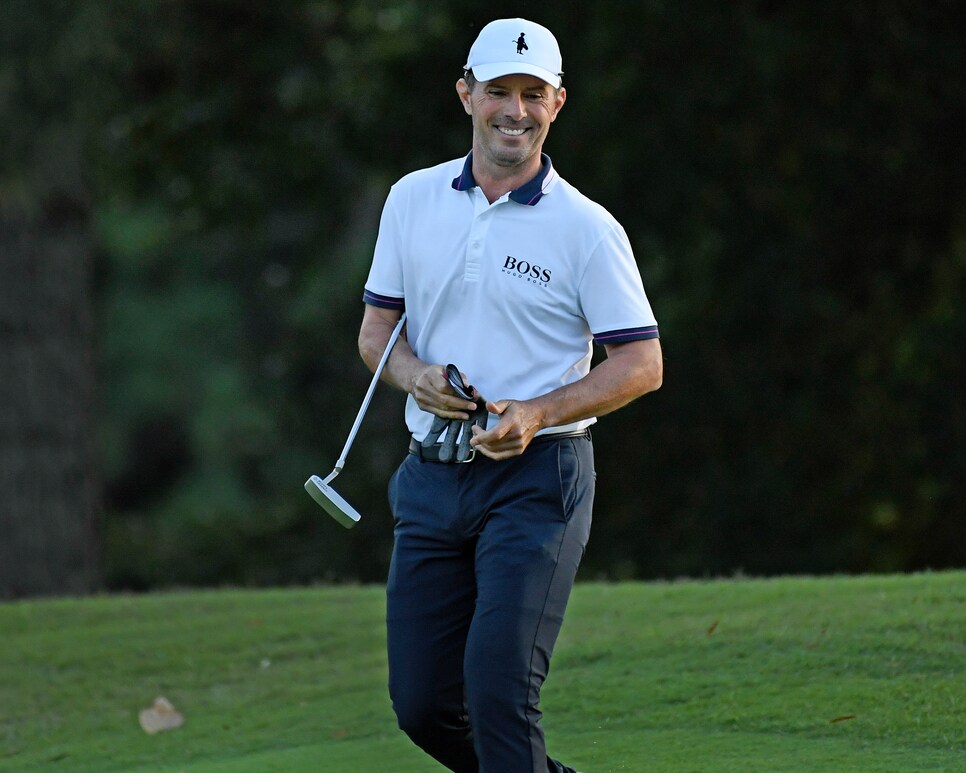 Mike Weir is all smiles on the eighth green during the second round of the PGA Tour Champions Dominion Energy Charity Classic.
Tracy Wilcox
There were four major champions who started their senior tour careers in the 2020 calendar year. No doubt most golf fans can name three of them off the top of their head. Five-time major champ Phil Mickelson won in his first PGA Tour Champions start after turning 50 in June, 2003 U.S Open winner Jim Furyk, who reached the qualifying age in May, notched two victories in a fewer than two months over August and September. And Ernie Els already has a pair of senior wins after turning 50 last October.
The fourth? He is a Masters champion, but has been so far off the planet of competitive golf for a decade that very little attention and no expectations were put on him when he reached 50 in May.
Mike Weir, winner of the 2003 Masters, has suffered through injuries and ignominy for years. Career-wise, the slightly built Canadian arguably reached rock bottom in 2019, when, with all his special status exemptions used up for the PGA Tour, he opted to play on the Korn Ferry with an exemption awarded to PGA Tour players who are 48 or 49.
That didn't help Weir much. In 17 combined starts between the PGA and Korn Ferry tours, he reached the weekend only five times. Weir finished no better than 35th on either tour, extending to 12 years his streak of winless seasons. He has only one top-10 result in the last 10 years. (He notched his eighth and last tour win at the 2007 Fry's Electronics Open in Scottsdale, Ariz.)
If anybody was hoping for new life on the senior circuit, it was Weir. So far, it's been better than he could have dreamed.
Weir entered this week's Dominion Energy Charity Classic in Richmond, Va., already with two top-10 finishes in his first seven PGA Tour Champions starts, and after shooting a second-round nine-under-par 63 on Saturday in a 36-hole day, he is poised for a possible—and rather improbable—victory. At 13 under, Weir leads Mickelson (68-66) by three shots. Another five back is two-time U.S. Open winner Retief Goosen and Brandt Jobe.
Asked if he could remember when he'd last slept on a lead, Weir was stumped.
"It would take me a while to come up with when the last time that was," he said. "It's been a long time, so it feels good."
For the day, which required 36 holes because the weather made the Virginia Country Club course unplayable on Friday, Weir made 15 birdies total in shooting 68-63. He charged in the afternoon with five birdies on his back nine, including three in a row.
"I've been playing some pretty good golf," Weir said. "I haven't played like this yet, but it's nice to see some hard work paying off, especially with the putter. I thought my first four, five tournaments I was a little cold and then Pebble Beach [where he tied for fourth in the Pure Insurance Championship] it started coming around, so it's nice to see that momentum continue.
"It's great to be in the mix," he said. "I want to get out here to have a chance again, I haven't felt those feelings in a long time. See if I can handle it [Sunday] and have a chance coming down the last few holes, I hope."