Farewell Tour
Coach K prank calling Jim Boeheim's radio show as "Mike from Durham" might almost make you like Coach K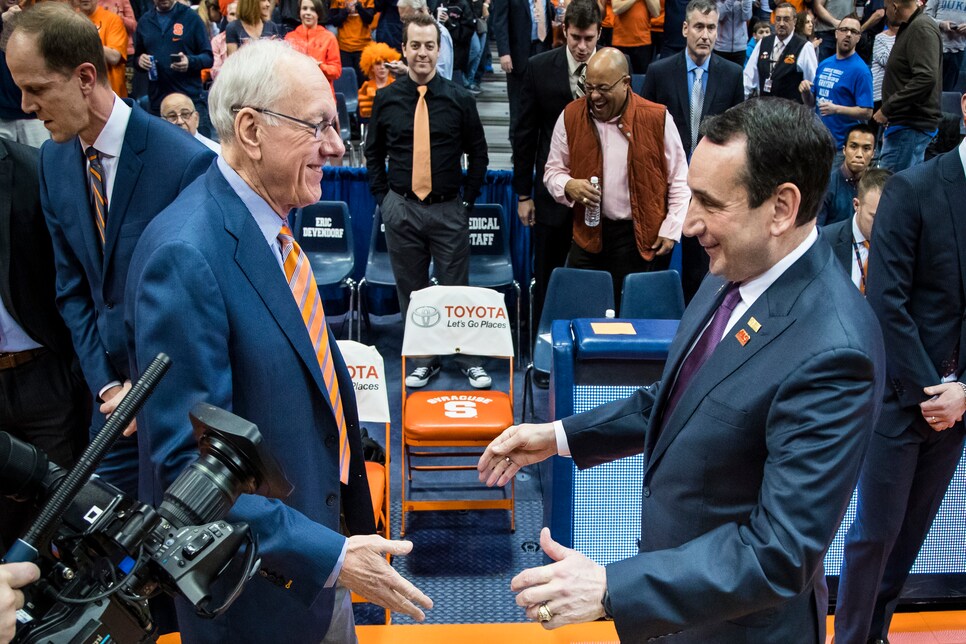 If you were to ask our thoughts on the Coach K Retirement Tour, we'd sum it up with one word: Meh. It hasn't been as saccharine or sycophantic as we expected, but it still feels a little self-congratulatory—a little "made for TV." Not that Mike Krzyzewski hasn't earned his moment, it's just that he's had plenty of them over the years and it feels like it has to be somebody else's turn by now. Thankfully, however, the traveling road show saved its most endearing moment for last on Thursday, when Krzyzewski called into his old pal/nemesis Jim Boeheim's radio show masquerading as "Mike from Durham." Check it out.
Needless to say, "Mike from Durham" didn't fool ol' Jimbo for a second. Boeheim sniffed out the ruse faster than you can spell "Krzyzewski" and why wouldn't he? The two legendary coaches—NAY, institutions—have met 16 times over the years, with Coach K holding the 11-5 edge over his rival. Boeheim will look to get one back on Saturday night and continue his climb toward Coach K's all-time Division 1 wins record of 1,170 (and counting). The 77-year-old Boeheim is second all-time on the list, but has some work to do, needing 188 more to catch Krzyzewski.
That number could fall to 187 after Saturday night, but you wouldn't bet on it. The Orangemen pretty much need to win out to make the ACC Tournament and then make a deep run there if they want to have a shot at making The Big Dance. Duke meanwhile are seventh-favorites to win the whole thing at +1500 according to FanDuel. That said, the game is at the Carrier Dome and, as Mike from Durham notes, there's supposed to be a foot of new snow on the ground by the time the Blue Devils arrive. Maybe just maybe, Jim from Syracuse will get the last laugh.