Miguel Angel Jimenez wins Senior British Open while rocking sunglasses UNDER his hat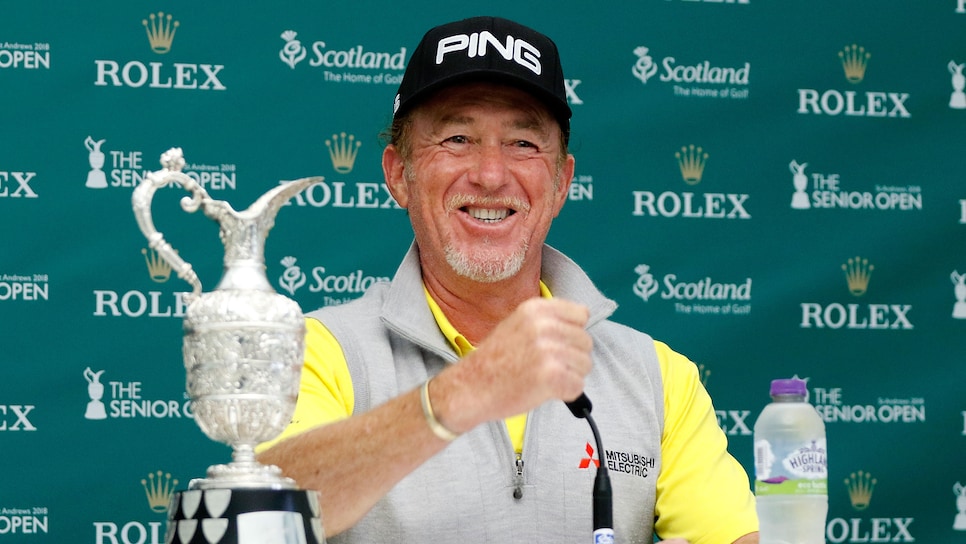 It was raining at St. Andrews on Sunday, but that didn't stop Miguel Angel Jimenez from stashing a pair of shades under his hat just in case. Such is the tao of the Most Interesting Senior Golfer in the World. Shooting a three-under 69 to hold off Bernhard Langer by a stroke, Jimenez stooped to pick up his clinching putt, removing his hat to reveal a pair of (very) blue aviators perched atop his trademark shock of curls. As Golf Twitter soon pointed out, THEY MUST HAVE BEEN THERE THE WHOLE TIME:
Ordinarily, a 54-year-old man winning a major championship while wearing sunglasses on the wrong side of his hat would be cause for alarm, but for MAJ—the cigar-huffing tomcat whose stretching routine makes your wife's yoga instructor named Hummingbrid look positively normal by comparison—it's just another day in Wonderland. Live long and prosper, fellow space cadet.