News
Miguel Angel Jimenez gets the last laugh on everyone as he sets this European Tour milestone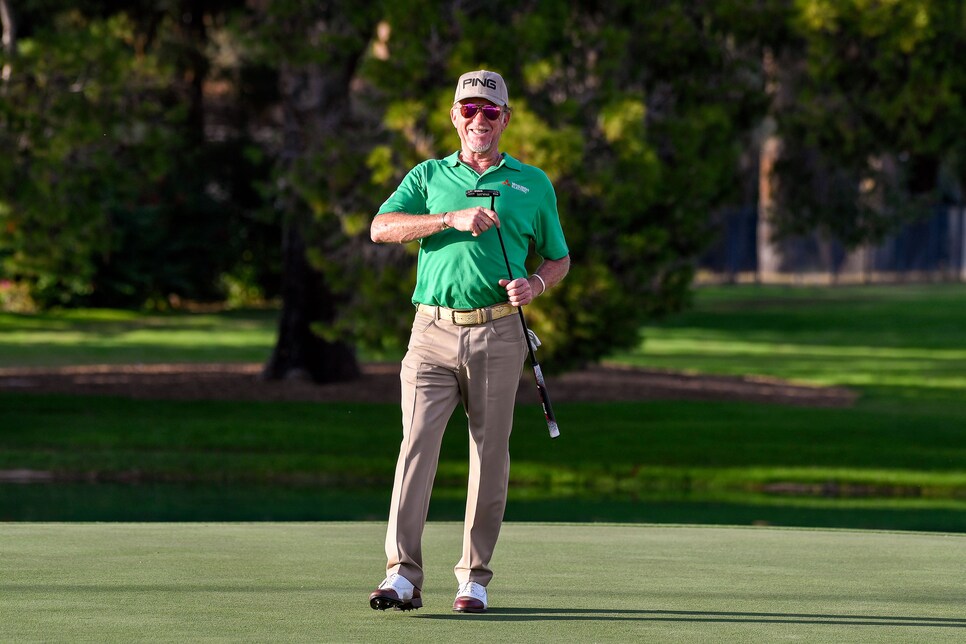 While set to break the European Tour record for most career starts, Miguel Angel Jimenez at 56 still has a lot of golf left in him.
Tracy Wilcox
With two of the top 100 golfers in the world—Eddie Pepperell and Joost Luiten—in attendance, this week's Hero Open is a long way from boasting the strongest field in European Tour history. But for at least two of the 132 competitors at the Forest of Arden in the English Midlands the €1 million event is going to be a special occasion, no matter how well or badly each performs.
Miguel Angel Jimenez will be making his 707th European Tour start, breaking the long-standing record of former Ryder Cup captain Sam Torrance. As a measure of the 56-year-old Spaniard's admirable longevity, just 12 men have made more than 600 appearances, never mind 700. Jimenez has maintained a remarkable level of competitiveness, too. Six years on from becoming the oldest European Tour winner (50 years and 133 days) at the 2014 Open de España, Jimenez led at the halfway mark of the Austrian Open just two weeks ago.
That David Drysdale is making his 500th Euro Tour start this week isn't quite so notable—he is the 43rd player to reach that mark—except that 45-year-old Scot is also closing in on one of the Old World circuit's more esoteric "achievements." All those starts have come without a victory yet. Only Malcolm Mackenzie can boast a similar level of commendable but ultimately unfulfilled perseverance. Hope remains, however, for Drysdale considering that Mackenzie did eventually get over the finishing line first. The Englishman picked up his lone tour victory, the 2002 French Open, at his 509th attempt. So Drysdale, who has four second-places, 34 top 10s and 284 cuts made in so-far 499 goes at breaking his winless streak, has at most nine more tries before he "beats" Mackenzie's "record."
As ever, Jimenez is approaching his record-setting week with the air of someone about to embark on the most pleasurable few days imaginable. We can take it as read that his famously eccentric stretching routine will be part of his pre-round warm-up; that he will be puffing on a large cigar out on the course; and that at least a glass or two of his favored Rioja will disappear down his throat each evening.
"He's an icon, isn't he?" Pepperell says. "And not just of the European Tour. He's an icon for golf. Of that generation of players, he is probably in the top-five globally in terms of popularity. To have that just shows how charismatic he is. I've played with him a few times, and he is always very friendly. How can you not love his outlook? I have nothing but admiration for him."
That is pretty much the universal view of Jimenez, who made four Ryder Cup appearances between 1999 and 2010 and has won nine times, including two majors, on the PGA Tour Champions in the U.S. since turning 50. And, as ever, his pre-tournament interview was laced with typically self-deprecating humor, all delivered in his sometimes barely decipherable version of the English language.
"When you start, you never know where you are going to finish," says the 21-time European Tour winner. "But with the years going by, I am setting records. I've been playing for 32 years now alongside so many great players. Seve Ballesteros. Jack Nicklaus. Gary Player. Jack Nicklaus. Tiger Woods. Phil Mickelson. And now with the new ones on the way up. I've had a beautiful life."
Still, there was a turning point. At 33 and with only two victories to his name, Jimenez was an assistant captain to Ballesteros in the 1997 Ryder Cup at Valderrama.
"That was an amazing experience for me," Jimenez says. "I was in the right place at the right time. I learned so much. I had played well before that, but it helped me to be there. I haven't changed though. Why would I have to change? I am myself. I am Miguel Angel Jimenez, someone who has enjoyed the same things all my life. That's me. You would, for example, have to plant a bomb in my side to get me away from the golf course. The luckiest thing that ever happened to me is finding golf in my life. I do what I want to do. To me, golf is a way of living."
To his long-standing credit, world No. 313 Drysdale handles the inevitable "why haven't you won?" questions with equanimity. Having twice lost his card by a handful of Euros and once missed out at the tour qualifying school by a single shot, he is rightly proud of his persistence in the face of much diversity.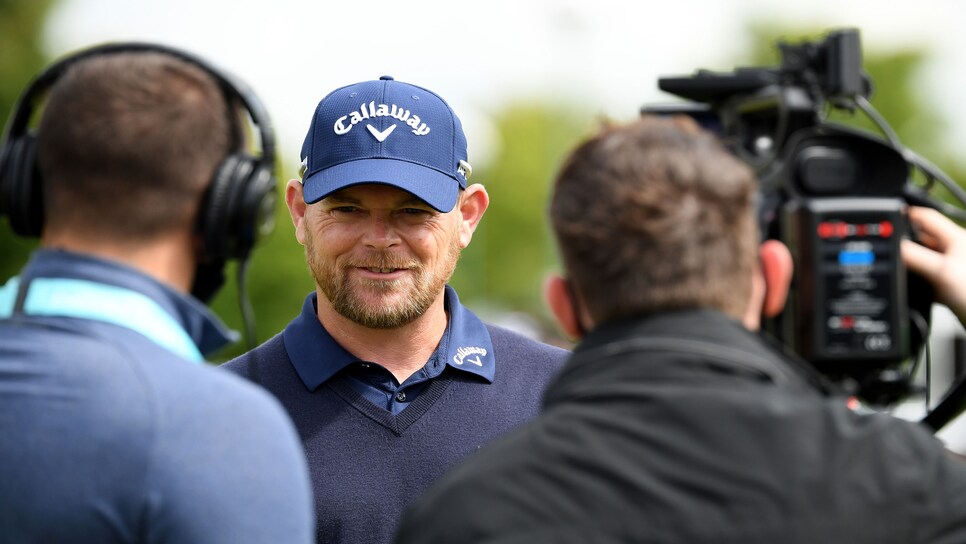 David Drysdale talks to the media ahead of this week's Hero Open, where the Scot will make his 500th European Tour appearance.
Ross Kinnaird
And his career has not been totally devoid of success. Twice a winner on the Challenge Tour, the former Dunbar Golf Club assistant (at which time he played as a marker alongside John Daly in the 1992 Open Championship at Muirfield) has accumulated nearly €6 million in prize money, a sum that places him 113th on the career earnings list. He has also represented Scotland in the World Cup and been a perennial fixture in the tour's driving accuracy category. Few have hit more fairways in the 12 years that have passed since the Berwickshire-resident made the last of his 10 Q-school visits.
"I'll never be truly satisfied as a professional until I have won on tour, but the life it has given me is one of extreme fortune," Drysdale says. "It is not something you set out to achieve when you start playing professionally to play 500 events on the European Tour, but it is a fantastic achievement. I have enjoyed experiences and made friendships around the world. I know how lucky I am in that respect."
Maybe so, but good fortune was not on Drysdale's side earlier this year at the Qatar Masters, where he lost out only at the fifth extra-hole to Jorge Campillo. More than once, the Spaniard holed-out from distance to first stay alive then complete victory.
"It was tough to watch Jorge making all those putts," Drysdale says. "He literally couldn't miss. On the first playoff hole, the fact that he got up and down from the fairway bunker was unbelievable. But that's what Jorge does. He is an absolute machine on the long putts and to be fair to him, every single putt he made in the playoff was right in the middle of the cup. He made the putts and deserved to win."
And so, after all that he has been through, does David Drysdale. There's still time. Another 207 events at least, if Jimenez is anything to go by.