News
Back to work: How the European Tour is approaching its return to golf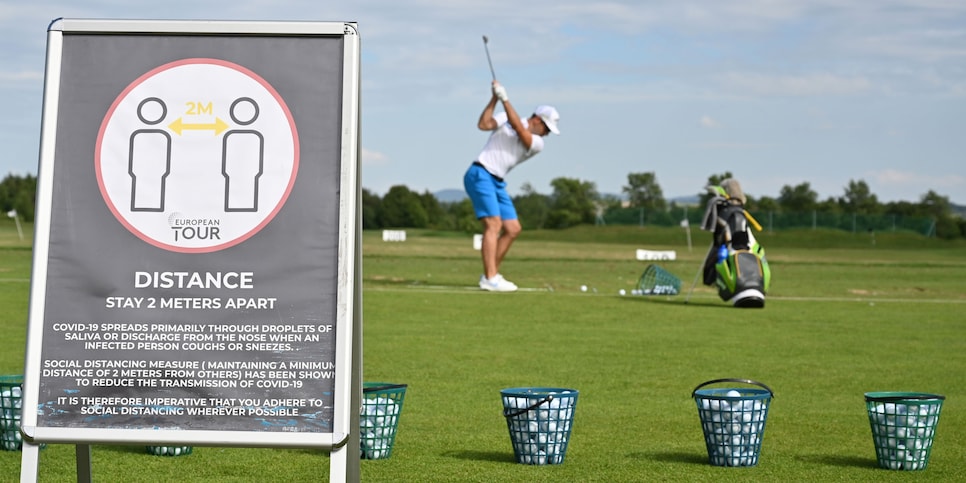 Photo By: Stuart Franklin
Every working day since April 14, their routine has not changed. Promptly at 7:45 a.m., six men sit down for a 45-minute "scheduling meeting," mostly via video conference. Keith Pelley, European Tour chief executive, is "in the chair," surrounded by the tour's chief operating officer, Keith Waters, deputy COO Ben Cowen, deputy CEO and Ryder Cup director Guy Kinnings, head of championship management Richard Atkinson and communications director Scott Crockett.
The one-point agenda also hasn't altered in the last three months. As the coronavirus laid waste to the European Tour's well-established tournament schedule, filling the steadily increasing number of gaps in the calendar—empty since the Qatar Masters in early March—became top priority.
In that respect, and starting basically from scratch, this ad hoc committee has done an exceptional job. Following a pair of tournaments co-sanctioned by the second-division Challenge Tour in Austria, this week's start of the six-event "United Kingdom swing" heralds the return of what is almost a full tournament slate (without fans at the outset) for the European Tour. Even after the recent postponement of the Ryder Cup at Whistling Straits (rumored to be "replaced" by the Irish Open), only six blank weeks remain between the British Masters, which begins on Wednesday, and the season-ending DP World Tour Championship in Dubai that will conclude Dec. 13.
"The challenge was all about having back-up plans," says Pelley, who calls the last few months the most demanding of his professional life. "When we started to see tournaments disappearing, we knew we had to react and take over the running of events ourselves. We had a tournament development fund we could draw on. But we had no other revenue streams. So we put a team together to look at our options. Our chief medical officer, Dr. Andrew Murray, led us in that. He told us that our best chance of success was to minimize travel. That's why we have had two events in Austria and now six events in the U.K., followed by three more in Spain and Portugal. Air travel has been kept to a minimum."
Lessons also have been learned from the recent experiences of the PGA Tour. Pelley and his U.S. counterpart, Jay Monahan, have been in contact multiple times weekly since the virus struck.
"The PGA Tour has done a terrific job," says Pelley, who claims relations with Monahan and the four major championships have been permanently altered—for the better. "They have shown us a level of respect with regard to our scheduling issues that is much appreciated. But, at the same time, we are a different country. Or countries. So we can't compare like with like. It's all about planning. Which is why we have multiple scenarios in place. If the U.K. government says to us we can have 5,000 fans on-site, we are ready to go.
"Over the last five years we have been a momentum-and-growth business. We have been building and building, driving revenue. But that stopped overnight. Now it is all about getting back to being a growth business. And it looks like that will take at least until the end of 2021."
Given that time frame, Pelley remains wary. The experience of the last few months has shown him how rapidly things can change. Plans are modified on almost a daily basis. So, while the schedule is solid through the end of October, the tour already has back-up plans in place—two more possible "swings"—that are ready to step in if some of the events at the end of the year don't come to fruition. Next year is taking shape, too. The U.K. swing will return in 2021, this time with five events, one of which will be in Scotland.
Before that, however, the "new normal" that encompasses all aspects of post-virus life means many things are going to look different on what was golf's second-most lucrative circuit. Field strength for one. After a fortnight in Austria that featured no player ranked inside the world's top 100, only one player from the top-50—tournament host Lee Westwood—will tee it up at Close House in northeast England. That depressing fact isn't likely to change much in the coming months. Nearly all of Europe's leading lights are already feasting at the PGA Tour's rich table, with an even more appetizing diet of majors and World Golf Championships beckoning.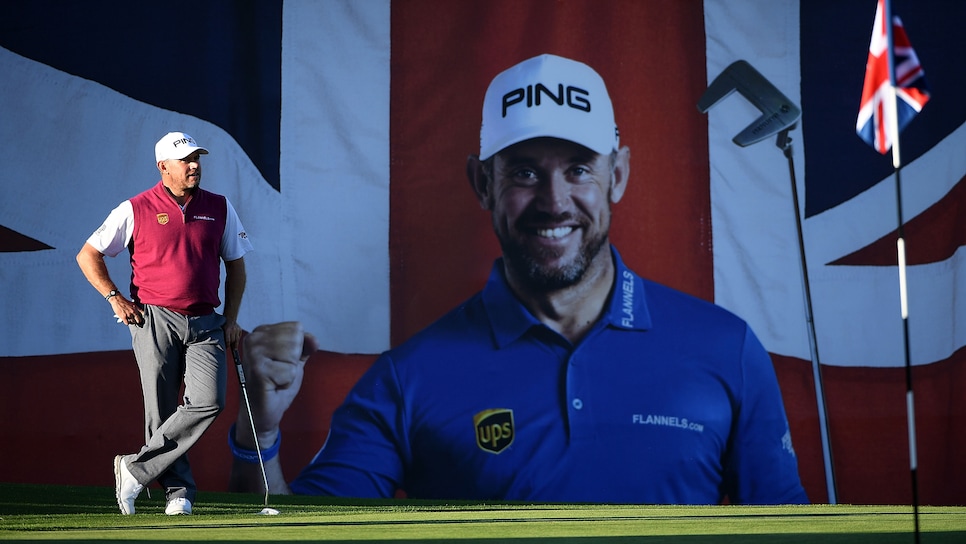 England's Lee Westwood will serve as host during this week's British Masters, as he did at Close House in 2017. He also will be the only player among the World top 50 in the field.
Ross Kinnaird
It's not a fair financial fight of course. At least initially, prize money in Europe is paltry by comparison. Both events in Austria "boasted" €500,000 purses—roughly $575,000 for all players. Four times that amount is on offer at this week's British Masters, with the five other events in the United Kingdom all paying €1 million.
What both sides of the Atlantic do have in common is dealing with the medical and safety aspects that have become the overriding concerns at every major sporting event. And a good beginning has been made. Although three people (not players) reported COVID-19 symptoms before traveling and so were denied entrance, no one on-site in Austria tested positive for the virus, a tribute to the protocols in place. Even the bananas the players ate during rounds were individually wrapped.
"Overall, it was a good experience," says Nicolas Colsaerts, a former Ryder Cup player who played the first week back at the Austrian Open. "We were sent a test called 'let's get checked' about a week before the tournament. That was the first step towards returning to the tour. It was compulsory. I sent the swab back and got the result two days later."
Once at the tournament venue, each golfer took a CRP (C-reactive protein) test. "The result came back 2-4 hours later," Colsaerts said. "But before that I was given an orange necklace. It allowed me to enter the outside parts of the venue—the range, the putting green—but not any buildings or the players' lounge. Once I came back negative, I was free to go wherever I wanted. But I still had to wear a mask when indoors. And I still had to practice social distancing."
Brian Nilsson, Colsaerts' caddie, was another impressed by life inside the Austrian bubble.
"The tour staff were very strict," says Nilsson, an Australian, who traveled from his home in Thailand to work for his long-time boss. "If you got a little close to any of them, they would take a step back. So they were leading by example. And the tour threatened to close the lounge when a few caddies and players didn't self-distance. On the course was normal, but only one caddie touched the pin per hole. There was sanitizer on every tee box. And every player was marking his own card."
So far so good then. But bigger challenges lie ahead, as Murray is quick to emphasize. Murray is a consultant for the University of Edinburgh, the SportScotland Institute of Sport and the Scottish Rugby Union. He is a former ultra-marathon runner (he once completed seven inside a week) who has won races in places as diverse as the North Pole, the Antarctic and the Gobi Desert. And he is just as tough away from what he once did for fun.
At Murray's instigation, athlete education is mandatory for all players, caddies and anyone else on-site at tournaments—including the media. A video details the most important aspects of fighting the virus, how to recognize it and what to do about it. Then there is a quiz. Anyone failing is not allowed in.
"A new start is always exciting," Murray says. "But we had a really good collaboration with the Austrian government and the local health authority. It involved the things that will be entirely appropriate at every event for the foreseeable future. Social distancing. Enhanced standards of hygiene. Symptom and temperature checks for all participants. On-site testing. Copious supplies of hand sanitizer [750 liters in all]."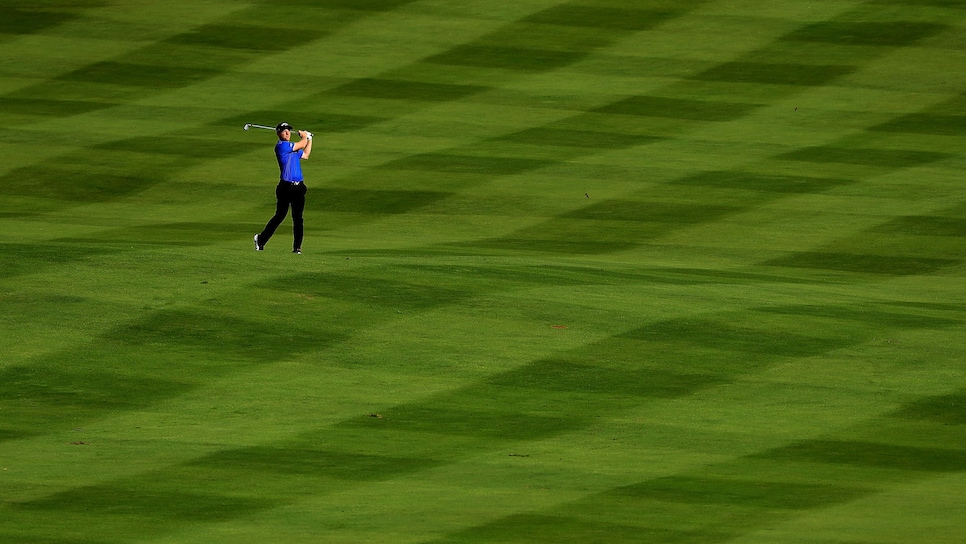 Players will be asked to practice social distancing measures to help keep themselves safe during the restart.
Andrew Redington
All of which is standard practice. But there are complications and challenges ahead. Because of the global nature of the European Tour, Pelley and Murray must deal with a variety of governments and health authorities, not all of which are moving at the same speed when it comes to dealing with the virus.
"One of the things we are proud of is that Formula 1 and ourselves are the only two international events currently taking place," Pelley said. "It's not like we are a domestic tour; we are international. As a result, governments look at us differently. And all of them have different regulations in place."
As a consequence, tour policy is not just about what has to be done at and around events. It's about how everyone gets to events.
According to Murray, three factors are in play:
• What are the regulations? If a government or public health authority does not think it is safe or reasonable to have spectators, then the tour won't allow them.
• What does the tour think is the right thing to do? The restrictions in Austria were less than they will be in the U.K. But going spectator-free was felt to be the right thing to do so many people are arriving from so many different parts of the world.
• What do the players think? "We spoke to them and worked out what they think is right," Murray says. "Then we came to a collective decision."
All of which begs an obvious question: Are all players, regardless of nationality, going to be subjected to the same frequency of testing?
"The frequency of testing will follow the level of the virus in the country where the event is being held," Murray says. "But for those coming from overseas countries where COVID is more prevalent, it is more likely that we will test them more often. It's just more likely that they might have it. But it will all be based on government advice. If they want people from country X tested more often, that's what we will do. Right now, for example, those coming from, say, Brazil or America will be tested more. But every day everyone will be asked the same questions as they come on-site. It's all about making on-site a low-risk environment—more than going to the shops or playing in the monthly medal. We want the players to be free to focus on getting the ball in the hole."
That's a nice thought, one everyone will be hoping can come to fruition over the coming weeks and months. But human nature being what it is, even the best laid plans can go awry. At least one tour caddie has doubts.
"I've heard a few guys saying they don't like the idea of being 'in jail' for the U.K. swing," he says. "They prefer to wait for Spain/Portugal, when they can stay in any hotel and go where they want for dinner. The first week in the U.K. will be good to see everybody for the first time in a while. But week two or three surrounded by players, caddies and staff in the same hotel? That's going to be hard work."
As it already has been for the sleep-deprived scheduling committee. Now though, for the European Tour, it's time to play.