U.S. WOMEN'S OPEN
Michelle Wie West prepares for U.S. Women's Open, a week after announcing retirement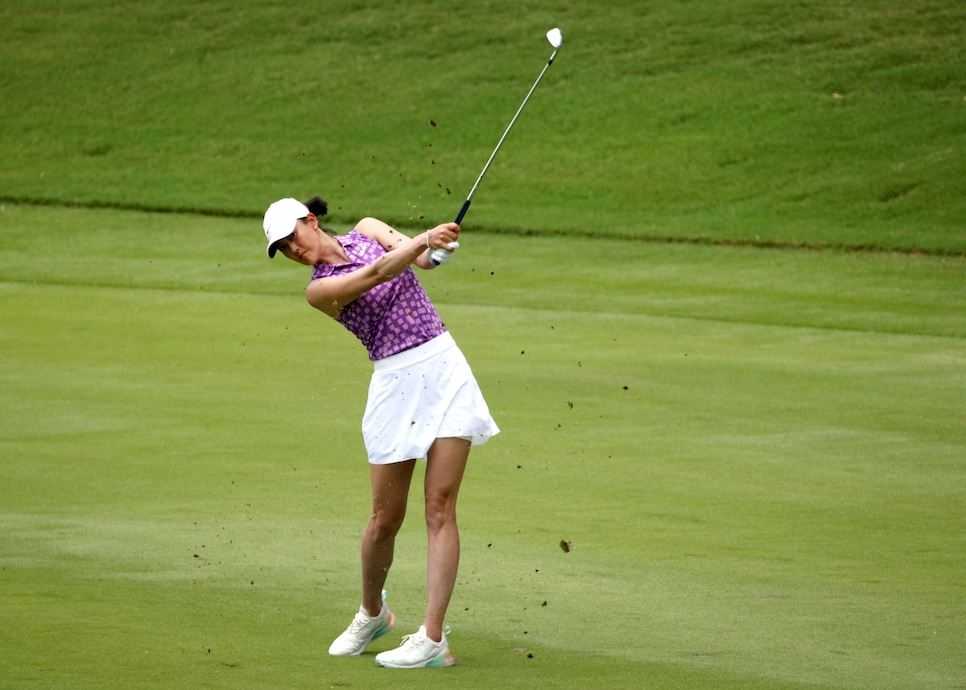 SOUTHERN PINES, N.C. — Five days ago, Michelle Wie West made the surprise announcement that she's stepping away from professional golf following this week's U.S. Women's Open. She intends to play next year when the same tournament comes to Pebble Beach, but beyond that, it looked and sounded like a definitive retirement for the 32-year-old icon. Tuesday at Pine Needles, speaking to the media ahead of what might be her second-to-last major championship, Wie West appeared comfortable, and even happy, with her decision.
"It was kind of bittersweet always to announce that, but it's something that I've been thinking about for a while," she said. "I want to say I have zero regrets in my career. … I'm extremely proud to have achieved the two biggest dreams that I've had, one being graduating from Stanford, and the other winning the U.S. Open … I'm very proud of myself. I've always wished I would have done more, but I feel like everyone kind of feels that way, so I'm definitely giving myself some grace and enjoying this last week."
That U.S. Women's Open win came just down the road, at Pinehurst No. 2, in 2014, and marked the high point of Wie West's professional career. She went to Pinehurst Village Tuesday morning for coffee and was surprised when she didn't recognize any of it. Even when she drove by Pinehurst No. 2, she said "oh, that's a cool course," before someone told her what she was looking at.
"I think I just blacked out that week," she laughed.
Eight years later, she was all smiles as she fielded a variety of questions, and far more forthcoming than she might have been in the days when she was the sport's cultural touchstone. When asked what she might have thought in those days if someone told her she'd be retiring in 2022, she answered quickly.
"I probably would have laughed, to be honest," she said. "But I'm extremely fortunate. I'm so happy right now. I'm in a really great place in my life … I was always really bad at predicting the future, and I'm just really happy it panned out like this."
Wie West's age, 32, is a bit deceiving. It's young by athletic standards—or any standards, really—but she first qualified for a USGA amateur championship at age 10, and first appeared on the LPGA Tour at age 12, made her first cut at 13, turned pro a week before her 16th birthday, and can, by some measure, be considered a 20-year veteran. (In addition, she was in Player Dining on Tuesday morning when a kid approached her to say she was named after her … "that made me feel really young," she joked.) Over the course of that career, she's been a witness to massive changes in women's golf, and the LPGA Tour, a fact that hits home with great impact this week considering the $10 million purse at the U.S. Women's Open.
"Huge kudos to the USGA for really buying into the women's sport and the LPGA for just growing and keep pushing the boundaries," she said. "When doors get closed on us, we just keep pushing, and I'm just so proud of everyone on tour and the USGA for really buying in and setting the level right … I'm truly so proud looking back at where our purse was before and now $5.5 million purse, the winner gets over a million dollars, it's amazing.
"As female athletes, a lot of times we get told, 'oh, your sponsorship is only worth this much. You should only ask for this much,'" she added. "I would encourage younger athletes coming up to say, 'no, I know my worth, I know what I deserve,' and ask for more."
As a fierce competitor, even on the verge of retirement, Wie West hopes to be one of the players who might win this week's enormous purse, and the prestige that comes with it. She's "managing expectations," fully aware that she hasn't played anything like a full competitive schedule, or even a practice schedule, and will be going against the world's best. Still, while she expects to soak in the atmosphere at one of her last events, she's been studying the flyovers and isn't planning on a purely ceremonial weekend.
Meanwhile, for the Wie West fans out there who greeted last week's announcement with a cry of "say it ain't so!" and may be looking for a glimmer of hope, they'll take heart in a throwaway line from the middle of her press conference, on the topic of how many events she plans to play next year.
"Just the [U.S.] Open, yes," she said. "That's the plans for right now. But I've changed my mind before."