Rain Check
Tour pro says he's been waiting 10 years on a 'rain check' practice round-turned-dinner with Phil Mickelson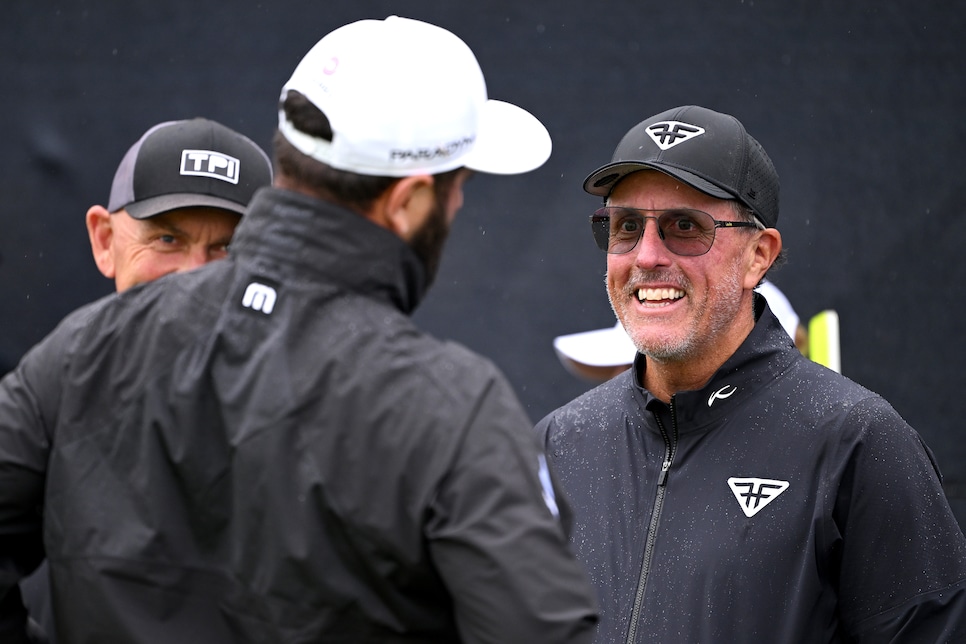 Phil Mickelson has had, and cleared, many debts throughout his life. Some small and some very large, as we know. There is one of the non-gambling variety, though, that one fellow tour pro is still waiting for Lefty to come through on 10 years after the fact.
As is the case anytime some scandalous details about the life of Phil are making the rounds, people come out of the woodwork to tell their favorite Phil stories. Michael Kim, the 2018 John Deere Classic winner who has turned into a Golf Twitter star, hopped on the bird app the X app to tell his Mickelson tale on Thursday, and it's quite a random one. It has nothing to do with a money match, a private jet to Vegas to go bet on the NFL or a time Mickelson hit a flop shot over a tree and through a spectator's beer cup.
"My Phil story," Kim wrote. "2013 I played the US open at Merion, and on either Friday or Saturday we finished really late cuz of weather delays and Phil and I were one of the last ones in the locker room. I had been given an exemption to the Greenbrier in a month and saw Phil was going to play. So I went up to Phil and asked for a practice round. Phil being super cool says I'm flying up Tuesday night unfortunately…
"'Are you playing Bridgestone or British?'" Mickelson asked, to which kim said, "(LOL) no Phil I'm just playing Greenbrier (I'm 19 years old still in school, Phil…). 'Oh.. then how about dinner?' I go 'oh wow yeah that sounds great!' Phil: leave me a note in my locker to remind me, let's do it….
"Greenbrier rolls around, I'm trying to think of what questions to ask him and what not, we confirm dinner Friday night… just so happens that Phil misses the cut and flew out right after…. he apologized and got a rain check… I've never brought it up to him because I don't want to be that guy that goes, remember that promise you made 10 years ago? Lol."
In fairness to Mickelson, he's had much bigger fish to fry, no pun intended, over the last decade than dinner with Michael Kim. And in fairness to Kim, he clearly understands that enough to not be pecking in Phil's ear over a dinner date. That said, having a dinner planned with Mickelson and lining up a bunch of conversation topics to go through, and then having that dinner fall through, has to be gutting.
Of course, Kim got the next best thing -- a tee time with Mickelson at the 2020 Farmers Insurance Open, which Kim tweeted about extensively back in May, calling Mickelson a "golf sicko" who was still grinding out pars at Torrey Pines while sitting in 50th place. Mickelson even responded to the tweet in a hilarious manner:
Hard to feel all that bad for Kim. Then again, a dinner with these two seems like it could lead to some great content. Perhaps a return of "Phireside with Phil" ? We can dream.