PGA Tour
Tour pro comes to Patrick Cantlay's defense, offers up A+ slow-play solution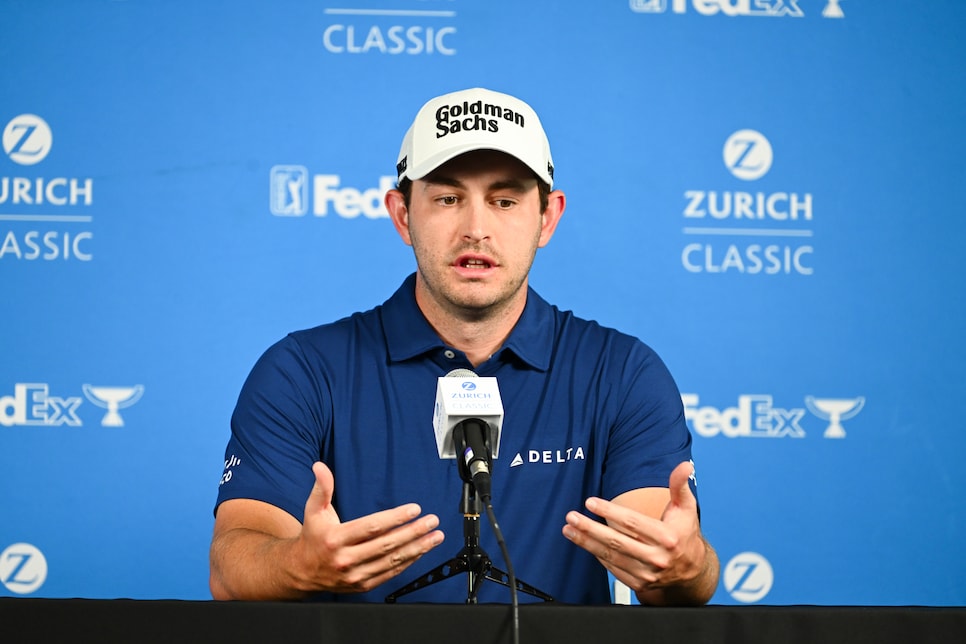 Slow play. It's all the rage right now. Just ask Patrick Cantlay, who caught all sorts of slow-play shrapnel at the Masters and the RBC Heritage, for (seemingly) good reason.
Fortunately for Cantlay, the discourse died down a bit this past weekend, mainly because the Zurich Classic didn't have nearly the amount of eyeballs on it as both the Masters and the RBC Heritage did. It helped, too, that the slow-play attention shifted to the LPGA Tour, where rookie Lucy Li incurred a slow-play fine during the third round of the Chevron Championship.
But soon enough (our guess: the Wells Fargo at Quail Hollow), Cantlay will reclaim his spot as public enemy No. 1 no matter how many excuses he, his buddies on tour or the tour itself makes for him. As fellow pro Michael Kim put it on Sunday evening, though, Cantlay is far from the only slow one out there and arguably not even close to being the slowest:
While they're all fine points, the point about public shaming not working on Cantlay is as bang-on as it gets. Could it work on others? Unless it's actually put into action, it's hard to say.
In 2019, DP World Tour player Edoardo Molinari, brother of Francesco, tweeted out a slow-play report, one that featured names like Tiger Woods, Patrick Reed and Bryson DeChambeau (it featured Francesco's name, too). This was in response to a five-and-half-hour round that Molinari had played on the DP World Tour on a course "without rough." There were nearly 150 names on the list Molinari sent out, but only three of them were fined, each $3,000.
Therein lies the problem. You can tweet out lists and public shame and fine financially well-off pros small sums of money all you want, but unless there's a penalty that truly hurts a player's score or his wallet, nothing will really change. All you have to do is listen to the way some players talk about the slow-play outrage to know that there is minimal interest in fixing the issue.
"All the things that have happened as of late have all been within the guidelines of the tour and what's supposed to happen," Xander Schauffele said this past Wednesday. "No one's been penalized for slow play or anything of that nature. So we're all operating within the framework of what the tour gives us. If enough people complain or if enough tour pros complain, that's something the tour needs to address to either make it faster or change the time par. Without any context, it gets tricky because when you set up golf courses with Stimp 13 or 14 greens, tees in interesting positions, and pins in tough spots, it's just going to take longer.
"We're not playing like the local muni that sort of the average Joe compares our time par to," he added. "We're playing for a couple million -- you know, $3.6 million. If you're going to spend an extra minute to make sure you put yourself in the right spot, we're going to do it."
Cantlay more or less agreed, referring to the pace-of-play numbers not changing much over the last decade-plus.
"Trying to speed it up, I'd be curious to know how they'd want to do that," Cantlay said. "I played the last two tournaments, and my group hasn't been warned at all. So we've been in position the entire time. I don't know how you would want even the groups that I've been in to play faster when our groups are in position and can't go faster because the group in front of us is right in front of us."