Meet Me in the Parking Lot
This image of the Miami Heat waiting for the Denver Nuggets in the locker room after Nikola Jokic's cheap shot might be the sports photo of the decade
OK, let's see if we can unpack this for you. On Monday night, late in a not-very-close ballgame between the Denver Nuggets and Miami Heat, Nikola Jokic took the ball in transition, pushed it up the floor, and attempted a pass from half court when he was fouled by the Heat's Markieff Morris, who appeared to leave a little elbow in Jokic's midsection. That lit the reigning NBA MVP's very short fuse, and he responded by steamrolling Morris from behind with his 6' 11", 284-pound frame.
As Morris lane prone on the floor, the Heat bench exploded in anger, namely Jimmy Butler, who could be seen shouting "BRING YO A$$ TO THE BACK" over and over (and over and over) again as the big Serbian stewed on the bench, thinking on his sins. It was, as we say in the business, quite the scene.
Jokic was ejected and Heat coach Erik Spoelstra told reporters that Markieff was OK after shaking off the cheap shot, but that wasn't the end of the story. Not quite. Instead of writing a thousand words on what happened next, we'll just show you this picture instead.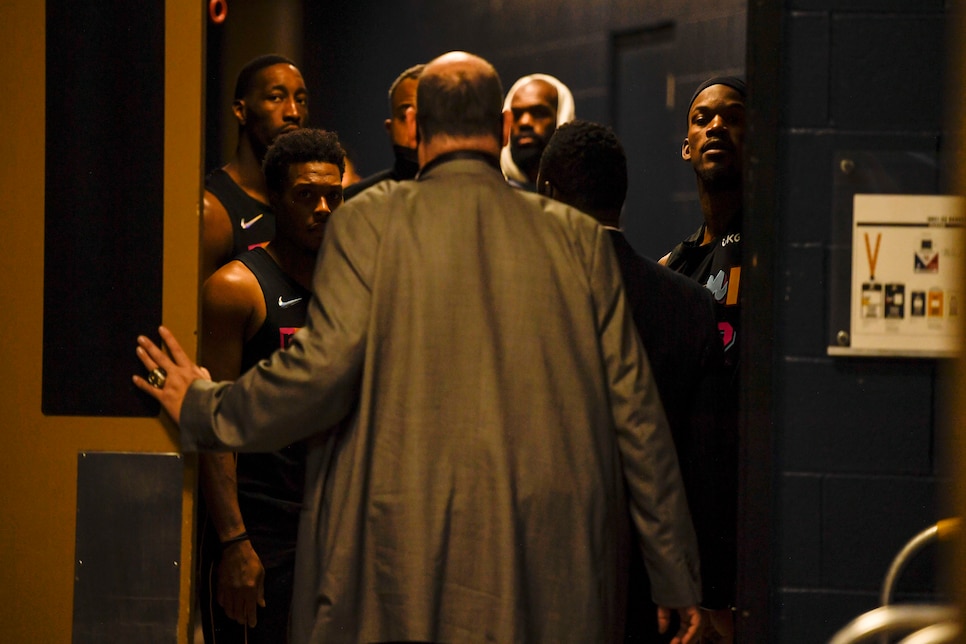 AAron Ontiveroz/MediaNews Group/The Denver Post via Getty Images
That's Jimmy Butler, Kyle Lowry, Bam Adebayo, and Dewayne Dedmon all waiting for the Denver Nuggets in the locker room after the game, being held back by one lone dude like a sandbag in a hurricane. Sports photography is a slowly dying art form. It has produced countless unforgettable images over the years and taught us a lot about how we interact with leagues, teams, and athletes we love (and hate). In today's smash-and-grab world, however, the medium has been replaced by grainy screengrabs, truncated video clips and the barrage of memes, gifs, and hyper analysis that follow. That said, every now and then an image pops up that reminds you of how downright cool a sports photo can be, and this is one of those now and thens.
So big thanks to The Denver Post's Aaron Ontiveroz not only for the reminder, but also for making our job so much easier. We could sit here and ramble on and on about what makes the NBA so gloriously batshit insane, but images like this say it all without saying a thing.