Memory Lane
Max Homa reveals "scummy"—but funny—trick a fellow PGA Tour pro played on their alma mater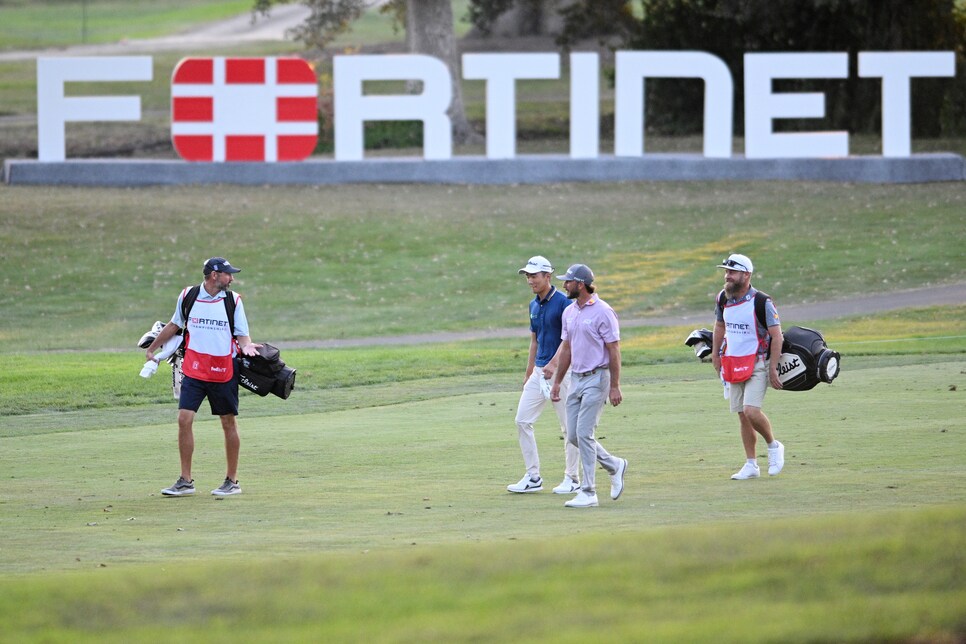 Max Homa and Michael Kim walk on the 17th hole during the first round of the 2022 Fortinet Championship.
Orlando Ramirez
Blowing up someone's spot—even if it's a decade after the fact—is a tough look. But somehow, when Max Homa does it, well, it seems OK. Such was the case earlier this week when he was asked about reuniting with former Cal teammate Michael Kim at the PGA Tour's season opener.
Homa gushed about his buddy, a fellow PGA Tour winner, who earned his way back to the Big Show after a strong season on the Korn Ferry Tour. But then when Homa was prodded for a specific memory from their time in college together, he volunteered a story that probably won't thrill some of the deans there. We'll let Max take it from here:
"Michael moved to America from Korea when he was 12, so he speaks fluent Korean. Like I said, I used to be in his hotel room every night when we were on the road and he'd talk to his parents and it's like one of us talking to our parents, it was very fast. And obviously I don't understand any Korean, it's quite complicated. So he did that and—he's going to be so mad I'm telling people this. He did that and right after he starts recording something on his phone and it would be like me saying like, 'I drove my car to the store' in Korean. I was like, 'What are you doing,' and he said, 'Oh, I'm in this Korean 101 class that I'm not supposed to know, I'm not supposed to be fluent in this." I'm like, 'You are so scummy,' but it was great."
We've heard tales of student athletes getting off easy at higher institutions of learning, but that's a new one. That sounds like one of the easiest A's ever. And that's not just at any college, we're talking Cal-Berkeley! One of the best schools in the country!
Here's the video of Homa telling the funny story ahead of the Fortinet Championship, where Homa happens to be the defending champ. The clip then cuts to Kim, who says with a laugh, "That's my cue out. That's my cue to leave." Classic.
And here was Kim's amusing response on Twitter:
So . . . yeah. . . sounds like Homa didn't make this up. But he really was complimentary of Kim. Other than exposing some light academic fraud, that is.
"I guess the point of that is Michael's a very funny, awesome dude," Homa added. "He's cool."
Well, hopefully, he's cool with you blowing up his spot like that, Max. And hopefully, the statute of limitations for changing a grade on a college transcript has passed.