The Grind
Max Homa's perfect winning tweet, Jon Rahm's celebrity birthday bash and the scariest thing ever seen on a golf course
Welcome to another edition of The Grind, where we were stunned by Rory McIlroy's recent interview with Paul Kimmage of the Irish Independent. No, not because he called Patrick Cantlay a "d*ck"—although, that was spicy!—but because apparently he didn't return multiple phone calls from Tiger Woods, who was trying to intervene in that Ryder Cup dustup involving Cantlay's caddie and his former caddie, Joe LaCava. Can you imagine getting a call from the GOAT and NOT returning it? I don't know whether to be horrified or impressed. Instead, McIlroy only texted his longtime friend and new TGL business partner back. Now, I kind of get that, because who wants to actually talk to someone on the phone these days. It's awful. But when that person is freaking TIGER WOODS, I'm pretty sure I'd make an exception! Anyway, while we try to wrap our heads around that, here's what else in golf has us talking this week.
Camilo Villegas: For a second consecutive Sunday, golf fans have needed a box of tissues handy while watching the PGA Tour. Seven days after Erik van Rooyen dedicated his stunning win to his best friend battling terminal cancer, it was Villegas winning for the first time in more than nine years at the Butterfield Bermuda Championship—and looking up to his daughter Mia, who died of brain and spinal cancer at the age of 22 months three years ago, in the heavens:
Villegas has always been known as one of the most fit golfers out there, but that's a man whose strength goes way beyond his rippling muscles. Kudos to him for battling through it all, and to both Camilo and his wife, Maria, for all they do through the Mia's Miracles foundation. Villegas also suddenly happens to be playing some of the best golf of his life at 41 after finishing runner-up to van Rooyen the previous week, his first PGA Tour top 10 in two-and-a-half years. And now he has his first win in 3,374 days as well as his first win as a dad to a healthy boy, who will turn 2 next month. That will be one extra special birthday party.
Max Homa: Talk about mixing business with pleasure! Just days after enjoying a safari with Justin Thomas, Homa captured the Nedbank Golf Challenge by four shots for his first DP World Tour win to go along with those six PGA Tour titles (JT finished fourth). And as always, he came up with the perfect tweet to mark the occasion:
Nailed it. And nailed himself. With the win, Homa moved up to No. 7 in the Official World Golf Ranking. But he remained No. 1 in Golf Twitter's heart—while gaining plenty of new fans.
George Bryan: The victories by Villegas and Homa wound up overshadowing one of the coolest golf stories of the year as Bryan, the older brother of PGA Tour winner Wesley Bryan, not only made his first PGA Tour start at age 35, but he made it to the weekend:
George is a former All-American at South Carolina, but is mostly known for being part of the Bryan Bros trick-shot duo, and for producing plenty of entertaining YouTube content, including recently calling a hole-in-one. And after finally getting a sponsor's exemption, playing so well and creating tournament buzz, don't be surprised if more YouTube stars get a shot at the big stage. The one downside to George's week? He still had to take some crap for losing to his brother:
Scottie Scheffler's hands: You don't win the Masters without a golden pair of mitts, but Scheffler's hand-eye coordination extends beyond the golf course. Check out this rally in which golf's World No. 1 outduels the World No. 1 in pickleball:
Tiger Woods' World Ranking: I know this doesn't really matter and I know he's barely played the past two years, but it's still sad to see the 15-time major champ at No. 1,307 in the Official World Golf Ranking, the lowest of his career and having his name ranked below someone named Azuma Yano.
But this will only make his next comeback even more special. C'mon, Tiger. You've got another one in you.
The term "double eagle": One of golf's most-disputed—and nonsensical—terms surfaced on a recent episode of Jeopardy of all places. And our pal Ryan French, AKA Monday Q Info on Twitter, wasn't having it:
Thanks to Ryan for fighting the good fight. I'm not quite as passionate about it as he is, but "double eagle" really doesn't make any sense when you think about it and "albatross" should be used exclusively for shooting three under on one hole. That being said, I was just happy to see golf get an entire category on Jeopardy. Between that and Scheffler holding his own on the pickleball court, our beloved game gained a lot of respect last week!
Snakes: In particular, GIANT snakes like this Cape Cobra seen on a South African golf course:
Nope, nope, nope. I mean, seriously, WTF. That's real?! That thing is way more frightening than the digitally created reptile from "Anaconda"! How could anyone ever go play that course again after seeing that? And how am I ever going to sleep again after seeing that?
The PGA Tour heads to Georgia for the RSM Classic, AKA that one at Sea Island, AKA that place where the "Sea Island Mafia" resides, AKA the least-intimidating mafia in the world. It also happens to be the last official event of the fall season, meaning there's a lot on the line for players trying to keep their PGA Tour cards or improve their status for 2024. And there's no ring that you can kiss for that, you've got to earn it. But that's just the beginning as the LPGA wraps up with the CME Group Tour Championship and the Race to Dubai concludes with the DP World Tour Championship.
Random tournament fact: Thanks to Max Homa's win in Africa, Rory McIlroy already wrapped up the Race to Dubai for the fifth time in his illustrious career. So without much on the line (for him, at least), he's trying out a new driver:
RANDOM PROP BETS OF THE WEEK
—Rory and Patrick will ever be TGL teammates: 1 MILLION-to-1 odds
—Ludvig Aberg will win the RSM: 14-to-1 odds (Actual odds, he's the favorite! Respect!)
—George Bryan won't wait another 35 years to make a PGA Tour start: LOCK
PHOTO OF THE WEEK (NATURE DIVISION)
Check out this wild scene from a golf course in Iceland that was hit by an earthquake:
Hopefully there wasn't any sort of member-guest scheduled soon.
PHOTO OF THE WEEK (CELEBRITY DIVISION)
Jon Rahm's friends are (way) more athletic than yours.
Yes, that's the Olympic GOAT, Michael Phelps, along with future NFL Hall-of-Famer J.J. Watt and Zach Ertz, who was a nice NFL player in his own right! Imagine that formidable foursome showing up for a tee time? And then there are the wives! Rahm's wife, Kelley, threw javelin at Arizona State; Ertz's wife, Julie, was a member of the victorious U.S. Women's National Team in the 2015 World Cup; and Watt's wife, Kealia, won a national championship in 2012 on the North Carolina women's soccer team. Phelps' wife, Nicole, was only Miss California in 2010. What an impressive group. We can't wait to see the crew the Masters champ assembles when he turns the big three-oh next year!
TWEET OF THE WEEK (PLAYER DIVISION)
Poor Cameron is going to have nightmares about that divot like I am about that giant snake.
TWEET OF THE WEEK (CADDIE DIVISION)
And speaking of nightmares …
Now that's a guy who takes his job seriously.
CLUB PRO GUY TWEET OF THE WEEK
VIRAL VIDEO OF THE WEEK (PRO ESCAPE DIVISION)
How about Marcel Siem pulling off a recovery shot from the middle of a lake?
Not sure how that was even possible, but well done. Especially because it gives me an excuse to mention my Wake Forest pal Bill Haas' similar shot at the 2011 Tour Championship!
VIRAL VIDEO OF THE WEEK (AMATEUR ESCAPE DIVISION)
And how about this golfer fending off a pair of armed robbers at a jewelry store:
Not sure if he was more worried about them taking the jewels or his golf clubs, but either way, that must have gotten the heart rate up. Hopefully, the incident didn't mess with his tee time.
THIS WEEK IN CELEBRITY GOLFERS
I just happen to be on a huge Jamie Foxx kick so seeing that the most talented person on the planet (this is not debatable, by the way) is finally getting into golf—he also appeared on famed instructor George Gankas' Instagram—makes me really happy:
Even if he'll probably be better than me and make his first hole-in-one in a matter of weeks.
THIS WEEK IN MICHAEL BLOCK DOING MICHAEL BLOCK THINGS
Speaking of holes-in-one, he did it again:
Blockie! Yeah, yeah, it was at a par-3 course during a 100-hole hike to raise money for Youth on Course (Great cause!), but it's still crazy how many crazy things have happened to him this year. Dude is on an all-time heater.
THIS WEEK IN PUBLIC DISPLAYS OF 'AFFECTION'
The PGA Tour's top bromance right now is Justin Thomas and Max Homa.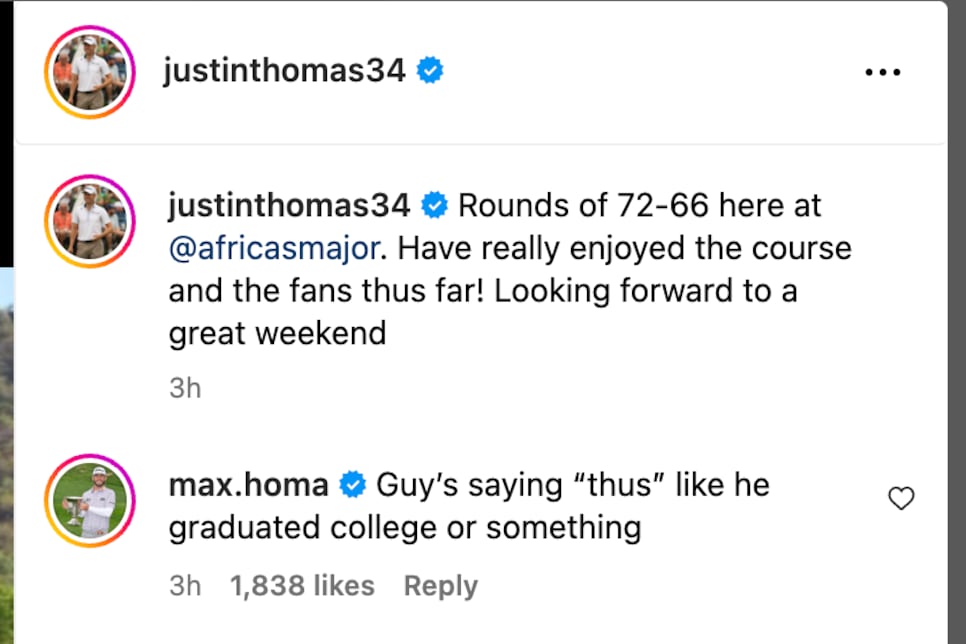 And it's not particularly close.
"You've got to believe in energy, man. Like I said, I've got my little one up there watching it, smiling. She's where she needs to be after a long fight. And to everybody, I just want to say thanks. It's been a fun week." —Camilo Villegas with some beautiful words after winning. It's hard not to believe after that.
Congrats to Landon "Happy" Gilmore for officially signing his letter of intent to play golf at Ball State University next year. Sadly, Ball State's coach is not named "Chubbs." … I enjoyed this end-of-the-year golf assessment put together by our Sam Weinman. Not just because he's my boss, but because I scored (myself) very high! … After being asked if he could help Mark Baldwin, a tour pro he barely knew, prepare for Q School second stage, Phil Mickelson spent most of the weekend with him. Say what you will about the guy, but that's pretty awesome. … And it's great to see Gary Woodland out there hitting golf balls less than two months after undergoing a lengthy surgery to remove a lesion from his brain:
Golf fans needed that after all the heartbreaking stories on the PGA Tour lately.
RANDOM QUESTIONS TO PONDER
Does Phil have any extra time to help me with my game?
Who is the most famous person you've ever called?
Could those cobras survive a transatlantic trip?