Home Sweet Home
The delicious breakfast dish that could lead to a breakthrough win for Maverick McNealy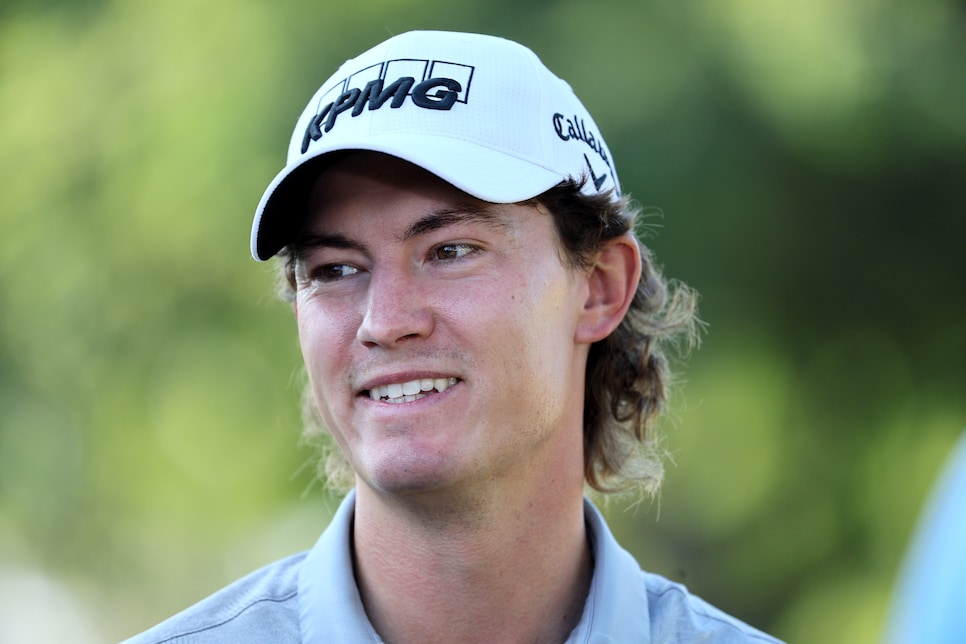 As golf bettors, we're always looking for narratives that reinforce our outright picks each week. At this week's AT&T Pebble Beach Pro-Am, no player in the field has more narratives to choose from than Maverick McNealy.
For starters, McNealy, a Stanford alum, used to spend his summers at Pebble, first playing the course as a 16-year-old and shooting 72 from the tips (no big deal). Even before he was a teenager, though, he whacked it around with his brothers on the par-3 course, Peter Hay, and spent hours on the putting green next to the first tee. During his Tuesday press conference, McNealy even admitted to sneaking out on the course after the last group would go off.
On top of that, he's already built a strong Pebble resume, tying for fifth in the AT&T Pro-Am in 2020, then finishing solo second one year later. He also loves the Poa Annua greens, a surface he grew up playing on and is far more familiar with than many tour pros who grew up in the southeast playing on Bermuda.
The most important #narrative of all this week? Home cooking, obviously. And not just any home cooking. Grandma's home cooking.
"Grandma made French toast this morning," said McNealy. "Last week -- I actually stayed with them last week at Torrey Pines, also, and grandma makes one of my three favorite foods, these little homemade dinner rolls with a little bit of caramel on them. It's incredible. I can't eat too many of them, but they're the best."
Considering McNealy's 6-foot-1, 170-pound frame, he definitely isn't eating too many of them. But hopefully just enough to get the mind right for a breakthrough win. Carbo-loading like you read about.
Sounds like Mav is not the only one grandma will be cooking for this week.
"I'm going to have a lot of friends, a lot of family, a lot of my friends from Stanford coming out," he said. "My three brothers are all coming in. They were saying, yeah, if the weather is good on the weekend -- I'm like, what do you mean if the weather is good? Come watch. It'll be fun. They're all staying with grandma and grandpa, too, so really excited for Saturday night dinner. It will be just the four brothers and mom and dad and grandpa and grandma, just a family event, super comfortable, and just can't wait."
Mav by a million, you heard it here first*.
(*He's 1 million percent going to start +2 thru 1 now. MushTown, USA).