News
Maverick McNealy begins to avenge 2015 Walker Cup performance, helps U.S. to 2-2 tie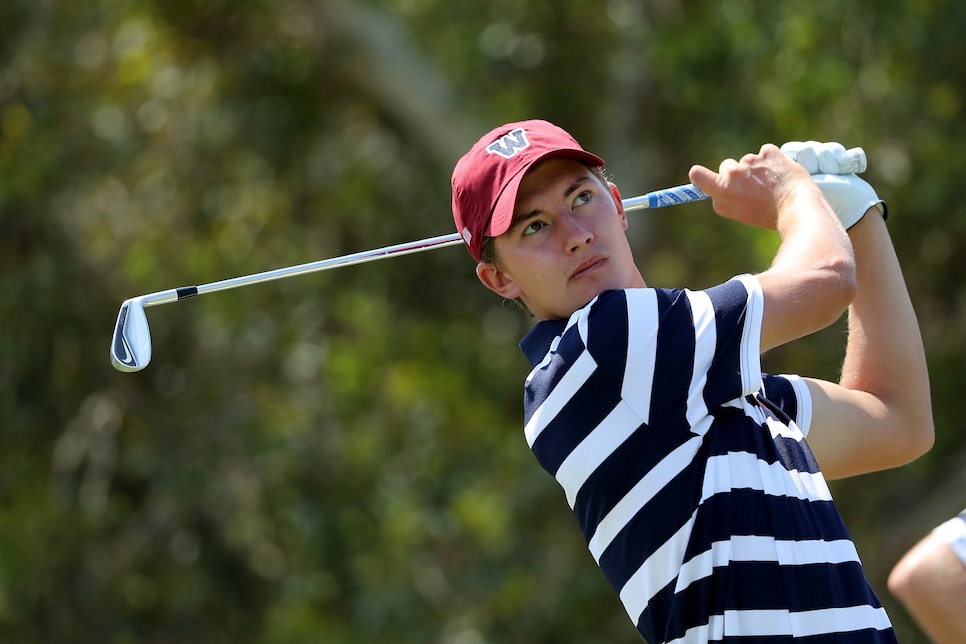 LOS ANGELES — Maverick McNealy began his amateur farewell on Saturday morning by effectively salving some of the wounds he carried over from his Walker Cup debut two years ago.
McNealy, who will turn professional following this Walker Cup, teamed with Doug Ghim for a 5-and-4 victory over his former Stanford teammate Dave Boote and Jack Davidson of the Great Britain & Ireland team on the North Course at Los Angeles Country Club.
It was one of two U.S. routs in morning foursomes that nonetheless finished in a 2-2 tie.
The U.S. pairing of Collin Morikawa and Norman Xiong won the first five holes, were 7 up at the turn and defeated Harry Ellis and Alfie Plant, 8 and 7, the largest margin of victory in the history of the Walker Cup.
Connor Syme and Paul McBride gave the GB&I team its first point by defeating Doc Redman and Will Zalatoris, 3 and 2. Scott Gregory and Jack Singh Brar allowed the GB&I team to square the matches with a 3-and-2 victory over Scottie Scheffler and Cameron Champ.
For McNealy, his match was a strong start at redemption following a regrettable and forgettable Walker Cup debut two years ago. He went 0-2-1 in the U.S.'s seven-point loss.
"I actually joked to Doug that I doubled my career Walker Cup point total walking off the 13 green when he lagged that one close with a guaranteed half at least," McNealy said.
McNealy is the only Walker Cup veteran on the U.S. team, which by default casts him as a leader. And he used the occasion in the run-up to the matches to lead.
"If there are two things I wanted to bring to this team it was, one, an understanding of how this weekend goes," he said. "We'e so happy to be here. But it's really hard to flip that switch Saturday morning. We had to be ready to go Thursday, Wednesday, and I think we did a really good job of that. And also it's 72 holes in 36 hours. It's a lot of golf in a short amount of time, it will be over before you know it, and we just need to be prepared and ready to go. And I think this team was fired up and ready to play three days ago."
Morikawa and Xiong, meanwhile, set an early tone with their runaway victory.
"Big thing for this course is to just keep it in the fairway and we were able to do that for the most part," Morikawa said. "And when he missed the fairway on 10, we got a little lucky with them hitting in the rough, so we made some putts at the beginning, we had some good shots and just can't let down, because you never know what's going to happen.
"It's match play. You never know what's going to happen. Those guys can come out hot, we can come out hot, [or] we can all be making bogeys and tying the holes. So you don't really know what to expect … it's match play. So I think we came out with a good mindset and bring it on for the rest of the week."