News
How a college rival of Maverick McNealy helped sway him to turn pro after all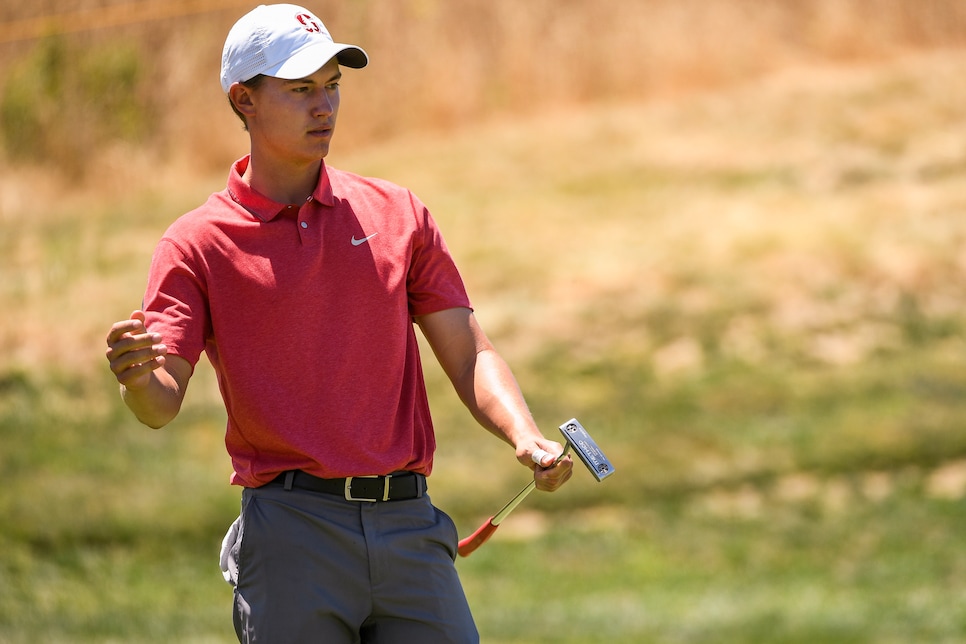 Maverick McNealy would have been a unicorn: A national college player of the year not swayed by the lure of the PGA Tour's big bucks, the first in more than two decades to remain an amateur.
Ultimately, though, the Stanford All-American, who graduated last spring tied with Tiger Woods and Patrick Rodgers for the most school wins at 11, came to the conclusion most expected. After playing for the U.S. in his second Walker Cup next month, the 21-year-old will in fact pursue a career as a tour pro. His debut as a professional is set for the PGA Tour's Safeway Open, Oct. 5-8 not too far from where he grew up in Northern California
For much of his college career, McNealy professed that turning pro wasn't the obvious matter of when, but if, the idea of following in the entrepreneurial footsteps of his father Scott, co-founder of Sun Microsystems, appealing to him. So what ultimately swayed Maverick to take the road more traveled?
"I think one of the big things is if I don't do it now, I'll never be able to," McNealy said during a phone interview on Wednesday shortly after making his decision known via a post on the Stanford golf website. "That was the thing. I said if I look back in 30 years at this time in my life, I think more likely than not if I didn't turn pro, I would have wondered and maybe even regretted it."
Mind you, McNealy says that he's not just "trying" pro golf, but that he's completely committed to this as his career, something his father professed he needed to be before deciding to give this a go. "I'm going to give this my full effort," McNealy said before laughing. "Maybe 40 or 50 years down the road, the Stanford degree will come in handy. That's what I'm planning for."
As part of this commitment, McNealy will move next week to Summerlin, Nev., and begin working on his game out of TPC Summerlin.
McNealy's competitive schedule after the Safeway will include spots in five other PGA Tour events in the Shriners Hospitals for Children Open (at TPC Summerlin), the Farmers Insurance Open, AT&T Pebble Beach Pro-Am (where he'll play with his father as his partner), AT&T Byron Nelson and the Dean & DeLuca Invitational at Colonial, a spot he secured by virtue of winning college golf's Ben Hogan Award in May.
Additionally, McNealy intends to play at the second stage of the Web.com Tour Qualifying School (he should be exempt into it through being in the top five on the World Amateur Golf Ranking after the Walker Cup).
Partially why McNealy hemmed and hawed so much about turning pro was an honest uncertainty that he had the game to make it on tour. In high school, he split his time between golf and hockey at the expense of a fancy junior resume on the links.
Finally focused on the former in Palo Alto, McNealy's game developed quickly. He played fifth man behind Rodgers and NCAA champion Cameron Wilson as a freshman, then won six times and earned the Fred Haskins Award as college player of the year as a sophomore. Eventually he rose to No. 1 in the World Amateur Ranking. He also has had modest success playing as an amateur in pro events; he memorably sat T-5 at one point during the third round of the PGA Tour's Greenbrier Classic in 2015.
"I promptly hit it in the hazard on 17th and didn't play well on Sunday," McNealy said. "But that was cool to see my name on the leader board."
Moreover, seeing the quick transitions of several recent college players to the pro ranks help crystalize in his mind that his game was in better shape to make the leap than he might have thought. Specifically, watching his former Pac-12 rival Jon Rahm from Arizona State, who McNealy played against for three years of college golf, swayed him about his chances of success.
"Right before he went pro, I played with him probably five or six rounds his senior year, my junior year. And I was going 'Wow, this guy is on it. He's playing really, really good right now.' And it was really cool to see how that translated into the pro ranks.
"It's cool to see the success those guys have had, and I think it makes me believe it's possible with an incredible amount of hard work, and time and effort and doing things the right way."